Note: Supplemental materials are not guaranteed with Rental or Used book purchases.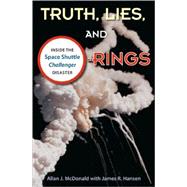 Summary
What they didnrs"t want you to know "We all watched in shock and disbelief whenChallengerwas lost. Probably no one felt more disappointment and regret than Allan McDonald, who had warned us not to launch that day. His story tells of loss, grief, and the eventual rebuilding and recovery."--Robert "Hoot" Gibson, former Space Shuttle pilot and commander "A major contribution to a difficult episode in the history of human spaceflight."--Roger D. Launius, Division of Space History, Smithsonian Institution "McDonald tells the heartbreaking tale of how he saw his words of warning ignored, and the fateful consequences of that decision."--Donald C. Elder III, Eastern New Mexico University On a cold January morning in 1986, NASA launched the Space ShuttleChallenger,despite warnings against doing so by many individuals, including Allan McDonald. The fiery destruction ofChallengeron live television moments after launch remains an indelible image in the nationrs"s collective memory. InTruth, Lies, and O-Rings,McDonald, a skilled engineer and executive, relives the tragedy from where he stood at Launch Control Center. As he fought to draw attention to the real reasons behind the disaster, he was the only one targeted for retribution by both NASA and his employer, Morton Thiokol, Inc., makers of the shuttlers"s solid rocket boosters. In this whistle-blowing yet rigorous and fair-minded book, McDonald, with the assistance of internationally distinguished aerospace historian James R. Hansen, addressesallof the factors that led to the accident, some of which were never included in NASArs"s Failure Team report submitted to the Presidential Commission. Truth, Lies, and O-Ringsis the first look at theChallengertragedy and its aftermath from someone who was on the inside, recognized the potential disaster, and tried to prevent it. It also addresses the early warnings of very severe debris issues from the first two post-Challengerflights, which ultimately resulted in the loss ofColumbiasome fifteen years later.
Author Biography
Allan J. McDonald retired as vice president and technical director for advanced technology programs at ATK Thiokol Propulsion in 2001. He was the director of the Space Shuttle Solid Rocket Motor Project at the time of the Challenger accident and, later, vice president of engineering for space operations during the redesign and requalification of the solid rocket motors. James R. Hansen is professor of history and director of the Honors College at Auburn University. He is the author of First Man, an award-winning biography of Neil Armstrong which spent three weeks on the New York Times Bestseller List.
Table of Contents
Foreword: The Place of the McDonald Memoir in Challenger History
p. xi
Preface
p. xv
Prologue
p. 1
Red Flags
When It Rains It Pours
p. 9
Tests and "No Tests"
p. 23
Dire Warning
p. 39
A Total O-Ring Failure
p. 49
An Impotent Task Force
p. 63
"In the Interest of Avoiding Pain"
p. 73
Misdiagnosis
The Teleconference
p. 91
The Caucus
p. 107
"Obviously, a Major Malfunction"
p. 117
"Don't Blame Yourself"
p. 125
"When Is the Space Shuttle Going Up, Daddy?"
p. 132
Search for the Truth
Shocking the Presidential Commission
p. 157
Cover-up
p. 164
"God, That Took a Lot of Guts"
p. 174
A Leper in the Limelight
p. 189
Walking Out
p. 197
"The Extremes of Allowable Engineering"
p. 211
Changing Hats and Minds
p. 224
Obfuscation
Rationalization and Innuendo
p. 243
31 Degrees?
p. 263
Houston, You Have a Problem
p. 274
Finger Pointing
p. 285
The Apocalypse Letter
p. 303
"Trouble with Your Logic"
p. 313
The Monkey Changes Backs
p. 323
Commissioners and Congressmen
The Green Bell Theory
p. 343
Commencement
p. 356
Commodore Locke Assailed in Washington
p. 369
The Buck Stops Here?
p. 382
No Consensus
The Bell Tolls for Thee
p. 403
Redesign and Resurrection
p. 422
Biosjoly's $2 Billion Lawsuit
p. 439
No Mountain Too High
p. 451
The Peacekeeper Explosion
p. 464
Witness for the Defense...and Prosecution
p. 473
Confirming the Silver Bullet
p. 483
Return-to-Flight
Flight of the Phoenix
p. 509
Premonitions
p. 522
Dissolution
p. 543
Requiem
p. 552
Acknowledgments
p. 569
Big Sky Values: A Biography of Allan J. McDonald
p. 573
List of Abbreviations
p. 585
Bibliographical Essay
p. 587
Further Reading
p. 615
Index
p. 617
Table of Contents provided by Ingram. All Rights Reserved.