Note: Supplemental materials are not guaranteed with Rental or Used book purchases.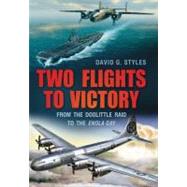 Two Flights to Victory : From the Doolittle Raid to the Enola Gay
ISBN13:
9780752462066
by
Unknown
Summary
The story of the Doolittle Raid and Hiroshima--two air attacks that changed the world, with new interviews with Doolittle Raid veterans Using extensive research and previously unpublished information, this is an account of events that transformed combat, as the long-range bomber emerged as the most important strategic strike tool in modern warfare, and changed the political landscape of the 20th century. As World War II drew to a close, the U.S. launched two air attacks that would secure victory and peace, but at a terrible cost. The only such attacks on Japan that were not part of the overall battle plan, they changed the course of human history, and one man was involved in both actions. Lieutenant Colonel Jimmy Doolittle was the leader of the Doolittle Raid in which 16 B-25 bombs struck at Tokyo and neighboring cities, forcing the withdrawal of Japanese troops--the outcome was that the Allies never lost another battle all the way to Japan. When it was deemed necessary to drop the atomic bomb, it was Doolittle who put forward his 12th Air Force comrade Paul Tibbets, the pilot who flew the Enola Gaywith its deadly cargo to Hiroshima. This book presents the fascinating story of these significant air attacks connected by one man, and reveals why they were developed apart from the main Allied strategy and how the pilots were selected for their missions.
Author Biography
David G. Styles is the author of 18 books including Moto Guzzi and Volvo 1800. He was a media representative at the 2002 Doolittle Raiders' Reunion and the international correspondent for the 2003 event.
Table of Contents
Preface
p. 7
Introduction
p. 11
James Harold Doolittle
p. 15
The Foundations of Conflict
p. 28
Preparing for a Secret Mission
p. 42
The Doolittle Raid
p. 54
After the Raid
p. 69
Meeting in North Africa
p. 80
Paul Warfield Tibbets Jr
p. 96
The Manhattan Project
p. 108
Bringing the B-29 to the 509th
p. 115
At Wendover Field
p. 124
On the Island of Tinian
p. 134
Mission to Hiroshima
p. 144
Mission to Nagasaki
p. 160
After the Bomb
p. 168
The Future of Strategic Bombing
p. 176
People
p. 178
Ships
p. 209
Aircraft
p. 214
Military Organisations
p. 235
The Doolittle Targets
p. 252
The Doolittle Raiders
p. 258
The B-29s of the 393rd
p. 270
By the Same Author
p. 280
Bibliography
p. 281
Index
p. 282
Table of Contents provided by Ingram. All Rights Reserved.