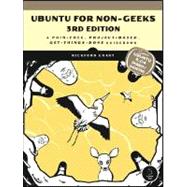 Ubuntu for Non-Geeks : A Pain-Free, Project-Based, Get-Things-Done Guidebook
by
Grant, Rickford
Summary
The new edition of this best-selling guide to Ubuntu Linux for beginners covers Ubuntu 8.04, Hardy Heron. Step- by-step projects have the reader interact with their system, rather than just read about it, as they build upon previously learned concepts. Ubuntu for Non-Geeks covers topics likely to be of interest to the average desktop user, such as installing new software via Synaptic; Internet connectivity; working with removable storage devices, printers, and scanners; burning DVDs, playing audio files, and even working with iPods. The book also eases readers into the world of the command line and other more advanced topics. This edition features increased coverage of Bluetooth, wireless networking, and modems and, of course, coverage of the significant new features in the 8.04 release.
Author Biography
Rickford Grant is the author of Linux for Non-Geeks and Linux Made Easy. He has been a computer operating system maniac for more than 20 years, from his early days with an Atari XL600 to his current Linux machines. Rickford is currently working as a teacher in Greensboro, North Carolina.
Table of Contents
Becoming a Penguinista: Welcome to the World of Linux
p. 9
Wading and Diving: Running and (If You Like) Installing Ubuntu
p. 19
A New Place to Call Home: Getting to Know the Desktop
p. 31
More Than Webbed Feet: The Internet, Linux Style
p. 49
Rounding Out the Bird: Downloading, Installing, and Updating Programs the Easy Way
p. 67
A Tidy Nest: File and Disk Handling in Ubuntu
p. 79
Dressing Up the Bird: Customizing the Look and Feel of Your System
p. 103
Simple Kitten Ways: Getting to Know the Linux Terminal and Command Line
p. 131
Aliens, Tarballs, a Glass of Wine, and a Cup of Joe: More Ways to Install Programs
p. 161
Gutenbird: Setting Up and Using Your Printer and Scanner
p. 183
Font Feathered Frenzy: Adding New Fonts to Your System
p. 197
Polyglot Penguins: Linux Speaks Your Language
p. 209
Penguins Back at Work: Getting Down to Business in Linux
p. 223
Brush-Wielding Penguins: Linux Does Art
p. 237
Tux Rocks: Music a la Linux
p. 253
Pluggin' in the Penguin: Ubuntu and Your iPod
p. 271
Couch Penguins: Video and DVD Playback in Ubuntu
p. 285
Defending the Nest: Security
p. 297
Ubuntu Desktop CDs for AMD64 Users
p. 307
Resources
p. 311
Index
p. 317
Table of Contents provided by Blackwell. All Rights Reserved.