Note: Supplemental materials are not guaranteed with Rental or Used book purchases.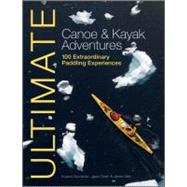 Ultimate Canoe and Kayak Adventures : 100 Extraordinary Paddling Experiences
ISBN13:
9781119991243
by
Smith, Jason
Summary
A stunningly illustrated book detailing the worlds most breathtaking on-water adventures Whether its paddling down mountain chasms or on gentle rivers and lakes, navigating a canoe or kayak counts as one of lifes indescribable joys. And in this memorable collection of 100 extraordinary on-water experiences, author Jason Smith gives armchair adventurers and avid water sport enthusiasts a taste of what canoeing and kayaking feel like in every climate, condition, and geographical location. From the frozen wastes of North America, the rivers and seas of Europe and Asia, to the stunning waters of the Far East and Australasia, he brings each paddle stroke to life. With something for everyone-from the white water adrenalin junkie to the extreme kayaker- Ultimate Canoe and Kayak Adventures offers true-life adventurers useful, detailed information telling you exactly how, where, and when to attempt any on-water expedition yourself. The author is an avid paddler with 20 years of experience, has been recognized as an "Extreme Photographer" by Professional Photographer magazine, and is editor of Canoe & Kayak UK Striking full-page color photographs are matched with lively text that bring 100 adventures to life Offering a rare, inside look at living the life of adventure in every climate and latitude, this spectacular album of memorable canoeing and kayaking experiences is an ideal gift and a must for those who wish theyd been there-and those who already have.
Author Biography
Eugene Buchanan is the Editor-in-Chief of Paddler magazine. A member of New York's Explorers Club, Eugene is an avid adventurer with several first descents to his credit. His passion for traveling, writing, and paddling has taken him to more than 30 countries on six of the seven continents.
Jason Smith is editor of Canoe & Kayak UK, Britain's bestselling paddle-sports magazine Jason is an active paddler and his career includes a first descent of the Rio Cothuasi in Peru, representing Great Britain at the World Freestyle Kayaking Championships and challenging the huge rapids of some of the world's biggest whitewater rivers.
James Weir explores and competes all over the world; coaching white water canoeing and guiding rafts down Europe's most challenging rivers. He has represented Great Britain in white water canoeing and currently represents Switzerland. When not on the river James is busy indulging his passion for photography and works as a freelance journalist for several international canoeing magazines.
Table of Contents
Canoeing with Caribou 6
Sea Kayaking Greenland 8
Hallowed Waters 10
Tackling the Talkeetna 12
Northern Masterpiece 14
Paddling the Land of Ice 16
Surfs Up at Skookumchuck 18
Canada's Special Waves 20
Catching a Ride on the Freestyle Bus 22
Classic Canoeing 24
Following the Call of the Loon 26
Multi Day Magic on the Mountain 28
Thar' She Blows 30
Wilderness the Way it's Supposed to Be 32
Paddling the Pine Tree State 34
The Gen of the Maine Island Trail 36
Communing with Spirits on the Little White 38
Superior Paddling 40
Whitewater and Wilderness 42
A Pinnacle of Paddling 44
Good Gauley 46
Going for Green 48
Look Before You Leap 50
No Room for Mistakes 52
A World of Waterfalls 54
The Most Famous River Trip in the World! 56
Canoeing in the Canyonlands 58
Boating the Buffalo River 60
Sea Kayaking the Big Bend 62
Boating the Bahamas 64
Mexican Heights 66
Sea Kayaking Baja's Sea of Cortez 68
Boating Belize 70
Touring Like a Tico 72
Ecuadorian Ecstasy 74
Jungle Paddling Paradise 76
Whitewater Bonanza 78
Of Sea Kayaking and Hot Springs 80
Patagonian Powerhouse 82
Paddling off the Map 84
A Scandinavian Wonderland 86
Circumnavigating Ireland by Sea Kayak 88
Make Mine a Double 90
The Jewel in Scotland's Crown 92
The Granite Slides of Scotland's Triple Crown 94
Surfing the Falls of Lora 96
Drifting on England's Deepest Lake 98
Soul Surfing 100
Away with the Fairies 102
Paddling on the Wild Side Around Puffin Island 104
The River Tweed 106
Getting Wet in Wales 108
London Calling 110
UK Utopia 112
Devonshire Cream 114
The Granite Siren 116
Getting the Most Just off the Coast 118
Crossing the English Channel 120
Alpine Dreaming 122
White Champagne 124
Cave Kayaking in the Grand Canyon of Europe 126
From Mild to Wild 128
Swiss Spectacular 130
Paddling Across Borders 132
Paddling Poland 134
Sea Kayaking the Caves of Spain 136
Surf Boating a Basque Country Beauty 138
A Swell Time in Spain 140
A Voyage Down the Grand Canal 142
Switzerland's Stunner 144
Italy's Emerald Gem 146
The Tear of Europe 148
Free Falling on the Isle de Corse 150
Amphitheatre of Whitewater Dreams 152
The Water in Mallorca 154
Viva Italia 156
Touring the Land of Ancient Greek Gods 158
Sea kayaking Siberia's 'Sacred Sea' 160
Surfing Under the Crescent Moon 162
Surfing the Source 164
Wham, Bam, Thank You Zam! 166
Wildlife Wonderland 168
Adventure on the Augrabies 170
Paddling in Eden 172
Mountain madness 174
Himalayan Heaven 176
Adventure Beyond Belief 178
Canoe Armada 180
Sea Kayaking in Sea Caves 182
Sea Kayaking the Land of the Dragon 184
Adventuring Australia-Style 186
Waltzing Matilda
A Wilderness Eden 190
The Freedom of Freycinet 192
Barrier Boating 194
Sea kayaking in the land of the Southern Cross 196
Access All Areas 198
Floating in the tropical Paradise of Fiji 200
Timeless Adventure 202
Touring a Tropical Paradise 204