Note: Supplemental materials are not guaranteed with Rental or Used book purchases.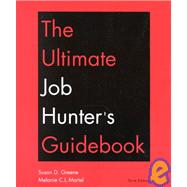 The Ultimate Job Hunter's Guide
ISBN13:
9780618050406
by
Unknown
South-Western College Pub
Questions About This Book?
What version or edition is this?
This is the 3rd edition with a publication date of 9/28/2000.
What is included with this book?
The New copy of this book will include any supplemental materials advertised. Please check the title of the book to determine if it should include any CDs, lab manuals, study guides, etc.
Related Products
Summary
Offering concise coverage of essential job-hunting and career strategies, this flexible, how-to book can supplement any business course or serve as the foundation of a career development class. The Fourth Edition features increased technology coverage and strategies for long-term career success. Exercises develop students' skills in goal setting, interviewing, assessing values, and writing both resumes and cover letters.
Table of Contents
Preface
xiii
1
(6)
2
(5)

| | |
| --- | --- |
| | Conduct a Self-Assessment |

3
(1)
3
(1)

| | |
| --- | --- |
| | Target Potential Employers |

4
(1)
4
(1)

| | |
| --- | --- |
| | Obtain Letters of Recommendation |

5
(1)

| | |
| --- | --- |
| | Fill Out Job Applications |

5
(1)
5
(1)
5
(1)

| | |
| --- | --- |
| | Organize and Survive the Job Hunt |

6
(1)
6
(1)
6
(1)
6
(1)

| | |
| --- | --- |
| | Conducting a Self-Assessment |

7
(14)
8
(6)
8
(2)
10
(2)

| | |
| --- | --- |
| | Take Action to Be Your Best |

12
(1)
13
(1)

| | |
| --- | --- |
| | Choose the Right Job for You |

14
(2)
16
(2)
18
(1)
19
(1)
20
(1)

| | |
| --- | --- |
| | Call in the Professionals |

20
(1)
21
(37)
22
(11)
24
(1)

| | |
| --- | --- |
| | basic Elements of a Resume |

25
(2)
27
(1)
28
(2)
30
(2)
32
(1)
33
(19)
33
(1)
33
(19)

| | |
| --- | --- |
| | What to Do About Gaps in Your Job History |

52
(1)
53
(1)
54
(1)

| | |
| --- | --- |
| | Make Your Resume Computer Friendly |

54
(4)
56
(1)
57
(1)

| | |
| --- | --- |
| | Targeting Potential Employers |

58
(18)
59
(4)
60
(2)

| | |
| --- | --- |
| | Keeping Track of Your Contacts |

62
(1)

| | |
| --- | --- |
| | Turn Dead Ends into Live Contacts |

63
(1)
63
(2)
64
(1)

| | |
| --- | --- |
| | Making Contacts at Job Fairs |

65
(2)
67
(3)

| | |
| --- | --- |
| | Conducting Informational Interviews |

70
(3)

| | |
| --- | --- |
| | Should You Relocate for Job? |

73
(1)

| | |
| --- | --- |
| | Long-Distance Job Hunting |

74
(2)
76
(11)
77
(2)
77
(1)

| | |
| --- | --- |
| | Why Consider a Federal Job? |

77
(1)
77
(2)

| | |
| --- | --- |
| | Check Out Local Government Positions, Too |

79
(1)

| | |
| --- | --- |
| | Working for a Nonprofit Organization |

79
(2)

| | |
| --- | --- |
| | Working for a Small company |

81
(1)

| | |
| --- | --- |
| | Starting Your Own Company |

82
(2)

| | |
| --- | --- |
| | Taking a Different Job Path |

84
(1)
85
(2)

| | |
| --- | --- |
| | Taking Your Job Hunt On-Line |

87
(8)

| | |
| --- | --- |
| | Pounding the Virtual Pavement |

88
(7)

| | |
| --- | --- |
| | The New Medium for Job Seekers |

88
(1)
88
(1)

| | |
| --- | --- |
| | Using the Internet to Job Hunt |

88
(1)

| | |
| --- | --- |
| | It's Fast; It's Convenient |

88
(1)

| | |
| --- | --- |
| | Show Employers You Know Your Way Around the Internet |

89
(1)
89
(1)
89
(4)
93
(1)
93
(2)
95
(14)

| | |
| --- | --- |
| | Elements of the Cover Letter |

96
(1)
97
(3)
100
(1)

| | |
| --- | --- |
| | Alternative Letter-Writing Strategies |

100
(1)
101
(1)
101
(8)

| | |
| --- | --- |
| | Obtaining Letters of Recommendation |

109
(6)

| | |
| --- | --- |
| | References Available upon Request |

110
(5)

| | |
| --- | --- |
| | Who Can Give You a Letter of Recommendation? |

110
(1)

| | |
| --- | --- |
| | How Do You Get a Letter of Recommendation? |

110
(1)

| | |
| --- | --- |
| | What Should a Letter of Recommendation Say? |

111
(1)

| | |
| --- | --- |
| | How Many Recommendations Are Enough? |

111
(1)

| | |
| --- | --- |
| | When Should You Submit Your Letters of Recommendation? |

111
(4)

| | |
| --- | --- |
| | Filling Out Job Applications |

115
(6)
116
(3)

| | |
| --- | --- |
| | Typical Application Questions |

117
(2)

| | |
| --- | --- |
| | Sample Employment Application |

119
(2)
121
(32)

| | |
| --- | --- |
| | Prepare for the Interview |

122
(3)
123
(2)

| | |
| --- | --- |
| | Create a Good first Impression |

125
(7)

| | |
| --- | --- |
| | Rules of Business Etiquette |

126
(1)
127
(1)

| | |
| --- | --- |
| | presenting Yourself on the Telephone |

128
(2)
130
(2)

| | |
| --- | --- |
| | How to Handle Interview Stress |

132
(3)

| | |
| --- | --- |
| | Put Things into Perspective |

132
(1)

| | |
| --- | --- |
| | Sweaty Palms Are Not a Crime |

133
(1)
134
(1)

| | |
| --- | --- |
| | Questions Asked in Job Interviews |

135
(4)

| | |
| --- | --- |
| | Questions an Interviewer Might Ask You |

135
(3)

| | |
| --- | --- |
| | Illegal Interview Question |

138
(1)

| | |
| --- | --- |
| | Questions to Ask an Interviewer |

138
(1)
139
(3)
139
(1)

| | |
| --- | --- |
| | Professional Profile Keys |

140
(1)
140
(2)
142
(1)

| | |
| --- | --- |
| | After the Interview: Follow Up |

143
(4)

| | |
| --- | --- |
| | Career Search Organization Chart |

146
(1)

| | |
| --- | --- |
| | Nontraditional Ways to Get an Interview |

147
(1)

| | |
| --- | --- |
| | Reasons for Unsuccessful Interviews |

148
(2)
150
(1)
150
(1)
151
(2)

| | |
| --- | --- |
| | A Final Note on Follow-up |

152
(1)
153
(5)
154
(4)

| | |
| --- | --- |
| | Drug Testing of Job Applications |

154
(1)
154
(1)
155
(2)
157
(1)
157
(1)

| | |
| --- | --- |
| | Backdoor Your Way into a Job |

158
(8)

| | |
| --- | --- |
| | Taking an Indirect Approach to Job Hunting |

159
(7)

| | |
| --- | --- |
| | Multiple Jobs for Experience and Contacts |

159
(1)
160
(2)
162
(1)
162
(1)
163
(1)
164
(2)

| | |
| --- | --- |
| | Organizing and Surviving the Job Hunt |

166
(9)
167
(5)

| | |
| --- | --- |
| | Think of Job Hunting as Your Job |

167
(1)

| | |
| --- | --- |
| | Practice Time Management and Self-Discipline |

167
(1)
168
(1)
169
(1)
170
(1)

| | |
| --- | --- |
| | Job Hunter's Time Planner |

171
(1)

| | |
| --- | --- |
| | Troubleshooting for Job Hunters |

172
(3)
175
(9)

| | |
| --- | --- |
| | Choose the Best Job for You |

176
(2)
178
(2)
180
(4)
180
(1)
181
(3)
184
(13)

| | |
| --- | --- |
| | Your First Few Weeks on the Job |

185
(1)

| | |
| --- | --- |
| | Your First Year on the Job |

185
(4)

| | |
| --- | --- |
| | Tips for Working with Your Manager |

189
(1)

| | |
| --- | --- |
| | Managing Relationships on the Job |

190
(2)
192
(1)

| | |
| --- | --- |
| | How You Will Be Evaluated |

192
(1)

| | |
| --- | --- |
| | The Importance of Staying Current |

193
(1)

| | |
| --- | --- |
| | Alternative Work Arrangements |

194
(1)
195
(2)
197
(13)
198
(12)

| | |
| --- | --- |
| | Top Careers for the Twenty-first Century |

200
(1)
200
(2)

| | |
| --- | --- |
| | The Unsung Benefits of the Two-Year Degree |

202
(1)

| | |
| --- | --- |
| | Job Security---A Thing of the Past? |

203
(1)
204
(1)
205
(1)

| | |
| --- | --- |
| | The New Rules for Career Success |

206
(4)
210
(15)
211
(11)

| | |
| --- | --- |
| | Advice from Those Who've Made It |

222
(3)
Index
225