Note: Supplemental materials are not guaranteed with Rental or Used book purchases.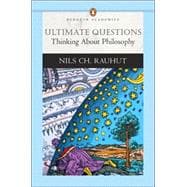 Ultimate Questions: Thinking About Philosophy (Penguin Academics Series)
ISBN13:
9780321108937
by
Rauhut, Nils Ch.
Related Products
Summary
This inexpensive and brief text offers careful explanations of how problems are connected to our thinking about the universe then uses vivid and engaging examples to further enhance this up-to-date examination of the main problems in contemporary philosophy. More than 100 " Food for Thought" exercises elicit reaction to philosophical problems, give readers a chance to test whether they have grasped important philosophical concepts, and offer opportunities for genuine conversations about philosophy. Readers interested in contemporary philosophy.
Table of Contents
Philosophical Tools
What Is Philosophy?
The Relationship Between Philosophy and Science
The Main Branches of Philosophy
Philosophical Methodology
The Basic Structure of Arguments
What Do We Know?
What Is Knowledge?
Three Different Theories of Knowledge
Skepticism
Empiricism
The Case for Empiricism
Rationalism
Final Remarks on Epistemology
The Problem of Free Will
Why Is There a Problem with Free Will?
The Case for Hard-Determinism
Can Indeterminism Save Free Will?
Soft Determinism
Libertarianism
Final Remarks on the Problem of Free Will
The Problem of Personal Identity
Do We Always Remain the Same?
The Illusion Theory of Personal Identity
The Body Theory of Personal Identity
The Soul Theory of Personal Identity
The Memory Theory of Personal Identity
Final Remarks on Personal Identity
The Mind/Body Problem
What Is the Problem?
Possible Solutions to the Mind/Body Problem
Substance Dualism
Varieties of Physicalism
Behaviorism
The Identity Theory
Functionalism
Final Remarks on the Mind Body Problem
Does God Exist?
God, Faith, and Reason
What Do We Mean By the Word "God"
Arguments in Defense of a Classical Theistic God
Arguments Against the Existence of a Classical Theistic God
Final Remarks on the Problem of God's Existence
What Ought We Do?
Moral Intuitions and Moral Principles
A Fundamental Challenge: Relativism
Some Important Ethical Theories
Divine Command Theory
Utilitarianism
Duty-Based Theories
Virtue-Based Theories
Final Remarks on the Problem of Morality
Table of Contents provided by Publisher. All Rights Reserved.