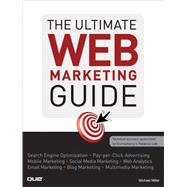 Questions About This Book?
What version or edition is this?
This is the 1st edition with a publication date of 10/29/2010.
What is included with this book?
The New copy of this book will include any supplemental materials advertised. Please check the title of the book to determine if it should include any CDs, lab manuals, study guides, etc.
The eBook copy of this book is not guaranteed to include any supplemental materials. Typically only the book itself is included.
Summary
The up-to-date, "A-to-Z" bible for everything related to web, online, mobile, and social marketing - from planning through metrics! Entirely original content - not a compilation of previously published material Covers SEO, pay-per-click, mobile marketing, social media, "PR 2.0", analytics, email, blog marketing, multimedia, and much more Shows how to combine multiple web marketing approaches into a single, coherent, optimized strategy - and measure the results The Ultimate Web Marketing Guideis a comprehensive online marketing curriculum in a book. It brings together everything 21st century marketers and entrepreneurs need to know about search engine marketing, Web and email advertising, social marketing, mobile marketing, and a whole lot more. This isn't a "quick guide"! It offers in-depth discussion and instruction, as well as proven best practices reflecting the latest online marketing innovations and trends. Not only is each area of web marketing covered systematically: marketers are also guided in planning and integrating multiple approaches into a coherent strategy, and accurately measuring their results.The Ultimate Web Marketing Guidecontains full sections on: " Search Engine Optimization, including advanced techniques " Pay-Per-Click advertising " Mobile marketing, including mobile-friendly sites and mobile advertising " Social media, including marketing on Facebook, MySpace, and Twitter " "PR 2.0", including new source development and online media rooms " Email marketing " Blog marketing " Audio, video, and podcast marketing " Online marketing management, including budgeting and analytics Both a how-to book and a comprehensive reference, this book will teach marketers and entrepreneurs exactly how to drive the most value from online marketing. It is the one indispensable web marketing book.
Author Biography
Michael Miller has written more than 100 nonfiction how-to books over the past 20 years, including Que's YouTube for Business, Using Google AdWords and AdSense, and The Absolute Beginner's Guide to Computer Basics. His other bestselling online marketing books include The Complete Idiot's Guide to Search Engine Optimization (Alpha Books), Sams Teach Yourself Google Analytics in 10 Minutes (Sams), and Online Marketing Heroes (Wiley).
Mr. Miller has established a reputation for clearly explaining technical topics to nontechnical readers, and for offering useful real-world advice about complicated topics. More information can be found at the author's website, located at www.molehillgroup.com.
Table of Contents
Introduction 1
Part I: Web Marketing 101
1 Revisiting Marketing Fundamentals 7
Back to Basics: What Is Marketing? 7
The New Basics: What Is Web Marketing? 9
Essential Web Marketing Skills 10
The Most Important Skill: Think Like the Customer 14
The Bottom Line 16
2 Understanding the Components of Web Marketing 17
Web Marketing Is Your Online Presence 17
Web Marketing Is Search Engine Marketing 18
Web Marketing Is Online Advertising 20
Web Marketing Is Email Marketing 20
Web Marketing Is Blog Marketing 22
Web Marketing Is Social Media Marketing 22
Web Marketing Is Online Public Relations 24
Web Marketing Is Multimedia Marketing 25
Web Marketing Is Mobile Marketing 25
The Bottom Line 26
Part II: Planning Your Online Activities
3 Balancing and Budgeting Online Activities 29
Creating an Effective Web Marketing Mix 29
Coordinating Your Web Marketing Activities 35
Setting Your Web Marketing Budget 36
The Bottom Line 40
4 Integrating Online and Traditional Marketing 43
Splitting Your Budget 43
Online and Traditional Analogs 44
Which Activities Can You Eliminate? 47
Coordinating Web Marketing and Traditional Marketing 49
The Bottom Line 50
5 Online Research and Analysis 53
Quantitative Versus Qualitative Research 53
Researching Traffic Patterns with Web Analytics 56
Researching Customer Opinions with Polls and Surveys 58
Researching Customer Behavior with Comment Analysis 59
Researching the Competition 60
Researching Virtually Anything with Web Search 62
Other Sources of Online Research 63
The Bottom Line 63
6 Creating a Web Marketing Plan 65
Why You Need a Web Marketing Plan. 65
Understanding the Elements of a Marketing Plan 66
Writing Your Marketing Plan 71
The Bottom Line 73
Part III: Website Presence
7 Designing an Effective Website 75
Creating Your First Website 75
Website Design: Keep It Simple. 79
Be Wary of Technology--and Design 81
Content Matters 82
Navigating Your Site 84
Website Look and Feel 89
Consider Color 91
Creating Unique Landing Pages 93
The Bottom Line 93
8 Creating an Ecommerce Website 97
Different Ways to Sell 97
What Goes Into an Ecommerce Website? 98
Promoting Your Site 101
Utilizing Search Engine Marketing and Shopping Directories 102
The Bottom Line 104
9 Tracking Website Analytics 107
Understanding Web Analytics 107
Who Uses Web Analytics? 108
How Web Analytics Works 108
Key Web Analytics Metrics 109
What to Look For 110
Web Analytics Tools 113
Getting to Know Google Analytics 114
The Bottom Line. 116
Part IV: Search Engine Marketing
10 Understanding Search Engine Marketing 119
Search Engine Marketing Explained 119
How Search Engines Work 122
Examining the Major Search Engines 126
The Bottom Line 131
11 Essential Search Engine Optimization 133
What Search Engines Look For 133
Optimizing Your Site's Content 136
Optimizing Your Site's Keywords 139
Optimizing Your Site's HTML Tags 142
TITLE Tags 142
Optimizing Your Site's Design and Organization 146
Optimizing Inbound Links 148
Optimizing Images 152
The Bottom Line 154
12 Advanced SEO Techniques 157
Submitting Your Site to the Search Engines 157
Creating a Sitemap 160
SEO for Local Search 163
SEO for Mobile Search 166
SEO for Blogs 167
SEO Tools 170
The Bottom Line 171
13 Tracking Search Performance 173
Why It Pays to Improve Your Performance 173
What to Look For 174
Tracking Site Traffic with Web Analytics 175
The Ultimate Metric: Search Engine Rank 176
Tracking Individual Search Engine Performance 177
Third-Party Tracking Tools 181
Tracking Your Competitors 182
The Bottom Line 183
Part V: Online Advertising
14 Understanding Online Advertising 185
How Online Advertising Differs from Traditional Advertising 185
Different Payment Models 187
Types of Online Ads 190
Online Ad Technologies 197
Affiliate Marketing 198
Getting to Know the Big Players 199
Trends in Online Advertising 200
The Bottom Line 202
15 Pay-per-Click Advertising 205
Understanding Pay-per-Click and Contextual Advertising 205
Choosing the Right Keywords 211
Bidding the Right Price 215
Writing Effective Ad Copy 220
Creating PPC Image Ads 225
Maximizing Conversion with a Custom Landing Page 226
Choosing a PPC Ad Network 229
Other Sites for PPC Advertising 232
The Bottom Line 236
16 Display Advertising 239
Are Display Ads Effective? 239
When to Employ Display Advertising 241
Choosing a Payment Model 241
Setting a Display Ad Budget 242
Examining Rich Media Ads 242
Choosing a Display Ad Format 245
Best Practices: Creating Effective Display Ads 247
Where to Purchase Web Display Ads 252
The Bottom Line 253
17 Tracking Ad Performance 257
Using Tracking Tools 257
Evaluating Key Metrics 260
Testing and Tracking Ad Strategies 264
The Bottom Line 265
Part VI: Email Marketing
18 Understanding Email Marketing 267
Email Marketing Is Big Business 267
Email Marketing Is Effective 268
Email Marketing Is Direct Marketing 268
Email Marketing Is Customer Retention Marketing 270
Email Marketing Is One-to-One Marketing 270
Email Marketing Is Database Marketing 271
Email Marketing Is Permission Marketing 272
Email Marketing Is Frequent Marketing 273
Email Marketing Is Inexpensive Marketing 275
Email Marketing Is Trackable Marketing. 276
The Bottom Line 276
19 Building Email Mailing Lists 279
Creating an Email List 279
Purchasing or Renting Names 284
Managing Your Lists 285
Avoiding Spamming--by Asking Permission 288
Who Does the Work? 289
The Bottom Line 290
20 Developing an Email Marketing Campaign 293
Deciding What--and When--to Promote 293
Constructing the Promotional Message 298
Personalizing Your Mailings 305
What Not to Do 306
The Bottom Line 307
21 Tracking Email Marketing Performance 309
Determining Key Metrics 309
Tracking Email Data 312
The Bottom Line 313
Part VII: Blog Marketing
22 Understanding Blog Marketing 315
Getting to Know the Blogosphere 315
What Are Company Blogs Good For? 317
Running Your Own Blog 320
Marketing to Other Blogs 321
The Bottom Line 322
23 Creating a Company or Product Blog 325
Why Create a Company Blog? 325
Where Should the Blog Reside? 329
Building the Blog 330
Designing Your Blog 332
Allowing Comments--or Not. 334
Determining Who Contributes to the Blog 335
Deciding What to Write About 336
Writing Blog Posts 337
Optimizing Your Blog for Search 340
Common Corporate Blogging Mistakes 340
Promoting Your Blog 341
The Bottom Line 342
24 Marketing to the Blogosphere 345
Why Blogs--and Bloggers--Are Important 345
How to Get Bloggers to Notice and Mention You 346
Giving Bloggers Everything They Need 348
Buying Blog Placements 349
The Bottom Line 351
25 Tracking Blog Marketing Performance 353
Tracking the Performance of Your Company Blog 353
Tracking the Effectiveness of Your Blog PR Efforts 356
The Bottom Line 357
Part VIII: Social Media Marketing
26 Understanding Social Media 359
Inside the World of Social Media 359
The History of Social Media 360
Examining Different Types of Social Media 362
Why Social Media Matters to Marketers 368
Developing a Social Media Marketing Strategy 370
The Bottom Line 372
27 Participating in Social Networking 373
What Goes On in a Social Network 373
Becoming Part of the Community 376
Monitoring Social Media 378
Responding to Online Comments 380
The Bottom Line 382
28 Marketing on Facebook, MySpace, and Twitter 385
Marketing via a Facebook Fan Page 385
Marketing via a Facebook Application. 389
Cross-Marketing with a Facebook Like Button 391
Utilizing More Facebook Social Plugins 393
Marketing on MySpace 395
Marketing with Twitter 397
Sharing and Bookmarking via Social Media 403
Constructing an Effective Social Media Campaign 404
Advertising on Social Media 406
Integrating Your Efforts Across Multiple Social Media 411
The Bottom Line 414
29 Tracking Social Media Marketing Performance 417
Tracking Hard Performance Metrics 417
Evaluating Social Media Performance Subjectively 419
Different Metrics for Different Social Media 421
The Bottom Line 423
Part IX: Online PR
30 Understanding Online PR 425
What Is Online PR--and How Does It Differ from Traditional PR? 425
Using the New Technology 428
The Benefits of Online PR 430
The Bottom Line 431
31 Developing New Sources and Techniques 433
Developing New Online Sources 433
Skills and Techniques for Online PR 437
Learning the Art of Online Press Releases 438
The Bottom Line 441
32 Creating an Online Press Room 443
Why Do You Need a Press Room on Your Website? 443
Stocking Your Online Press Room 445
Locating Your Online Press Room 450
Organizing Your Online Press Room 451
Informing Journalists of New News 452
The Bottom Line 453
33 Tracking Online PR Performance 455
Tracking Placements 455
Tracking Traffic and Conversions 456
The Bottom Line 458
Part X: Multimedia Marketing
34 Understanding Multimedia Marketing 461
What Is Multimedia Marketing? 461
Understanding Podcasts 462
Understanding Web Videos 464
Incorporating Multimedia into Your Marketing Mix 465
The Bottom Line 466
35 Podcast Marketing 469
Creating a Podcast: The Technical Details 469
Creating a Podcast: The Marketing Strategy 471
Distributing Your Podcast 472
Promoting Your Podcasts 475
The Bottom Line 475
36 Video Marketing 477
Is Web Video Right for Your Business? 477
Welcome to YouTube 478
How YouTube Works 480
What Kinds of Videos Work Best? 481
Creating a YouTube Video 485
Creating Compelling Content 489
Driving Viewers to Your Website 492
Promoting Your YouTube Videos--Organically 495
Advertising Your YouTube Videos 500
The Bottom Line 504
37 Tracking Multimedia Marketing Performance 507
Tracking Podcast Performance 507
Tracking Video Performance 509
The Bottom Line. 512
Part XI: Mobile Marketing
38 Understanding Mobile Marketing 515
What Is Mobile Marketing--and Why Is It Important? 515
How Mobile Marketing Differs from Traditional Web Marketing 518
Exploiting Mobile Search 520
Developing a Mobile Marketing Strategy 521
The Bottom Line 521
39 Designing a Mobile-Friendly Website 523
Why You Need a Mobile Website 523
Creating a Mobile Website 525
Options: How to Host Your Mobile Site 532
The Bottom Line 534
40 Advertising on Mobile Devices 537
How Important Is Mobile Advertising? 537
Determining What Type of Advertising to Do--and Where to Do It 538
Creating a Mobile Ad 541
Targeting the Mobile Customer 542
The Bottom Line 543
41 Marketing via Mobile Apps 545
What Is a Mobile App--and Why Should You Care? 545
Building an Effective Mobile App 547
Marketing Your Mobile App 553
The Bottom Line 554
42 Tracking Mobile Marketing Performance 557
Tracking the Performance of Your Mobile Website 557
Tracking the Performance of Your Mobile Advertising 561
Tracking the Performance of Your Mobile Apps 562
The Bottom Line 563
Part XII: Online Marketing Management
43 Managing Your Web Marketing Activities 565
Managing Your Web Marketing Mix 565
Managing Your Staff 568
Managing Your Budget 569
Managing Results 570
Managing Change 571
Managing Management 572
Managing Your Time. 573
The Bottom Line 574
44 Looking to the Future 577
Email Is Dying 577
Blogs Are Fading 578
Social Networking Is Taking Over 579
Mobility Matters 580
Narrowcasting Gets Big 580
All Marketing Is Local--and Global 581
Embracing Change 582
The Bottom Line 583
A Glossary 585
Index 595