Note: Supplemental materials are not guaranteed with Rental or Used book purchases.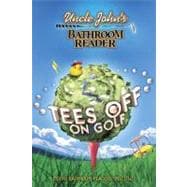 Uncle John's Bathroom Reader Tees Off on Golf
by
Unknown
Summary
This time Uncle John's gives Canadians a leg-numbing instalment on the great game of golf. Uncle John's Bathroom Reader Tees Off is an endlessly informative and humorous swing through golf's history, philosophy, courses, players, equipment, fashion and flubs. A special feature provides the seven best golf tips of all time.Whether a serious pro, a weekend duffer or just a fan of the sport, the reader will find this book as satisfying as a hole-in-one.
Author Biography
The Bathroom Readers' Institute is a tight-knit group of loyal and skilled writers, researchers, and editors who have been working as a team for years. The BRI understands the habits of a very special market—Throne Sitters—and devotes itself to providing amazing facts and conversation pieces.
Table of Contents
Because the BRI understands your reading needs, we've divided the contents by length as well as subject.
Short-a quick read
Medium-2 to 3 pages
Long-for those extended visits, when something a little more involved is required
* Extended-for those leg-numbing experiences
GOLF 101
31
(15)
46
(71)
117
101
(27)
128
(127)
255
WEIRD WORLD OF SPORTS
56
(33)
89
13
(34)
47
(30)
77
(30)
107
(19)
126
(32)
158
(17)
175
(46)
221
(32)
253
BIRTH OF THE GAME
172

| | |
| --- | --- |
| | Ancient Origins of Golf, Part I |

17
(66)

| | |
| --- | --- |
| | Ancient Origins of Golf, Part II |

83
(96)

| | |
| --- | --- |
| | Ancient Origins of Golf, Part III |

179
(54)

| | |
| --- | --- |
| | Scotland's Game: A Timeline |

233
NOT UP TO PAR
185
(43)
228
37
(24)
61
(63)
124
(26)
150
(65)
215
GREAT PERFORMANCES
20
(12)
32
(58)
90
(45)
135
(17)
152
(55)
207
(71)
278
53
(27)
80
(89)
169
(44)
213
ORIGINS
12
(85)
97
(50)
147
(50)
197
(72)
269

| | |
| --- | --- |
| | A Dimpled History of the Golf Ball |

243
POP SCIENCE
23
(36)
59
(40)
99
(39)
138
(43)
181
(50)
231
161
MOUTHING OFF
11
(31)
42
(24)
66
(16)
82
(14)
96
(24)
120
(24)
144
(24)
168
(28)
196
(31)
227
(11)
238
(14)
252
(12)
264
GOLF RULES!
237
33
(36)
69
(104)
173
CHAMPS
71
(106)
177
15
(34)
49
(56)
105
(16)
121
(34)
155
(38)
193
(24)
217
(24)
241
(21)
262
FORGOTTEN HISTORY
104
39
(18)
57
(61)
118
(87)
205
(3)

| | |
| --- | --- |
| | The Color Barrier, Part II |

208
THE MODERN ERA
28
(85)
113
(28)
141
(50)
191
73
(150)
223
(24)
247
DO YOU SPEAK GOLF?
21
(46)
67
(48)
115
(38)
153
(36)
189
(40)
229
(42)
271
PUBLIC LIVES
178
(81)
259
51
(35)
86
(97)
183
(96)
279
ON THE TOUR
63
(73)
136
(64)
200
91
(174)
265
WORDPLAY

| | |
| --- | --- |
| | How'd You Get Your Nickname? |

27
(45)
72
(7)
79
(92)
171
(49)

| | |
| --- | --- |
| | How'd You Get Your Nickname? |

220
25
(235)
260
FUN & GAMES
35
(130)
165
(74)
239
(34)

| | |
| --- | --- |
| | The History of Miniature Golf |

273
THE TRAVEL SECTION
157

| | |
| --- | --- |
| | Land Mines and Crocodiles |

44
(159)
203
109
ODDS & ENDS

| | |
| --- | --- |
| | Uncle John's Page of Lists |

43
(45)
88
(45)
133
(12)
145
(41)
186
(99)
285