Note: Supplemental materials are not guaranteed with Rental or Used book purchases.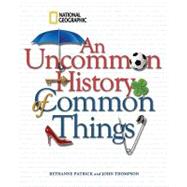 Questions About This Book?
What version or edition is this?
This is the edition with a publication date of 11/17/2009.
What is included with this book?
The New copy of this book will include any supplemental materials advertised. Please check the title of the book to determine if it should include any CDs, lab manuals, study guides, etc.
Summary
Sometime about 30,000 years ago, somebody stuck a sharp rock into a split stick and presto! The axe was born. Our inquisitive species just loves tinkering, testing, and pushing the limits, and this delightfully different book is a freewheeling reference to hundreds of customs, notions, and inventions that reflect human ingenuity throughout history. From hand tools to holidays to weapons to washing machines, An Uncommon History of Common Things features hundreds of colorful illustrations, timelines, sidebars, and more as it explores just about every subject under the sun. Who knew that indoor plumbing has been around for 4,600 years, but punctuation, capital letters, and the handy spaces between written words only date back to the Dark Ages? Or that ancient soldiers baked a kind of pizza on their shields when they weren't busy flying kites to frighten their foes? Every page of this quirky compendium catalogs something fascinating, surprising, or serendipitous. A lively, incomparably browsable read for history buffs, pop culture lovers, and anyone who relishes the odd and extraordinary details hidden in the everyday, it will inform, amuse, astonish and alter the way you think about the clever creatures we call humans.
Author Biography
Bethanne Patrick is a writer and book critic. Her features, profiles, and reviews have appeared in the Washington Post, Publishers Weekly, People magazine, and other publications.

John Thompson is the author and co-author of more than a dozen books including Dakotas, America's Historic Trails, and National Geographic Almanac of American History.
Excerpts
The Uncommon History of Wine


·From the Latin Vinum (Wine)
·Popular types: Red, White, Sparkling, Dessert
·"Variety" in winemaking is the type of grape used
Wild grapes have existed for millions of years. Make that tens of millions–the oldest fossilized vine is dated at about 60 million years old. However, wild grapes are small and sour. The first grapes to be made into wine were domesticated, made possible by cultures that had settled and begun to grow annual crops. The oldest wine container finds have been in what are now modern-day Georgia and Iran (where it was called mei). University of Pennsylvania researchers now believe the domesticated grape may first have been planted in Georgia, then spread south.
Just one grape,
Vitis vinifera
, is the species responsible for 4,000 varieties around the world, but only a relatively small percentage of those are cultivated into wine. Wine production dates back about 6,500 years in Greece, and both red and white wine were important in ancient Egypt. Wine became a commodity in ancient Rome, where barrels and bottles first were used for its storage. The oldest existing bottle of wine is from a Roman colony near what is now Speyer, Germany. That bottle contains some olive oil, an early method of preserving the fermented grape juice, before corks came into use.
After winemaking spread from the Roman Empire throughout western Europe, wine became a preferred beverage in nearly all of those countries, with regional types like sherry (from the port of Jerez), Riesling (grown along the Rhine), and Tokay (a sweet Hungarian varietal) gaining favor, too.
All of these varietals were placed in jeopardy in1863 when the North American root louse Phylloxera vastatrix was brought to Europe, decimating European rootstocks for decades. After a Texan horticulturist named Thomas Munson realized the way to save European vines was through grafting them to American stock, the great vineyards were saved, albeit forever changed.
Nowadays, wineries have become much more than the place where the grapes are grown and the wine made. Many wineries are tourist destinations with overnight accommodations and tasting menus that pair foods with wines. They may also act as wedding sites and corporate conference venues.
Most winery-area real estate is expensive. Modern farming techniques have helped wineries figure out ways to get more mileage out of their acreage while not weakening the soil. Such techniques as vertical shoot positioning (VSP), in which the growth of the vines is highly controlled, results in a very neat, tight canopy. Rather than allowing vines to sprawl, VSP promotes sustainable growth. It's also healthier for the vines, making them less susceptible to disease and able to get shading from their neighbors and leading to more uniform quality.
---

Excerpted from An Uncommon History of Common Things by Bethanne Kelly Patrick, John M. Thompson
All rights reserved by the original copyright owners. Excerpts are provided for display purposes only and may not be reproduced, reprinted or distributed without the written permission of the publisher.