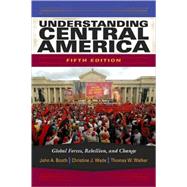 Summary
The fifth edition ofUnderstanding Central Americaexplains how domestic and global political and economic forces have shaped rebellion and regime change in Costa Rica, Nicaragua, El Salvador, Guatemala, and Honduras. John A. Booth, Christine J. Wade, and Thomas W. Walker explore the origins and development of the regionrs"s political conflicts and its efforts to resolve them. Covering the regionrs"s political and economic development from the early 1800s onward, the authors provide a background for understanding Central Americars"s rebellion and regime change of the past forty years. This revised edition brings the Central American story up to date, with special emphasis on globalization, evolving public opinion, progress toward democratic consolidation, and the relationship between Central America and the United States under the Obama administration, and includes analysis of the 2009 Honduran coup drs"eacute;tat. A useful introduction to the region and a model for how to convey its complexities in language readers will comprehend,Understanding Central Americastands out as a must-have resource. Contents 1. Crisis and Transformation 2. Global Forces and System Change in Central America 3. The Common History 4. Costa Rica 5. Nicaragua 6. El Salvador 7. Guatemala 8. Honduras 9. Political Participation, Political Attitudes, and Democracy 10. Power, Democracy, and U.S. Policy in Central America 11. Reflections and Projections
Author Biography
John A. Booth is Regents Professor of Political Science at the University of North Texas. Christine J. Wade is Assistant Professor of Political Science and International studies at Washington College. Thomas W. Walker is professor of political science and Director of the Latin American Studies Program at Ohio University. He is the author of Nicaragua: Living in the Shadow of the Eagle, Fourth Edition (2003, Westview).
Table of Contents
List of Tables and Illustrations
p. ix
Preface to the Fifth Edition
p. xi
Acknowledgments
p. xiii
List of Acronyms
p. xv
Crisis and Transformation
p. 1
Global Forces and System Change in Central America
p. 15
Poverty and Its Causes
p. 17
Regime Change in Central America
p. 28
Discussion
p. 42
The Common History
p. 47
Conquest to 1838
p. 47
1838 to the Present
p. 51
Costa Rica
p. 61
Historical Background
p. 62
Weathering Global Forces
p. 65
The Economic Development Model Transformed
p. 69
Changes in Politics and Parties
p. 72
Contemporary Costa Rican Politics
p. 75
Conclusions
p. 77
Nicaragua
p. 81
Historical Background
p. 81
Global Forces and Insurrection
p. 84
The Revolution
p. 88
Replacing the Revolution
p. 97
Contemporary Nicaraguan Politics
p. 102
Conclusions
p. 107
El Salvador
p. 111
Historical Background
p. 111
Global Forces and Insurrection
p. 114
Government and Politics Since the Peace Accord
p. 126
Conclusions
p. 133
Guatemala
p. 135
Historical Background
p. 135
Global Forces and Conflict
p. 139
The Civilian Transitional Regime and the Civil War
p. 144
The Peace Accords and Contemporary Guatemalan Politics
p. 148
Conclusions
p. 156
Honduras
p. 159
Historical Background
p. 159
Weathering Global Forces
p. 163
Contemporary Honduran Politics
p. 171
Conclusions
p. 177
Political Participation, Political Attitudes, and Democracy
p. 181
Citizen Participation
p. 182
Citizen Attitudes
p. 191
Factors Shaping Attitudes and Participation
p. 198
Conclusions
p. 205
Power, Democracy, and US Policy in Central America
p. 211
The Problem of Power
p. 212
Democracy
p. 213
Mobilization
p. 215
The Roots of US Policy in Central America
p. 219
Communism in Central America
p. 222
Demobilization in Central America
p. 225
US Policy in the Post-Cold War Period
p. 233
Conclusions
p. 239
Reflections and Projections
p. 243
Relections: Repression, Mobilization, and Democratic Transition
p. 243
Projections: Prospects for Democratic Consolidation
p. 248
Conclusions
p. 263
Appendix
p. 267
Notes
p. 279
About the Authors
p. 325
Index
p. 327
Table of Contents provided by Ingram. All Rights Reserved.