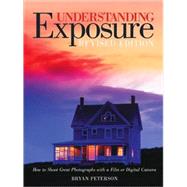 Understanding Exposure : How to Shoot Great Photographs with a Film or Digital Camera
by
Peterson, Bryan
Summary
More than 100 vivid, graphic comparison pictures illustrate every point in this revised classic and can help any photographer maximize the creative impact of his or her exposure decisions. Peterson stresses the importance of metering the subject for a starting exposure, and then explains how to use various exposure meters and different kinds of lighting. The book contains lessons on each element of the exposure-aperature, shutter speed, iso-and how it relates to the other two in terms of depth of field, freezing and blurring action, and shooting in low light or at night. A section on special techniques explores such options as deliberate under- and overexposures, how to produce double exposures, bracketing, shooting the moon, and the use of filters.Understanding Exposuredemonstrates that there are always creative choices about how to expose a picture-and that the decision is up to the photographer, not the camera. "Highly recommended."--Washington Times Previous edition has sold more than 80,000 copies Uses side-by-side comparisons to illustrate techniques and points Includes information on exposure for digital photography Companion volume toLearning to See Creatively(0-8174-4181-6)
Author Biography
Bryan Peterson is the author of the best-selling Learning to See Creatively and writes a photography column "Picture Points," for Popular Photography Magazine. His many photographic awards include the Communication Arts Photography Annual (eight times), Print Magazine's Design Annual (four times), and the New York Art Directors Gold Award. He lives in Seattle and Lyon, France.
Table of Contents
Introduction
p. 8
Defining Exposure
p. 12
What is Meant by "Exposure"?
p. 14
The Photographic Triangle
p. 16
The Heart of the Triangle: the Light Meter
p. 22
Six Correct Exposures vs. One Creatively Correct One
p. 24
Seven Creative Exposure Options
p. 32
Aperture
p. 34
Aperture and Depth of Field
p. 36
Storytelling Apertures
p. 38
Singular-Theme Apertures
p. 48
"Who Cares?" Apertures
p. 56
Aperture and Macro Photography
p. 62
Aperture and Specular Highlights
p. 68
Shutter Speed
p. 70
The Importance of Shutter Speed
p. 72
The Right Shutter Speed for the Subject
p. 74
Freezing Motion
p. 76
Panning
p. 80
Implying Motion
p. 84
Implying Motion While Zooming
p. 88
Making Rain
p. 90
Light
p. 92
The Importance of Light: The Importance of Exposure
p. 94
The Best Light
p. 96
Frontlight
p. 100
Overcast Frontlight
p. 102
Sidelight
p. 106
Backlight
p. 110
Exposure Meters
p. 114
18% Reflectance
p. 118
The Sky Brothers
p. 122
Mr. Green Jeans (The Sky Brothers' Cousin)
p. 126
Night and Low-Light Photography
p. 128
Special Techniques and Filters
p. 136
Deliberate Overexposure
p. 138
Double Exposure and Sandwiching
p. 140
Multiple Exposure
p. 142
Polarizing Filters
p. 144
Neutral-Density Filters
p. 148
Graduated Neutral-Density Filters
p. 150
Film vs. Digital
p. 152
ISO
p. 154
Color
p. 156
Pushing and Pulling
p. 158
Index
p. 160
Table of Contents provided by Rittenhouse. All Rights Reserved.