Note: Supplemental materials are not guaranteed with Rental or Used book purchases.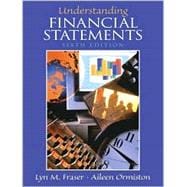 Questions About This Book?
What version or edition is this?
This is the 6th edition with a publication date of 6/1/2000.
What is included with this book?
The New copy of this book will include any supplemental materials advertised. Please check the title of the book to determine if it should include any CDs, lab manuals, study guides, etc.
Summary
A supplementary text for a variety of Business courses, including Principles of Financial Accounting, Intermediate Accounting, Investments, Personal Finance, and Financial Planning and Analysis. In Understanding Financial Statements 6/e, Lyn Fraser and Aileen Ormiston teach students how to work through the obstacle course of data that make up a company's financial statements. They show what paths to follow in order to glean out the information needed to ultimately determine the financial health of a business. By using examples, illustrations, and explanations, the authors get behind the numbers and accounting policies to assess how well companies are actually performing. And, with an emphasis on analysis, the book breaks financial statements into parts for individual study so that students better understand the whole of their content as a map to intelligent decision-making. Adopt the new edition of Fraser/Ormiston and your students will have financial statements at their command!
Table of Contents
Preface
xiii
Uses of the Sixth Edition
xiv
Features of the Sixth Edition
xv
Acknowledgments
xvii

| | |
| --- | --- |
| | Financial Statements: An Overview |

1
(49)
1
(4)
3
(1)
4
(1)
5
(12)
5
(4)

| | |
| --- | --- |
| | Notes to the Financial Statements |

9
(4)
13
(2)

| | |
| --- | --- |
| | Other Required Information |

15
(1)

| | |
| --- | --- |
| | Pandora (A.K.A. ``PR Fluff'') |

16
(1)
17
(5)
17
(2)
19
(1)
19
(3)

| | |
| --- | --- |
| | Other Discretionary Issues |

22
(1)
22
(2)

| | |
| --- | --- |
| | Quality of Financial Reporting |

24
(6)

| | |
| --- | --- |
| | Accounting Policies, Estimates---Choices and Changes |

25
(1)

| | |
| --- | --- |
| | Timing of Revenue and Expense Recognition |

26
(1)
27
(1)

| | |
| --- | --- |
| | Non-recurring and Non-operating Items |

28
(2)
30
(1)

| | |
| --- | --- |
| | Missing and Hard-to-Find Information |

31
(2)
33
(3)

| | |
| --- | --- |
| | Study Questions and Problems |

36
(2)
38
(4)

| | |
| --- | --- |
| | Chambers Development Company Mini-Case |

42
(8)
50
(40)
51
(2)
51
(1)
51
(2)
53
(1)
53
(10)
53
(1)

| | |
| --- | --- |
| | Cash and Marketable Securities |

54
(1)
55
(1)
56
(1)

| | |
| --- | --- |
| | Inventory Accounting Methods |

57
(3)
60
(1)

| | |
| --- | --- |
| | Property, Plant, and Equipment |

60
(2)
62
(1)
63
(6)
63
(1)
64
(1)
64
(1)

| | |
| --- | --- |
| | Current Maturities of Long-Term Debt |

64
(1)
64
(1)

| | |
| --- | --- |
| | Unearned Revenue or Deferred Credits |

65
(1)

| | |
| --- | --- |
| | Deferred Federal Income Taxes |

65
(3)
68
(1)
68
(1)
69
(3)
69
(1)

| | |
| --- | --- |
| | Additional Paid-In Capital |

69
(1)
70
(1)
70
(1)

| | |
| --- | --- |
| | Other Balance Sheet Items |

71
(1)
72
(4)

| | |
| --- | --- |
| | Study Questions and Problems |

76
(3)

| | |
| --- | --- |
| | Intel Corporation Mini-Case |

79
(4)

| | |
| --- | --- |
| | The Rival Company Mini-Case |

83
(7)

| | |
| --- | --- |
| | Income `Statement and Statement of Stockholders' Equity |

90
(29)
91
(9)
93
(1)
94
(1)
95
(1)
95
(1)

| | |
| --- | --- |
| | Depreciation and Amortization |

96
(1)
97
(1)
98
(1)

| | |
| --- | --- |
| | Earnings Before Income Taxes |

98
(1)
98
(1)

| | |
| --- | --- |
| | Earnings Per Common Share |

99
(1)
99
(1)

| | |
| --- | --- |
| | The Statement of Stockholders' Equity |

100
(6)

| | |
| --- | --- |
| | Earnings Quality, Inflation, Cash Flow, Segmental Accounting |

106
(1)
106
(4)

| | |
| --- | --- |
| | Study Questions and Problems |

110
(3)
113
(3)

| | |
| --- | --- |
| | Compaq Computer Corporation Mini-Case |

116
(3)
119
(35)

| | |
| --- | --- |
| | Preparing a Statement of Cash Flows |

120
(5)

| | |
| --- | --- |
| | Calculating Cash Flow from Operating Activities |

125
(5)
125
(3)
128
(2)

| | |
| --- | --- |
| | Cash Flow from Investing Activities |

130
(1)

| | |
| --- | --- |
| | Cash Flow from Financing Activities |

130
(1)
131
(2)

| | |
| --- | --- |
| | Analyzing the Statement of Cash Flows |

133
(5)

| | |
| --- | --- |
| | Cash Flow from Operations |

133
(1)
134
(2)

| | |
| --- | --- |
| | Help from a Statement of Cash Flows |

136
(1)

| | |
| --- | --- |
| | Summary Analysis of the Statement of Cash Flows |

137
(1)
138
(4)

| | |
| --- | --- |
| | Study Questions and Problems |

142
(6)
148
(3)

| | |
| --- | --- |
| | Royal Appliance Mfg. Co. and Subsidiaries Mini-Case |

151
(3)

| | |
| --- | --- |
| | The Analysis of Financial Statements |

154
(65)
154
(2)
156
(2)
156
(1)

| | |
| --- | --- |
| | Management Discussion and Analysis |

156
(1)
156
(1)
156
(1)
157
(1)
158
(13)

| | |
| --- | --- |
| | Common Size Financial Statements |

158
(3)
161
(1)

| | |
| --- | --- |
| | Liquidity Ratios: Short-Term Solvency |

161
(3)

| | |
| --- | --- |
| | Activity Ratios: Asset Liquidity, Asset Management Efficiency |

164
(3)

| | |
| --- | --- |
| | Leverage Ratios: Debt Financing and Coverage |

167
(2)

| | |
| --- | --- |
| | Profitability Ratios: Overall Efficiency and Performance |

169
(2)
171
(14)

| | |
| --- | --- |
| | Background: Economy, Industry, and Firm |

172
(1)
173
(2)
175
(1)

| | |
| --- | --- |
| | Capital Structure and Long-Term Solvency |

176
(1)

| | |
| --- | --- |
| | Example of Financial Leverage |

176
(3)

| | |
| --- | --- |
| | Operating Efficiency and Profitability |

179
(1)

| | |
| --- | --- |
| | Relating the Ratios---The Du Pont System |

180
(2)

| | |
| --- | --- |
| | Projections, Pro Forma Statements, and Market Ratios |

182
(1)
183
(1)
184
(1)
185
(5)

| | |
| --- | --- |
| | Study Questions and Problems |

190
(15)

| | |
| --- | --- |
| | First Team Sports Inc. Mini-Case |

205
(8)
213
(6)
Appendixes
219
(44)

| | |
| --- | --- |
| | A A Guide to Earnings Quality |

219
(15)

| | |
| --- | --- |
| | B The Analysis of Segmental Data |

234
(7)

| | |
| --- | --- |
| | C Understanding Bank Financial Statements |

241
(10)

| | |
| --- | --- |
| | D Solutions to Self-Tests |

251
(2)

| | |
| --- | --- |
| | E Summary of Financial Ratios |

253
(2)
255
(8)
Index
263