Note: Supplemental materials are not guaranteed with Rental or Used book purchases.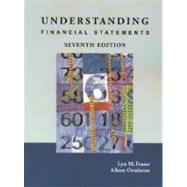 Summary
Understanding Financial Statements, 7/E retains its reputation for readability, concise coverage, and accessibility while incorporating the many new requirements and changes in accounting reporting and standards. It gives readers the conceptual background and analytical tools necessary to understand and interpret business financial statements. The book covers the tools and techniques needed to analyze and interpret financial statements, income statements, balance sheets, and cash flow statements. For controllers, CFOs, financial analysts, credit analysts, or business managers who need a valuable reference book. For any individual who wants to learn how to read and interpret financial statements.
Table of Contents
1. Financial Statements: An Overview.
2. The Balance Sheet.
3. Income Statement and Statement of Stockholders' Equity.
4. Statement of Cash Flows.
Supplement to Chapter 4: Statement of Cash Flows—Direct Method.
5. The Analysis of Financial Statements.
Appendix A. A Guide to Earnings Quality and Financial Reporting Quality.
Appendix B. The Analysis of Segmental Data.
Appendix C. Summary of Financial Ratios.
Appendix D. Solutions to Self-Tests.
Appendix E. Glossary.
Index.

Excerpts
For those of you who have been reading the preface of this book since the first edition (or at least an earlier edition), we are pleased to share the following updates. Our hair has turned new shades of gray this past year as we not only worked on the revision of Understanding Financial Statements,but also wrote a new book, Understanding the Corporate Annual Report: Nuts, Bolts, and a Few Loose Screws.The new book was a result of the fact that Lyn actually practiced what our book preaches, and had advised her daughter Eleanor not to invest her 401(k) funds in Enron, where Eleanor worked before going to graduate school. Eleanor, with her retirement account mostly intact, has graduated with an MBA from UCLA and is now working at the Walt Disney Company. Fortunately, Eleanor and Jacqui (Aileen's daughter) helped us throughout the stressful process of meeting deadlines on two books by contributing their range of computer and other assorted talents. Josh, Aileen's son, made sure she took breaks from long hours of work by forcing her to play gin and cribbage for money. Aileen has now generated negative cash flow from this endeavor. ORGANIZATION OF THE SEVENTH EDITION Chapter 1 provides an overview of financial statements and presents approaches to overcoming some of the challenges, obstacles, and blind alleys that may confront the user of financial statements: (1) the volume of information, with examples of specific problems encountered in such areas as the auditor's report and the management discussion and analysis section as well as material that is sometimes provided by management but is not useful for the analyst; (2) the complexity of the accounting rules that underlie the preparation and presentation of financial statements; (3) the variations in quality of financial reporting, including management discretion in some important areas that affect analysis; and (4) the importance of financial information that is omitted or difficult to find in conventional financial statement presentations. Chapters 2 through 5 describe and analyze financial statements for a mythical but potentially real company, Recreational Equipment and Clothing, Incorporated (R.E.C. Inc.), that sells recreational products through retail outlets in the southwestern United States. The specifics of this particular firm should be helpful in illustrating how financial statement analysis can provide insight into a firm's strengths and weaknesses. But the principles and concepts covered throughout the book apply to any set of published financial statements (other than for specialized industries, such as financial institutions and public utilities). Because one company cannot provide every account and problem the user will encounter in financial statements, additional company examples are introduced throughout the text where needed to illustrate important accounting and analytical issues. Chapters 2 through 4 discuss in detail a basic set of financial statements: the balance sheet in Chapter 2; the income (earnings) statement, including the evaluation of earnings quality, and statement of stockholders' equity in Chapter 3; and the statement of cash flows in Chapter 4. The emphasis in each of these chapters is on what the financial statements convey about the condition and performance of a business firm as well as how the numbers have been derived. With this material as background, Chapter 5 covers the interpretation and analysis of the financial statements discussed in Chapters 2 through 4. This process involves the calculation and interpretation of financial ratios, an examination of trends over time, a comparison of the firm's condition and performance with its competitors, and an assessment of the future potential of the company based on its historical record. Chapter 5 also reviews additional sources of information that can enhance the analytical process. Self-tests at the ends of