Note: Supplemental materials are not guaranteed with Rental or Used book purchases.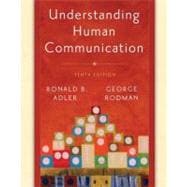 Questions About This Book?
What version or edition is this?
This is the 10th edition with a publication date of 2/1/2008.
What is included with this book?
The Used copy of this book is not guaranteed to include any supplemental materials. Typically, only the book itself is included.
Related Products
Summary
Now in its tenth edition, Understanding Human Communication continues to build on the widely successful approach--a sophisticated balance of theory and skills--that has captivated more than a half million students and their professors. The best-selling introductory communication book in the field, this classic text has been enriched and streamlined to reflect the latest research developments and to meet the evolving needs of students. It begins with an introduction to the basic elements of communication, providing students with a solid understanding of perception, language, listening, and nonverbal communication. Next, the book guides them through lively sections on interpersonal communication, small group communication, and public address. Esteemed authors Ronald B. Adler and George Rodman speak to students in language that is both engaging and accessible, offering numerous examples that clearly illustrate concepts in real-life scenarios. Throughout, they draw from the latest media, culture, technology, and scholarship to create a distinctive pedagogy that gives students the tools they need to master--and enjoy--this intriguing and relevant subject. With its striking visual presentation, comprehensive classroom supplements, and dedicated student-focused pedagogy, Understanding Human Communication continues to enliven classrooms and equip students with effective communication skills that will make a difference in their everyday lives. New to the tenth edition: * "Media Room" boxes analyze examples from popular films and television shows, in order to illustrate important communication concepts, from drama (Grey's Anatomy) to comedy (Little Miss Sunshine) to documentary (An Inconvenient Truth). * "Understanding Diversity" and "Understanding Technology" boxes incorporate new, incisive examples that convey key ideas. * New and updated coverage of culture and technology is integrated throughout. * Thought-provoking Case Studies now wrap up each unit, presenting real-life communication challenges that students might encounter on the job, in school, and in personal relationships. * All-new Sample Speeches include full outlines and commentary from students and the authors. * The Interviewing Appendix now addresses the needs of students entering the workforce, featuring pre-interview strategies, examples of questions that potential employers may and may not legally ask, and behavioral interviews. The text is accompanied by a Student Success Manual, an Instructor's Manual and Test Bank, a comprehensive companion website at www.oup.com/us/uhc10, and Now Playing, a vibrant resource (available both online and in print) that examines contemporary films through the lens of communication principles.
Author Biography

Ronald B. Adler is Professor of Communication at Santa Barbara City College. He is coauthor of Interplay: The Process of Interpersonal Communication, Tenth Edition (OUP, 2006), Looking Out, Looking In (2006), and Communicating at Work: Principles and Practices for Business and the Professions (2006).
George Rodman is Professor of Mass Communication at Brooklyn College, City University of New York, where he founded the television writing program. He is author of Mass Media in a Changing World, Second Edition (2007), and Making Sense of Media (2001).

Table of Contents
Each Chapter ends with a Summary, Key Terms, Activities, and For Further Exploration
Elements of Communication
Human Communication: What and Why
Communication Defined
Communication Is a Process
Communication Is Symbolic
Types of Communication
Intrapersonal Communication
Dyadic/Interpersonal Communication
Small Group Communication
Public Communication
Mass Communication
Functions of Communication
Physical Needs
Identity Needs
Social Needs
Practical Needs
Modeling Communication
A Linear Model
A Transactional Model
Communication Competence: What Makes an Effective Communicator?
Communication Competence Defined
Characteristics of Competent Communicators
Intercultural Communication Competence
Competence in Mediated Communication
Clarifying Misconceptions About Communication
Communication Does Not Always Require Complete Understanding
Communication Isn't Always a Good Thing
No Single Person or Event Causes Another's Reaction
Communication Will Not Solve All Problems
Meanings Rest in People, Not Words
Communication Is Not Simple
More Communication Is Not Always Better
The Self, Perception, and Communication
Communication and the Self
Self-Concept Defined
Communication and the Development of the Self
Culture and the Self-Concept
The Self-Concept and Communication with Others
The Self-Fulfilling Prophecy
Perceiving Others
Steps in the Perception Process
Narratives and Perception
Common Perceptual Tendencies
Perception and Culture
Empathy and Perception
Communication and Identity Management
Public and Private Selves
Characteristics of Identity Management
Why Manage Impressions?
How Do We Manage Impressions?
Impression Management and Honesty
Language
The Nature of Language
Language Is Symbolic
Meanings Are in People, Not Words
Language Is Rule-Governed
The Power of Language
Language Shapes Attitudes
Language Reflects Attitudes
Troublesome Language
The Language of Misunderstandings
Disruptive Language
Evasive Language
Gender and Language
Content
Reasons for Communicating
Conversational Style
Nongender Variables
Culture and Language
Verbal Communication Styles
Language and Worldview
Listening
Misconceptions About Listening
Listening and Hearing are Not the Same Thing
Listening Is Not a Natural Process
Mindful Listening Requires Effort
All Listeners Do Not Receive the Same Message
Overcoming Challenges to Effective Listening
Faulty Listening Behaviors
Reasons for Poor Listening
Personal Listening Styles
Content-Oriented
People-Oriented
Action-Oriented
Time-Oriented
Informational Listening
Don't Argue or Judge Prematurely
Separate the Message from the Speaker
Be Opportunistic
Look for Key Ideas
Ask Questions
Paraphrase
Take Notes
Critical Listening
Listen for Information Before Evaluating
Evaluate the Speaker's Credibility
Examine the Speaker
Table of Contents provided by Publisher. All Rights Reserved.