Note: Supplemental materials are not guaranteed with Rental or Used book purchases.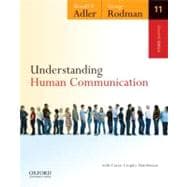 Questions About This Book?
Why should I rent this book?
Renting is easy, fast, and cheap! Renting from eCampus.com can save you hundreds of dollars compared to the cost of new or used books each semester. At the end of the semester, simply ship the book back to us with a free UPS shipping label! No need to worry about selling it back.
How do rental returns work?
Returning books is as easy as possible. As your rental due date approaches, we will email you several courtesy reminders. When you are ready to return, you can print a free UPS shipping label from our website at any time. Then, just return the book to your UPS driver or any staffed UPS location. You can even use the same box we shipped it in!
What version or edition is this?
This is the 11th edition with a publication date of 1/10/2011.
What is included with this book?
The Used copy of this book is not guaranteed to include any supplemental materials. Typically, only the book itself is included.
The Rental copy of this book is not guaranteed to include any supplemental materials. You may receive a brand new copy, but typically, only the book itself.
Related Products
Customer Reviews
Great job eCampus!
September 27, 2011
by





Book was decent, but it can be hard to get through at times. Some parts of this book are more interesting and better written than others. Some are a pretty fun read, others can be a headache. The real story here is that I received the book in 2 days. I will definitely order from Ecampus in the future!!

Flag Review
---
Understanding Human Communication

:
stars based on
1
user reviews.
Summary
UNDERSTANDING HUMAN COMMUNICATION IS UNDERSTANDINGCHANGE. For over three decades, this has been the best-selling text for the introduction to human communication course.Understanding Human Communicationis written with one goal in mind: to provide students with the insights and skills to succeed in our changing world. Ronald B. Adler, George Rodman, and new author Carrie Cropley Hutchinson place communication theory within the context of everyday skills and draw from the latest media, culture, and scholarship, creating a distinctive pedagogy that gives students the tools they need to master--and enjoy--this intriguing and relevant subject. NEW TO THE ELEVENTH EDITION * New part-opening "Case Studies"present real-life communication challenges on the job, in school, and in personal relationships. * A brand-new chapter, "The Changing World of Communication,"considers demographic and cultural influences and the ways in which technologies have created both new opportunities and challenges in our modern world. * This edition presents current research on many new topicsincluding how we perceive strangers differently in mediated and face-to-face communication, how linguistic labels reflect cultural identity, the differences between conflicts online and in person, and the ways in which gender influences styles of conflict. * New "@ Work" boxesdemonstrate how key concepts presented in the book can be applied in the workplace. * Part V: Public Communicationhas been streamlined and reorganized to give students a more efficient introduction to public speaking. Synthesizing material from previous editions, the new Chapter 11, "Preliminary Considerations," discusses choosing and developing a topic as well as managing communication apprehension. * A new Appendix, "Communicating for Career Success,"provides students with practical information on interviewing and networking. DISTINCTIVE FEATURES *Understanding Diversitysidebars address subjects such as managing identity during the process of "coming out," the potential for misunderstandings during translation, and how lessons from other cultures can enhance listening skills. * Understanding Communication Technologyboxes focus on topics related to mediated communication, including how social media can meet a variety of communication needs, the etiquette of revealing what one has learned about others online, the dangers of being overly connected via the internet, and the ethical principles for using and acknowledging information gleaned from the web. * Invitation to Insightsidebars offer readings that show how the elements of communication operate in contemporary society, including the risks of broadcasting personal information via "sexting," social standards for using profanity, and the limitations of free speech when civil listening is absent. * Critical Thinkingprobes encourage students to consider their own actions in light of concepts covered in the text. * Ethical Challengesinvite students to ponder contemporary ethical issues in communication, such as whether honesty is always the best policy, the acceptability of presenting multiple identities, the tension between allowing free speech and the acceptability of hateful language, and the challenge of dealing politely but effectively with obnoxious group members. * Cultural Idiomsappear in the margins of each chapter, helping non-native English speakers understand American colloquialisms while also showing more proficient speakers how supposedly everyday speech can be misunderstood by listeners from other cultures. SUPPORT PACKAGE * ClassMate,a nationally hosted online homework system, gives you the ability to manage digital content from this book and its supplements, to make assignments, to administer tests, and to track student progress. * Companion Website(www.oup.com/us/uhc11) with free resources for students and instructors * Student Success Manual(available free to students in a package) with summaries of key concepts from each chapter, and additional questions with full answers, giving students even more opportunities for practice * Instructor''s Manualwith a revised and expanded Test Bank * Instructor''s CD-ROM(includes the full computerized Test Bank) * Now Playing: Learning Communication Through Film * Two additional, optional chapters available(one on Mediated Communication and the other on Service Learning)
Author Biography

Ronald B. Adler is Professor of Communication Emeritus at Santa Barbara City College. He is coauthor of Interplay: The Process of Interpersonal Communication, Eleventh Edition (OUP, 2009), Looking Out, Looking In (2011), and Communicating at Work: Principles and Practices for Business and the Professions (2011).

George Rodman is a professor in the Department of Television and Radio at Brooklyn College, City University of New York, where he founded the graduate media studies program. He is author of Mass Media in a Changing World, Fourth Edition (2011), Making Sense of Media (2001), and several books on public speaking.

Carrie Cropley Hutchinson is a professor in the Department of Communication at Santa Barbara City College, where she directs the Interpersonal Communication and Business Communication programs. She also teaches Intercultural Communication for the college's study abroad program. Professor Cropley is the author of Interpersonal Communication: Navigating Relationships in a Changing World (2010).

Table of Contents

Preface
About the Authors
PART I: FUNDAMENTALS OF COMMUNICATION
CHAPTER 1: HUMAN COMMUNICATION: WHAT AND WHY
Communication Defined
Communication Is a Process
Communication Is Symbolic
Types of Communication
Intrapersonal Communication
Dyadic/Interpersonal Communication
Small Group Communication
Public Communication
Mass Communication
Functions of Communication
Physical Needs
Identity Needs
Social Needs
Practical Needs
Modeling Communication
A Linear Model
A Transactional Model
Communication Competence: What Makes an Effective Communicator?
Communication Competence Defined
Characteristics of Competent Communicators
Clarifying Misconceptions About Communication
Communication Does Not Always Require Complete Understanding
Communication Will Not Solve All Problems
Communication Isn't Always a Good Thing
Meanings Rest in People, Not Words
Communication Is Not Simple
More Communication Isn't Always Better
INVITATION TO INSIGHT: The Many Meanings of Communication
UNDERSTANDING COMMUNICATION TECHNOLOGY: Social Media Meet Communication Needs
UNDERSTANDING DIVERSITY: Call Centers and Culture
@WORK: When More Communication Isn't Better: Declaring E-mail Bankruptcy
CHAPTER 2: THE CHANGING WORLD OF COMMUNICATION
Understanding Change
Changing Technologies
Changing Discipline
Changing Demographics
Communicating in a Diverse World
Intercultural and Intergroup Communication
Cultural Values and Norms
Developing Intercultural Communication Competence
Social Media in a Changing World
Mediated Versus Face-to-Face Communication
Mediated Communication in Society
Communicating Competently with Social Media
@WORK: Can You Be Too Connected?
INVITATION TO INSIGHT: "Sexting" Surprise: Teens Face Child Porn Charges
UNDERSTANDING COMMUNICATION TECHNOLOGY: The Etiquette of Internet "Stalking"
CHAPTER 3: THE SELF, PERCEPTION, AND PERCEPTION
Communication and the Self
Self-Concept Defined
Communication and Development of the Self
Culture and the Self-Concept
The Self-Concept and Communication with Others
The Self-Fulfilling Prophecy and Communication
Perceiving Others
Steps in the Perception Process
Narratives, Perception, and Communication
Common Perceptual Tendencies
Perception in Mediated Communication
Perception and Culture
Empathy, Perception, and Communication
Communication and Identity Management
Public and Private Selves
Characteristics of Identity Management
Why Manage Identities?
Identity Management in Mediated Communication
Identity Management and Honesty
UNDERSTANDING DIVERSITY: Managing Identity and Coming Out
@WORK: Identity Management in the Workplace
PART II: COMMUNICATION ELEMENTS
CHAPTER 4: LANGUAGE
The Nature of Language
Language Is Symbolic
Meanings Are in People, Not Words
Language Is Rule Governed
The Power of Language
Language Shapes Attitudes
Language Reflects Attitudes
Troublesome Language
The Language of Misunderstandings
Disruptive Language
Evasive Language
Gender and Language
Content
Reasons for Communicating
Conversational Style
Nongender Variables
Culture and Language
Verbal Communication Styles
Language and Worldview
INVITATION TO INSIGHT: What the *@#$!?
@WORK: What's in a Name?
UNDERSTANDING DIVERSITY: Lost in Translation
CHAPTER 5: LISTENING
Misconceptions About Listening
Listening and Hearing Are Not the Same Thing
Listening Is Not a Natural Process
All Listeners Do Not Receive the Same Message
Overcoming Challenges to Effective Listening
Mindful Listening Requires Effort
Faulty Listening Behaviors
Reasons for Poor Listening
Personal Listening Styles
Content-Oriented
People-Oriented
Action-Oriented
Time-Oriented
Informational Listening
Don't Argue or Judge Prematurely
Separate the Message from the Speaker
Search for Value
Look for Key Ideas
Ask Questions
Paraphrase
Take Notes
Critical Listening
Listen for Information Before Evaluating
Evaluate the Speaker's Credibility
Examine the Speaker's Evidence and Reasoning
Examine Emotional Appeals
Listening as Social Support
Social Support and Mediated Communication
Gender and Social Support
Types of Supportive Responses
When and How to Help
@WORK: Multitasking: A Recipe for Inattention
INVITATION TO INSIGHT: What Good Is Free Speech if No One Listens?
UNDERSTANDING DIVERSITY: Council: Reviving the Art of Listening
CHAPTER 6: NONVERBAL COMMUNICATION
Characteristics of Nonverbal Communication
Nonverbal Behavior Has Communicative Value
Nonverbal Communication Is Primarily Relational
Nonverbal Communication Is Ambiguous
Nonverbal Communication Is Different from Verbal Communication
Nonverbal Skills Are Important
Influences on Nonverbal Communication
Culture
Gender
Functions of Nonverbal Communication
Repeating
Substituting
Complementing
Accenting
Regulating
Contradicting
Deceiving
Types of Nonverbal Communication
Body Movements
Voice
Appearance
Touch
Space
Environment
Time
UNDERSTANDING DIVERSITY: Nonverbal Learning Disorder
UNDERSTANDING COMMUNICATION TECHNOLOGY: Expressiveness in Online Communication
@WORK: Touch and Career Success
UNDERSTANDING DIVERSITY: Doing Business Across Cultures
PART III: INTERPERSONAL COMMUNICATION
CHAPTER 7: UNDERSTANDING INTERPERSONAL RELATIONSHIPS
Why We Form Relationships
Appearance
Similarity
Complementarity
Reciprocal Attraction
Competence
Disclosure
Proximity
Rewards
Characteristics of Interpersonal Communication
What Makes Communication Interpersonal?
Interpersonal Communication in Mediated Relationships
Content and Relational Messages
Metacommunication
Communication over the Relational Life Span
A Developmental Perspective
A Dialectical Perspective
Intimacy in Interpersonal Relationships
Dimensions of Intimacy
Male and Female Intimacy Styles
Cultural Influences on Intimacy
Self-Disclosure in Interpersonal Relationships
Models of Self-Disclosure
Characteristics of Effective Self-Disclosure
Guidelines for Appropriate Self-Disclosure
Alternatives to Self-Disclosure
UNDERSTANDING COMMUNICATION TECHNOLOGY: To End a Romance, Just Press "Send": Instant Messaging Altering the Way We Love
INVITATION TO INSIGHT: Is It Ever Right to Lie?
@WORK: Social Capital: Personal Relationships and Career Advancement
CHAPTER 8: IMPROVING INTERPERSONAL RELATIONSHIPS
Communication Climates in Interpersonal Relationships
Confirming and Disconfirming Messages
How Communication Climates Develop
Creating Positive Communication Climates
Managing Interpersonal Conflict
The Nature of Conflict
Styles of Expressing Conflict
Characteristics of an Assertive Message
Gender and Conflict Style
Conflict in Mediated Communication
Cultural Influences on Conflict
Methods for Conflict Resolution
Steps in Win-Win Problem Solving
UNDERSTANDING COMMUNICATION TECHNOLOGY: Can You Hear Me Now?
INVITATION TO INSIGHT: A Comparison of Dialogue and Debate
@WORK: Dealing with Sexual Harassment
PART IV: COMMUNICATION IN GROUPS
CHAPTER 9: COMMUNICATING IN GROUPS
The Nature of Groups
What Is a Group?
Virtual and Face-to-Face Groups
Goals of Groups and Their Members
Individual Goals
Group Goals
Characteristics of Groups
Rules and Norms
Roles
Patterns of Interaction
Decision-Making Methods
Cultural Influences on Group Communication
Individualism Versus Collectivism
Power Distance
Uncertainty Avoidance
Task Versus Social Orientation
Short- Versus Long-Term Orientation
Leadership and Power in Groups
Power in Groups
What Makes Leaders Effective?
INVITATION TO INSIGHT: The Power of Small Groups
@WORK: What Makes a Group a Team?
UNDERSTANDING DIVERSITY: Baseball in Japan and the USA
CHAPTER 10:SOLVING PROBLEMS IN GROUPS
Problem Solving in Groups: When and Why
Advantages of Group Problem Solving
When to Use Groups for Problem Solving
Group Problem-Solving Strategies and Formats
Problem-Solving Formats
Solving Problems in Virtual Groups
Approaches and Stages in Problem Solving
A Structured Problem-Solving Approach
Developmental Stages in Problem-Solving Groups
Maintaining Positive Relationships
Basic Skills
Building Cohesiveness
Overcoming Dangers in Group Discussion
Information Underload and Overload
Unequal Participation
Pressure to Conform
INVITATION TO INSIGHT: Once Upon a September Day
@WORK: Setting Up a Virtual Group
PART V: PUBLIC COMMUNICATION
CHAPTER 11: PREPARING SPEECHES
Getting Started
Choosing Your Topic??
Defining Your Purpose
Writing a Purpose Statement
Stating Your Thesis
Analyzing the Speaking Situation
The Listener: Audience Analysis
The Occasion
Gathering Information
Web Research
Library Research?
Interviewing?
Survey Research?
Managing Communication Apprehension?
Facilitative and Debilitative Communication Apprehension?
Sources of Debilitative Communication Apprehension
Overcoming Debilitative Communication Apprehension ??
Choosing a Type of Delivery?
Extemporaneous?
Impromptu?
Manuscript?
Memorized?
Practicing the Speech
Guidelines for Delivery?
Visual Aspects of Delivery
Auditory Aspects of Delivery
@WORK: Sample Analysis of a Speaking Situation
UNDERSTANDING DIVERSITY: A Compendium of American Dialects
CHAPTER 12: ORGANIZATION AND SUPPORT
Structuring Your Speech
Your Working Outline
Your Formal Outline
Your Speaking Notes
Principles of Outlining
Standard Symbols
Standard Format
The Rule of Division
The Rule of Parallel Wording
Organizing Your Outline into a Logical Pattern
Time Patterns
Space Patterns
Topic Patterns
Problem-Solution Patterns
Cause-Effect Patterns
Using Transitions
Beginning and Ending the Speech
The Introduction
The Conclusion
Supporting Material
Functions of Supporting Material
Types of Supporting Material
Style of Support: Narration and Citation
UNDERSTANDING DIVERSITY: Nontraditional Patterns of Organization
@WORK: Organizing Business Presentations
UNDERSTANDING COMMUNICATION TECHNOLOGY: Plagiarism in a Digital Age
CHAPTER 13: INFORMATIVE SPEAKING
Types of Informative Speaking
By Content
By Purpose
Informative Versus Persuasive Topics
An Informative Topic Tends to Be Noncontroversial
The Informative Speaker Does Not Intend to Change Audience Attitudes
Techniques of Informative Speaking
Create Information Hunger
Make it Easy to Listen
Use Clear, Simple Language
Use a Clear Organization and Structure
Use Supporting Material Effectively
Emphasize Important Points
Generate Audience Involvement
Using Visual Aids
Types of Visual Aids
Media for the Presentation of Visual Aids
Rules for Using Visual Aids
Using Power Point
UNDERSTANDING DIVERSITY: How Culture Affects Information
@WORK: The Pros and Cons of PowerPoint
CHAPTER 14: PERSUASIVE SPEAKING
Characteristics of Persuasion
Persuasion Is Not Coercive
Persuasion Is Usually Incremental
Persuasion Is Interactive
Persuasion Can Be Ethical
Categorizing Types of Persuasion
By Types of Proposition
By Desired Outcome
By Directness of Approach
Creating the Persuasive Message
Set a Clear, Persuasive Purpose
Structure the Message Carefully
Use Solid Evidence
Avoid Fallacies
Adapting to the Audience
Establish Common Ground
Organize According to the Expected Response
Neutralize Potential Hostility
Building Credibility as a Speaker
Competence
Character
Charisma
UNDERSTANDING DIVERSITY: Cultural Differences in Persuasion
@WORK: Persuasion Skills in the World of Sales
APPENDIX: COMMUNICATING FOR CAREER SUCCESS
Employment Strategies
The Selection Interview
Communicating for Career Advancement
Notes
Glossary
Credits
Index