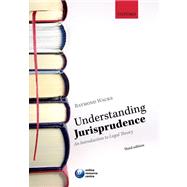 Understanding Jurisprudence An Introduction to Legal Theory, 3rd Edition
by
Wacks, Raymond
Related Products
Summary
With a clear, engaging, and informal writing style,Understanding Jurisprudenceis the perfect guide for students new to legal theory and looking for a convenient and interesting starting point for this sometimes daunting subject. Key theories and theorists are introduced in a compact and manageable format, offering an accessible account of the central ideas without oversimplification. Further reading suggestions are included throughout, helping students to structure their research and navigate the many texts and articles available in this subject area. Critical questions are also included in each chapter, to encourage students to think analytically about the law and the key ideas and debates which surround it. Professor Wacks is an experienced teacher of jurisprudence and excels in a providing a concise, student-friendly introduction to the subject, while not avoiding the subtleties of this fascinating area of study. An extensive Online Resource Centre also accompanies this text (www.oxfordtextbooks.co.uk/orc/wacks3e/) and includes the following valuable resources: - Author analysis of topical controversies such as political debates and current legal problems, to keep you informed of the relevance of jurisprudence to everyday life - Interactive self-test glossary of key terms - Additional chapters on approaching the study of jurisprudence, including revision and examination tips - Further reading suggestions, including links to relevant and recent journal articles - Useful weblinks - Self-test questions on the key ideas from each chapter, with instant feedback
Author Biography
Raymond Wacks has taught jurisprudence for thirty years in three jurisdictions. He has published more than twenty books and numerous articles on legal philosophy, the right of privacy, and human and animal rights. His Philosophy of Law: A Very Short Introduction (OUP, 2006) has been translated into many languages including Chinese, Japanese, Greek, and Arabic.
Table of Contents
Preface
p. xv
Preface to first edition
p. xvii
List of Tables and Figures
p. xix
Acknowledgements
p. xxi
Introduction
p. 1
Natural law and morality
p. 10
Classicallegal positivism
p. 57
Modern legal positivism
p. 77
Dworkin and the moral integrity of law
p. 118
Legal realism
p. 145
Law and social theory
p. 162
Historical and anthropological jurisprudence
p. 196
Theories of justice
p. 212
Rights
p. 233
Why obey the law?
p. 265
Why punish?
p. 271
Critical legal theory
p. 281
Feminist and critical race theory
p. 299
Jurisprudence understood?
p. 317
Glossary
p. 319
Index
p. 323
Table of Contents provided by Ingram. All Rights Reserved.