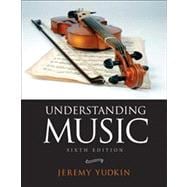 Questions About This Book?
What version or edition is this?
This is the 6th edition with a publication date of 9/22/2009.
What is included with this book?
The Used copy of this book is not guaranteed to include any supplemental materials. Typically, only the book itself is included.
Summary
Understanding Musicteaches students what to listen for in music. Jeremy Yudkinrs"s text is a rich music appreciation program that supports the instructorrs"s ultimate goal of teaching active listening. By focusing on music of the Western tradition in its social, historical, and global context, this text engages students in an active listening experience of music through a lively narrative and innovative activities- all supported by a computer program which once downloaded will allow you to use the web-based listening guides, and printed listening guides within the text.
Table of Contents
Preface
Foreword
Chapter 1
Music Around the World
Introduction to the Study of Music
Music as a Reflection of Society
The United States: A Test Case
World Music: A View from a Satellite
What to Listen for in World Music
Attitude Toward Music of the Past
Texture
Melody
Rhythm
Tone Color: Voices and Instruments
Social Context
Attitudes Toward the Participation of Women
Time
Listening to Music from Around the World
Japanese Shakuhachi Music
Listening Guide
Listening Sketch for Shakuhachi Music
"Koku-Reibo" (A Bell Ringing in the Empty Sky)
Music and Islam
Gamelan Music from the Indonesian Island of Java
Listening Guide
Listening Sketch for a Turkish Call to Prayer
African Drumming and Mbira Music
Listening Guide
Listening Sketch for Javanese Gamelan Music
Gangsaran - Bima Kurda - Gangsaran
Listening Guide
Listening Sketch for Mbira Music
"Mandarendare" (A Place Full of Energy)
Conclusion
Chapter 2
The Elements of Music
What Is Music?
The Elements of Music
Melody
Pitch
Note Names
Intervals
Dynamics
Listening Guide
George Frideric Handel (1685–1759)
From the Water Music
Rhythm
Beat
Measure and Meter
Syncopation
Tempo
Listening Guide
George Frideric Handel (1685–1759)
From the Water Music
Harmony
Keynote
Keys and Scales
Major and Minor Scales
Related Keys
Chords
Cadences
Texture
Listening Guide
George Frideric Handel (1685–1759)
From the Water Music
Musical Form
Jazz and Rock Forms
Sound
Making Music: Voices
Making Music: Instruments
The Orchestra
Strings
Woodwinds
Brass Instruments
Percussion Instruments
Keyboard Instruments
Musical Performance
Rehearsal
Attending a Concert
Emotion in Music
Live Performances
Historical Periods and Individual Style
Listening Guide
George Frideric Handel (1685–1759)
From the Water Music
Chapter 3
The Art of Listening
Sound, Rhythm, and Dynamics
Listening Guide
Paul Dukas (1865–1935)
Fanfare from La Péri
Music and Words: Melody, Harmony, Dissonance
Listening Guide
Franz Schubert (1797–1828)
Song for voice and piano, Gretchen am Spinnrade (Gretchen at the Spinning Wheel)
A Symphonic Minuet
Listening Guide
Wolfgang Amadeus Mozart (1756–1791)
Minuet and Trio from Symphony No. 18 in F Major, K. 130
Keys and Cadences
More on Beats, Meter, Form, and Tone Color
Listening Guide
Benny Harris (1919–1975)
Crazeology
Word-Painting, Texture, and Chromaticism
Listening Guide
Maddalena Casulana (c. 1540–c. 1590)
Madrigal, Morte, te chiamo (Death, I Call on You)
Special Box Feature
A Lesson in Music
Chapter 4
The Middle Ages: 400–1400
General Characteristics of Medieval Music
The Music of the Middle Ages
I: Plainchant
Listening Guide
Kyrie (plainchant)
II: Secular Song and Polyphony
Secular Song
Listening Guide
Beatriz de Dia (late twelfth century)
Song, "A chantar"
Polyphony
Listening Guide
Perotinus (c. 1170–c. 1236)
Viderunt Omnes (four-voice polyphony for the Cathedral of Notre Dame)
Late Medieval Polyphonic Song
Listening Guide
Guillaume de Machaut (c. 1300–1377)
Secular song (rondeau) Doulz Viaire Gracieus
The End of the Middle Ages
Special Box Feature
Composers, Patrons, and Audiences: The Medieval Audience
Style Summary
The Middle Ages
Chapter 5
The Renaissance: 1400–1600
Life and Times in the Renaissance
Renaissance Music
General Characteristics of Renaissance Music
Music in the Early Renaissance
The Renaissance Mass
The Mid-Renaissance
Josquin Desprez (c. 1440–1521)
Josquin's Pange Lingua Mass
Listening Guide
Thomas Aquinas (1225–1274)
Plainchant hymn, Pange Lingua
Listening Guide
Josquin Desprez (c. 1440–1521)
Kyrie from the Pange Lingua Mass
The Late Renaissance
Special Box Feature
Composers, Patrons, and Audiences: Patronage
The Counter-Reformation and the Music of Palestrina
The Renaissance Motet
The Renaissance Secular Song
Listening Guide
Giovanni Pierluigi da Palestrina (c. 1525–1594)
Motet, Exsultate Deo
The Madrigal
Listening Guide
Thomas Morley (1557–1602)
Two English Madrigals
The Rise of Instrumental Music
Listening Guide
Giovanni Gabrieli (c. 1555–1612)
Canzona Duodecimi Toni
Listening Guide
Tielman Susato (fl. 1543–1561)
Ronde and Saltarelle
Style Summary
The Renaissance
Chapter 6
The Baroque Era: 1600–1750
Life in the Baroque Era
Special Box Feature
Composers, Patrons, and Audiences: Audiences in the Baroque Era
General Characteristics of Baroque Music
The Early Baroque (1600–1700)
Monteverdi and the First Great Opera
The Story of the Opera
Listening Guide
Claudio Monteverdi (1567–1643)
Orfeo's recitative, Euridice's recitative, chorus of nymphs and shepherds, and instrumental ritornello from the opera Orfeo
Opera in the Seventeenth Century
Henry Purcell and English Opera
Listening Guide
Henry Purcell (1659–1695)
Dido's lament from the opera Dido and Aeneas
Sonata and Concerto
Listening Guide
Arcangelo Corelli (1653–1713)
Trio Sonata, Op. 3, No. 7, for two violins and basso continuo
French Music
The Late Baroque (1700–1750)
Late Baroque Opera
The Late Baroque Concerto
Antonio Vivaldi (1678–1741)
Listening Guide
Antonio Vivaldi (1678–1741)
First Movement from Violin Concerto, Op. 8, No. 1, La Primavera ("Spring"), from The Four Seasons
Johann Sebastian Bach (1685–1750)
Bach's Organ Music
Listening Guide
Johann Sebastian Bach (1685–1750)
Prelude and Fugue in E Minor
Bach's Keyboard, Instrumental, and Orchestral Music
Listening Guide
Johann Sebastian Bach (1685–1750)
First Movement from Brandenburg Concerto No. 2 in F Major
Bach's Vocal Church Music
Listening Guide
Johann Sebastian Bach (1685–1750)
St. Matthew Passion (excerpt)
George Frideric Handel (1685–1759)
Handel's Music
Listening Guide
George Frideric Handel (1685–1759)
Giulio Cesare, Act III, Scene 4
Listening Guide
George Frideric Handel (1685–1759)
"Halleluyah" Chorus from Messiah
Style Summary
The Baroque Era
Chapter 7
The Classic Era: 1750–1800
From Absolutism to Enlightenment to Revolution
The Musical Public
General Characteristics of Classic Music
Genres of Classic Music
Opera
Listening Guide
Giovanni Pergolesi (1710–1736)
Opera, La Serva Padrona (Duet from Act I)
Symphony
Chamber Music
Convention in Classic Music
Forms of Classic Music
Sonata Form
Aria Form
Minuet-and-Trio Form
Rondo Form
Summary
The Early Classic Period
The Classic Masters
Franz Joseph Haydn (1732–1809)
Special Box Feature
Composers, Patrons, and Audiences: The Classic Orchestra
Haydn's Music
Listening Guide
Franz Joseph Haydn (1732–1809)
Minuet and Trio from Symphony No. 45 in F-sharp Minor
Listening Guide
Franz Joseph Haydn (1732–1809)
Fourth Movement from String Quartet, Op. 33, No. 2, in E Major
Wolfgang Amadeus Mozart (1756–1791)
Special Box Feature
Composers, Patrons, and Audiences: Composers and Patrons in the Classic Era
Mozart's Music
Listening Guide
Wolfgang Amadeus Mozart (1756–1791)
Second Movement from Piano Concerto No. 21 in C Major, K. 467
Listening Guide
Wolfgang Amadeus Mozart (1756–1791)
First Movement from Symphony No. 40 in G Minor, K. 550
Style Summary
The Classic Era
Chapter 8
Beethoven
Beethoven's Life
Beethoven's Early Life
The Heroic Phase
Personal Crisis and Halt to Productivity
Late Years
Beethoven's Music
Listening Examples
Special Box Feature
Composers, Patrons, and Audiences: Beethoven's Orchestra
Listening Guide
Ludwig van Beethoven (1770–1827)
Six Easy Variations on a Swiss Tune in F Major for Piano, WoO 64
Beethoven's Fifth Symphony
Listening Guide
Ludwig van Beethoven (1770–1827)
Symphony No. 5 in C Minor
Beethoven's Late Music
Listening Guide
Ludwig van Beethoven (1770–1827)
Third Movement from Piano Sonata in E Major, Op. 109
Style Summary
Beethoven
Chapter 9
The Nineteenth Century I: Early Romantic Music
The Age of Romanticism
The Industrial Revolution
Political, Intellectual, and Social Changes
The New Artistic Spirit
Music for All
The New Sound
Dynamics
Tempo and Expression
Melody
Harmony
Form
Program Music
Massive and Miniature
Favorite Romantic Genres
Favorite Romantic Instruments
The Individual and the Crowd
Women in Nineteenth-Century Music
Romantic Song
Early Romanticism
Franz Schubert (1797–1828)
Schubert's Music
Listening Guide
Franz Schubert (1797–1828)
Song, "Die Forelle" ("The Trout")
Listening Guide
Franz Schubert (1797–1828)
Fourth Movement from Quintet in A Major, D. 667 (The Trout)
Hector Berlioz (1803–1869)
Berlioz's Music
Listening Guide
Hector Berlioz (1803–1869)
First Movement from Symphonie fantastique (Fantastical Symphony)
Felix Mendelssohn (1809–1847)
Mendelssohn's Music
Listening Guide
Felix Mendelssohn (1809–1847)
First Movement from Concerto in E Minor for Violin and Orchestra, Op. 64
Fanny Mendelssohn Hensel (1805–1847)
Listening Guide
Fanny Mendelssohn Hensel (1805–1847)
Lied from Songs without Words, Op. 8, No. 3
Special Box Feature
Composers, Patrons, and Audiences: Music for the Middle Classes
Fryderyk Chopin (1810–1849)
Chopin's Music
Listening Guide
Fryderyk Chopin (1810–1849)
Prelude in E Minor, Op. 28, for Piano
Listening Guide
Fryderyk Chopin (1810–1849)
Waltz in D Major, Op. 64, No. 1, for Piano Solo (Minute Waltz)
Robert Schumann (1810–1856)
Schumann's Music
Listening Guide
Robert Schumann (1810–1856)
Träumerei (Dreaming), from Kinderszenen, Op. 15, for Piano
Clara Schumann (1819–1896)
Listening Guide
Clara Schumann (1819–1896)
Third Movement from Trio in G Minor for Piano, Violin, and Cello
Style Summary
The Nineteenth Century I: Early Romantic Music
Chapter 10
The Nineteenth Century II:
Mid- to Late-Romantic Music
Works for Solo Piano
Symphonic Program Music
Opera
Nationalism
Franz Liszt (1811–1886)
Liszt's Music
Listening Guide
Franz Liszt (1811–1886)
Transcendental étude No. 10 in F Minor
Listening Guide
Franz Liszt (1811–1886)
Symphonic Poem, Hamlet
Verdi and Wagner
Giuseppe Verdi (1813–1901)
Verdi's Music
Listening Guide
Giuseppe Verdi (1813–1901)
Otello (Excerpt)
Richard Wagner (1813–1883)
Wagner's Music
Listening Guide
Richard Wagner (1813–1883)
Prelude and Liebestod from the Music Drama Tristan und Isolde
The Nationalist Composers
Russia
Bohemia
Moravia
Listening Guide
BedÇrich Smetana (1824–1884)
Symphonic Poem, The Moldau
Scandinavia
Spain
France
Pyotr Ilyich Tchaikovsky (1840–1893)
Tchaikovsky's Music
Listening Guide
Pyotr Ilyich Tchaikovsky
Scene from Act II of the Ballet Swan Lake
Late Romanticism
Johannes Brahms (1833–1897)
Brahms's Music
Listening Guide
Johannes Brahms (1833–1897)
"Wiegenlied" ("Lullaby"), Op. 49, No. 4
Listening Guide
Johannes Brahms (1833–1897)
Fourth Movement from Symphony No. 4 in E Minor
Giacomo Puccini (1858–1924)
Puccini's Music
Listening Guide
Giacomo Puccini (1858–1924)
"Un bel dì" ("One Fine Day") from Madama Butterfly
Gustav Mahler (1860–1911)
Mahler's Music
Listening Guide
Gustav Mahler (1860–1911)
Fourth Movement, "Urlicht" ("Primeval Light")
from Symphony No. 2 in C Minor (Resurrection)
Style Summary
The Nineteenth Century II: Mid- To Late-Romantic Music

Chapter 11
The Twentieth Century I: The Classic Scene
An Overview
History and the Arts, 1900–1939
1939–2000
General Characteristics of Twentieth-Century Music
The Replacement of Tonality
Melody
Rhythm
Length
Tone Color and Sound
The Beginnings of Change
Impressionism and Symbolism
Claude Debussy (1862–1918)
Listening Guide
Claude Debussy (1862–1918)
Prélude à l'après-midi d'un faune
Primitivism
Igor Stravinsky (1882–1971)
Listening Guide
Igor Stravinsky (1882–1971)
Le Sacre du Printemps (The Rite of Spring), Opening Section
Stravinsky and Neo-Classicism
Listening Guide
Igor Stravinsky (1882–1971)
Stravinsky's Music
Expressionism
Arnold Schoenberg (1874–1951)
Schoenberg's Music
Listening Guide
Arnold Schoenberg (1874–1951)
"Madonna" from Pierrot Lunaire
Listening Guide
Arnold Schoenberg (1874–1951)
Theme and Sixth Variation from Variations for Orchestra, Op. 31
Schoenberg's Students
Alban Berg (1885–1935)
Berg's Music
Wozzeck
Listening Guide
Alban Berg (1885–1935)
Wozzeck, Act III, Scenes 4 and 5
Anton Webern (1883–1945)
Webern's Music
Listening Guide
Anton Webern (1883–1945)
Third Movement from Five Movements for String Quartet, Op. 5
Other Composers Active before World War II: Bartók, Shostakovich, Britten, Ives, Copland
Béla Bartók (1881–1945)
Bartók's Music
Listening Guide
Béla Bartók (1881–1945)
Fifth Movement (Allegro molto) from String Quartet No. 4
Dmitri Shostakovich (1906–1975)
Benjamin Britten (1913–1976)
Listening Guide
Benjamin Britten (1913–1976)
Sanctus from War Requiem
The American Scene
Charles Ives (1874–1954)
Listening Guide
Charles Ives (1874–1954)
Second Movement from Three Places in New England ("Putnam's Camp, Redding, Conn.")
Aaron Copland (1900–1990)
Listening Guide
Aaron Copland (1900–1990)
Fanfare for the Common Man
Building Bridges
George Gershwin (1898–1937)
Listening Guide
George Gershwin (1898–1937)
"Bess, You Is My Woman Now" from Porgy and Bess
Leonard Bernstein (1918–1990)
Listening Guide
Leonard Bernstein (1918–1990)
"America" from West Side Story
Special Box Feature
Composers, Patrons, and Audiences: Audiences for Music in the Twentieth Century
After the War: Modernism, the Second Stage
Total Serialism
Listening Guide
Pierre Boulez (b. 1925)
Structures I
The Radical Sixties: New Sounds, Freedom, and Chance
New Sounds
Listening Guide
Krzysztof Penderecki (b. 1933)
Threnody for the Victims of Hiroshima
Freedom and Chance
Special Box Feature
The Twentieth-Century Orchestra
Listening Guide
John Cage (1912–1922)
Sonata III from Sonatas and Interludes for Prepared Piano
Postmodernism
Postmodern Music
Listening Guide
Lukas Foss (b. 1922)
Third Movement (Recitative—after Monteverdi) from Renaissance Concerto for Flute and Orchestra
Fusion
Inclusion
Listening Guide
Pauline Oliveros (1932)
Sound Patterns
Listening Guide
Olly Wilson (b. 1937)
Sometimes
Listening Guide
Joan Tower (b. 1938)
Wings
Listening Guide
Ellen Taaffe Zwilich (b. 1939)
Third Movement (Rondo) from Symphony No. 1
Conclusion
Style Summary
The Twentieth Century
Chapter 12
The Twentieth Century II: Jazz, An American Original
The History of Jazz
Origins
Band Music
Ragtime
Listening Guide
Scott Joplin (1868–1917)
Maple Leaf Rag, for Piano solo
The Blues
Listening Guide
Bessie Smith (1894–1937)
"Florida-Bound Blues"
New Orleans Jazz
Listening Guide
Louis Armstrong (1900–1971)
"Hotter Than That"
Swing
Listening Guide
Duke Ellington (1899–1974)
"It Don't Mean A Thing (If It Ain't Got That Swing)"
Bebop
Listening Guide
The Charlie Parker Quartet
"Confirmation"
Cool Jazz
Listening Guide
Bill Evans
"Blue in Green" from Kind of Blue
Free Jazz
Fusion
The Current Scene
Listening Guide
Wynton Marsalis
"Harriet Tubman"
Style Summary
Jazz
Chapter 13
The Twentieth Century III: Popular Music in the United States
Styles of Popular Music
Beginnings: 1850–1950
Special Box Feature
Composers, Patrons, and Audiences: Patronage and Commercialization
Listening Guide
"Blue Moon"
Music by Richard Rodgers, words by Lorenz Hart
The Fortunate Fifties
Rock and Roll: The Beginnings
Listening Guide
Chuck Berry
"Johnny B. Goode"
Elvis Presley
Listening Guide
Elvis Presley
"Blue Suede Shoes"
Rebellion
Early Rock and Roll: Structure and Style
Early Rock and Roll: Black and White
The Turbulent Sixties
The Beatles
Listening Guide
The Beatles "It Won't Be Long"
Listening Guide
The Beatles "Strawberry Fields Forever"
Bob Dylan
Listening Guide
Bob Dylan "Sad-eyed Lady of the Lowlands"
Jimi Hendrix
Other Trends in the Sixties
Motown
Surfing Songs
Folk
Country
The 1970s and 1980s: Variety, Legacy, and Change
Listening Guide
Michael Jackson "Billie Jean"
Listening Guide
Madonna "Material Girl"
The Nineties: Rap, Rage, and Reaction
Style Summary
Popular Music
Glossary and Musical Locator
Credits
Index