Note: Supplemental materials are not guaranteed with Rental or Used book purchases.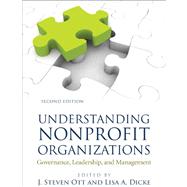 Summary
Understanding Nonprofit Organizationsfeatures insightful classic and recent articles on managing nonprofit organizations in the United States. Selected writings from scholars, consultants, and practicing executives focus on governing, leading, and managing nonprofit organizations and how nonprofits differ from the public and private sectors. Completely revised with twenty new readings, the second edition speaks to the most crucial issues facing today#x19;s leaders and managers of nonprofit organizations. Each part opens with a framing essay that identifies central issues and summarizes the contribution that each reading has made to the field. With topics covering legal frameworks, fundraising, managing volunteers, accountability, and much more, Understanding Nonprofit Organizationsremains the most essential and up-to-date compendium of essays on the nonprofit sector.
Author Biography
J. Steven Ott is a professor at the University of Utah. Lisa A. Dicke is an associate professor at the University of North Texas.
Table of Contents
Illustrations
p. ix
Foreword
p. xi
Preface
p. xvii
Acknowledgments
p. xxi
Governance of Nonprofit Organizations
p. 1
Board of Directors
p. 7
The High-Impact Governing Model
p. 19
Guide to Nonprofit Corporate Governance in the Wake of Sarbanes-Oxley American Bar Association, Coordinating Committee on Nonprofit Governance (2005)
p. 27
The Legal Framework
p. 35
Organizational, Operational, and Related Tests and Doctrines
p. 45
Update: The Current State of Nonprofit Director Liability
p. 61
Effective, Ethical Leadership
p. 69
Executive Director
p. 75
Ethics in Nonprofit Management: Creating a Culture of Integrity
p. 83
Capacity Building
p. 95
Building Nonprofit Capacity: A Framework for Addressing the Problem
p. 101
Introduction to Strategic Planning
p. 105
Fund Development: Generating Revenues
p. 111
The Fundraising Process
p. 117
Analyzing the Dynamics of Funding: Reliability and Autonomy
p. 127
The Giving Circle Landscape
p. 133
Foundations
p. 149
Social Entrepreneurship and Commercialism
p. 159
Nonprofit Entrepreneurship
p. 165
The Legitimacy of Social Enterprise
p. 171
Taking Social Entrepreneurship Seriously
p. 181
Conceptualizing Nonprofit Commercialism: A Case Study
p. 189
Managing Under Government Contracts, Through Networks, and in Collaborations
p. 201
Dilemmas of Management in Nonprofit Organizations
p. 207
A Manager's Guide to Choosing and Using Collaborative Networks
p. 219
Collaboration: Mission Driven Partnerships
p. 229
Budgets, Financial Reports, and Management Control
p. 239
The Underpinnings of Financial and Fiscal Operations
p. 245
Types of Nonprofit Income: Financial and Cash Flow Management Considerations
p. 253
Managing Volunteers
p. 261
What Is Volunteering?
p. 269
Volunteers at Work
p. 277
It Ain't Natural: Toward a New (Natural) Resource Conceptualization for Volunteer Management
p. 283
Accountability and Evaluation
p. 295
Multiple Constituencies and the Social Construction of Nonprofit Organization Effectiveness
p. 301
Balancing Competing Accountability Requirements: Challenges in Performance Improvement of the Nonprofit Human Services Agency
p. 311
Measuring Outcomes of United Way-Funded Programs: Expectations and Reality
p. 321
Table of Contents provided by Ingram. All Rights Reserved.