Note: Supplemental materials are not guaranteed with Rental or Used book purchases.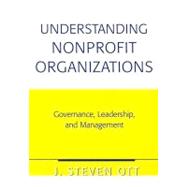 Understanding Nonprofit Organizations
ISBN13:
9780813367873
by
Ott, J. Steven
Summary
J. Steven Ott'sUnderstanding Nonprofit Organizations: Governance, Leadership, and Managementis a collection of the most insightful and most recent readings about the challenges of managing a nonprofit organization in the United States. The anthology examines the distinctiveness of nonprofit organizations through the writing of scholars, consultants, and practicing executives. It focuses on governing, leading, and managing nonprofit organizations and how nonprofit organizations differ from both the public and private sectors. The 37 chapters speak to the most important functions, contextual factors and internal functions, concepts, and issues that face today's leaders and managers of nonprofit organizations.Understanding Nonprofit Organizations: Governance, Leadership, and Managementis an ideal text for use in graduate and upper-division undergraduate survey courses on nonprofit organizations and management.
Author Biography
Steven J. Ott is a professor of political science and the Director of Public Administration Education at the University of Utah. He is the immediate past-president of the Nonprofit Management Education Section of the National Association of Schools of Public Affairs and Administration. He has also authored and edited numerous books and articles regarding nonprofit organizations, administrative theory, organization theory, organizational behavior, and organizational culture.
Table of Contents
Preface
xi
Acknowledgments
xv
I Governance of Nonprofit Organizations
1
(50)

| | |
| --- | --- |
| | Governance of Nonprofit Organizations |

9
(6)
15
(10)

| | |
| --- | --- |
| | Setting Limits: Standards of Ethics and Prudence |

25
(13)

| | |
| --- | --- |
| | Female Participation in Public Interest Nonprofit Governance: Yet Another Glass Ceiling? |

38
(13)
II The Legal Framework
51
(42)

| | |
| --- | --- |
| | Developments in the Law: Nonprofit Corporations |

61
(19)

| | |
| --- | --- |
| | The Law of Tax-Exempt Organizations: Organizational, Operational, and Similar Tests |

80
(13)
III Effective, Ethical Leadership
93
(34)
100
(8)

| | |
| --- | --- |
| | Ethics in Nonprofit Management: Creating a Culture of Integrity |

108
(12)
120
(7)
IV Strategic Planning
127
(40)
131
(11)

| | |
| --- | --- |
| | The Strategic Marketing Planning Process |

142
(15)
157
(10)
V Fund-Raising: Generating Revenues
167
(44)
175
(7)

| | |
| --- | --- |
| | Diversification of Revenue Strategies: Evolving Resource Dependence in Nonprofit Organizations |

182
(13)

| | |
| --- | --- |
| | Returns on Fund-Raising Expenditures in the Voluntary Sector |

195
(7)
202
(9)
VI Enterpreneurship and Commercialism
211
(28)

| | |
| --- | --- |
| | Nonprofit Entrepreneurship |

218
(5)

| | |
| --- | --- |
| | Profits for Nonprofits: Find a Corporate Partner |

223
(8)

| | |
| --- | --- |
| | Commercialism and the Road Ahead |

231
(8)
VII Managing Under Government Contracts
239
(44)

| | |
| --- | --- |
| | Toward a Contract Culture |

247
(9)

| | |
| --- | --- |
| | Dilemmas of Management in Nonprofit Organizations |

256
(11)

| | |
| --- | --- |
| | The Game of Contracted Services |

267
(9)

| | |
| --- | --- |
| | Implications of Welfare Reform: Do Nonprofit Survival Strategies Threaten Civil Society? |

276
(7)
VIII Budgets, Financial Reports, and Management Control
283
(26)
289
(6)
295
(3)

| | |
| --- | --- |
| | Financial Statements and Fiscal Procedures |

298
(11)
IX Managing Volunteers
309
(36)
320
(4)
324
(5)
329
(10)

| | |
| --- | --- |
| | Building Staff/Volunteer Relations: Setting the Stage |

339
(6)
X Accountability and Evaluation
345
(30)

| | |
| --- | --- |
| | Accountability Concepts and Controversies |

352
(7)
359
(7)

| | |
| --- | --- |
| | Multiple Constituencies and the Social Construction of Nonprofit Organization Effectiveness |

366
(9)
XI Nonprofit Organizations Internationally
375
(7)

| | |
| --- | --- |
| | Internationalization of the Nonprofit Sector |

382
(9)

| | |
| --- | --- |
| | Globalization and Its Effects on NGOs: Efflorescence or a Blurring of Roles and Relevance? |

391
(12)

| | |
| --- | --- |
| | Nonprofit Organizations in International Development: Agents of Empowerment or Preservers of Stability? |

403