Note: Supplemental materials are not guaranteed with Rental or Used book purchases.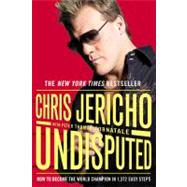 Summary
The eagerly awaited follow-up to theNew York TimesbestsellingA Lion's Taledocuments Chris Jericho's meteoric rise to wrestling glory in the WWE. A Lion's Talegave readers a portrait of Jericho as a young man. Fighting his way through Mexico, rinky-dink leagues and a battery of thieving, sleazy promoters/managers, the book ended with the author's WWE (World Wrestling Entertainment) debut. Never one to leave his fans hanging, as demonstrated by his recent return to wrestling glory, Jericho now tells the story of life in the big leagues. But "making it" in the premier wrestling league in the world comes with its own set of obstacles and hard lessons. Jericho, in his witty, hilarious, and surprisingly endearing manner, lays it all out: the good, the bad, and the spandex.
Author Biography
Chris Jericho lives in Los Angeles and Florida. He has been named one of the 50 greatest wrestlers of all time by the WWE.
Table of Contents
Introduction
p. 1
Petulant Pansy
p. 3
Prematurely Ejaculating Nightsticks
p. 11
Schizo Deluxe
p. 25
Will Work for Food
p. 37
Green as Grass
p. 42
Looking California and Feeling Minnesota
p. 51
Too Esoteric for Our Demographic
p. 59
Heeeeere's Belding!
p. 68
Moongoose and the Diceman
p. 79
Vince Loves Apes
p. 88
Be Froot
p. 99
WTF
p. 109
Love at Full Volume
p. 118
Banned on Broadway
p. 123
No More Beards
p. 132
Twists and Turns
p. 140
Canadian Jesus
p. 146
MC Hammered
p. 154
Never Trust the Loch Ness Monster
p. 158
Rock and Roll Is a Dangerous Game
p. 166
The Undisputed Champion of the World
p. 177
Peanut Butter and Chong
p. 187
Whiskey Gargling
p. 198
A Healthy Scratch
p. 208
Jelly of the Month Club
p. 216
Wacky Roll-Up Guy
p. 226
Stealing the Show
p. 235
The Big Fight
p. 246
A Brutal Shade of Jaundice
p. 254
AO Jericho
p. 263
Tonight Fozzy Gay
p. 270
Rage Raspberry
p. 278
Steel Enema
p. 292
Hell of a Hand
p. 296
The Hardest Working Man in Show Business
p. 305
Buffet Nazi
p. 316
Dinkus
p. 328
Sweet Loretta Modern
p. 336
CSI: Sheboygan
p. 347
The Baby-Faced Assassin
p. 359
Yes, and...
p. 365
Clams Casino
p. 371
Hill Street Blues
p. 377
Miracle Babies
p. 387
The Howard Hughes of Rock and Roll
p. 392
Benoit
p. 396
The Paul Is Dead of Wrestling
p. 414
Acknowledgments
p. 427
Bonus Acknowledgments
p. 429
Table of Contents provided by Ingram. All Rights Reserved.