Note: Supplemental materials are not guaranteed with Rental or Used book purchases.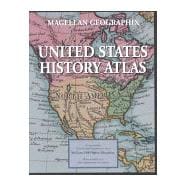 U.S. History Map Atlas
ISBN13:
9780072431025
by
Unknown
McGraw-Hill Humanities/Social Sciences/Languages
Summary
An invaluable collection of clear and attractive historical maps, the United States History Atlas is a handy, useful reference for any student of U.S. history. Each map has been designed to be colorful, easy-to-read, and informative, without sacrificing necessary detail or accuracy. The carefully selected maps provide comprehenisive coverage for the major historical periods in American history.
Table of Contents
1. Possible Migrations of Early Americans2. Early Voyages of Exploration3. European Explorations of North America4. Native American Cultures, 1500s5. Native American Nations, c. 17506. The French and Indian War, 1754-17637. Slave Trade Routes, 1400s-1800s8. Settlements by Ethnic Group, c. 17559. French, Spanish, and English Settlements to 177610. The Revolutionary War in the North and West11. The Revolutionary War in the South, 1778-178112. The First Thirteen States, 177913. Louisiana Purchase and Western Exploration 14. California's Early Settlements, 1769-182315. The War of 181216. The Missouri Compromise, 1820-182117. The Texas Revolution, 1835-183618. Principal Roads and Waterways, c.184019. The Mexican War, 1846-184820. Growth of the United States to 185321. Slavery in the Territories, c. 1850-185422. Expansion of the Railroads to 186023. The Election of 186024. Secession of the Southern States, 186125. The Civil War in the Eastern U.S., 1861-186226. The Civil War in the Central U.S., 1862-186327. Fredericksburg to Gettysburg, 1862-186328. Sherman's March, 1863-186529. Nation American Territorial Losses, 1850-189030. Reconstruction, 1868-187731. Western Railroads and Cattle Trails, c. 1870s32. Immigrants to the United States, 189033. U.S. Intervention in Latin America, 1895-1940s34. U.S Territory and Leases, 1857-190335. Woman's Suffrage before the 19th Amendment36. World War I in Europe37. U.S. Participation on the Western Front, 191838. Europe between the Wars, 1918-193939. The Dust Bowl, 1935-194040. World War II in Europe, 1940-194541. World War II in the Pacific, 1941-194542. The Balance of Power after World War II43. The Korean War, 1950-195344. Public School Segregation by State, 195445. The Vietnam War, 1964-197546. Post-Cold War Europe, Middle East, and Africa47. Immigrants to the United States, 199048. U.S. Population Change, 1950-199449. U.S. Involvement in Latin America, 1953-200050. The Persian Gulf War, 199151. The Conflict in Afghanistan, 200152. The U.S. Today, with Dates of Statehood53. States of the World, 2005