Note: Supplemental materials are not guaranteed with Rental or Used book purchases.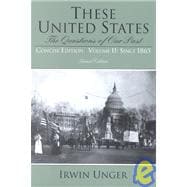 These United States: The Question of Our Past, Volume II, Since 1865, Concise Edition
ISBN13:
9780130978042
by
Unger, Irwin
Related Products
Summary
For survey courses in U.S. History. Written by a Pulitzer Prize winning author, this concise survey explores the many and varied threads of American historysocial, intellectual, cultural political, diplomatic, economic, and militaryfrom the arrival of the first native American inhabitants thousands of years ago through the crisis following the terrorist attacks on New York and Washington on September 11, 2001. Inclusive of all the diverse groups that are and have been part of the American fabric, it shows how the story of America is a human story revealing the imperfections, as well as the triumphs of human endeavor and the human spirit. Using a unique inquiry approach, each chapter is built around a specific question or theme designed to challenge students to consider the complexity of America's past.
Table of Contents
xi
About the Author
xii
Preface
xiii
Acknowledgments
xv
1
(32)
2
(2)
4
(2)

| | |
| --- | --- |
| | Presidential Reconstruction |

6
(6)
12
(3)

| | |
| --- | --- |
| | Congressional Reconstruction |

15
(3)

| | |
| --- | --- |
| | Reconstruction in the South |

18
(12)
30
(3)

| | |
| --- | --- |
| | The Triumph of Industrialism |

| | |
| --- | --- |
| | What Were the Causes, What Were the Costs? |

33
(29)
34
(6)
40
(3)

| | |
| --- | --- |
| | The Intellectual Foundation |

43
(2)
45
(3)
48
(4)
52
(8)
60
(2)

| | |
| --- | --- |
| | What Did Cities Offer? And to Whom? |

62
(23)
63
(7)
70
(5)
75
(3)
78
(5)
83
(2)
85
(28)

| | |
| --- | --- |
| | Settlement of the Last West |

86
(2)

| | |
| --- | --- |
| | Native Peoples of the Last West |

88
(9)
97
(3)
100
(3)
103
(2)
105
(2)

| | |
| --- | --- |
| | Farm Discontent and Western Revolt |

107
(3)
110
(1)
111
(2)
113
(34)

| | |
| --- | --- |
| | Politics in the Gilded Age |

114
(4)

| | |
| --- | --- |
| | The Bases for Party Affiliation |

118
(2)
120
(7)

| | |
| --- | --- |
| | Culture in the Age of the Dynamo |

127
(18)
145
(2)

| | |
| --- | --- |
| | Why Did the United States Look Abroad? |

147
(21)
148
(1)

| | |
| --- | --- |
| | The Beginnings of Overseas Expansion |

149
(5)
154
(3)
157
(3)
160
(3)
163
(3)
166
(2)

| | |
| --- | --- |
| | What Were Its Roots and What Were Its Accomplishments? |

168
(30)
169
(4)
173
(2)

| | |
| --- | --- |
| | Progressivism Enters Politics |

175
(6)

| | |
| --- | --- |
| | Progressivism Goes National |

181
(11)

| | |
| --- | --- |
| | The Wilson Administration |

192
(4)
196
(2)

| | |
| --- | --- |
| | Idealism, National Interest, or Neutral Rights? |

198
(27)

| | |
| --- | --- |
| | Wilson and the World Order |

199
(4)

| | |
| --- | --- |
| | Neutrality and Public Opinion |

203
(2)
205
(7)
212
(2)
214
(5)
219
(4)
223
(2)

| | |
| --- | --- |
| | Happy Adolescence or Decade of Stress? |

225
(24)

| | |
| --- | --- |
| | The Swing to the Political Right |

226
(4)
230
(3)
233
(10)
243
(4)
247
(2)

| | |
| --- | --- |
| | Too Far or Not Far Enough? |

249
(27)
250
(6)

| | |
| --- | --- |
| | Hoover and the Depression |

256
(4)
260
(5)
265
(4)
269
(3)
272
(2)
274
(2)

| | |
| --- | --- |
| | Blunder, or Decision in the National Interest? |

276
(32)
278
(5)

| | |
| --- | --- |
| | The Erosion of American Neutrality |

283
(7)
290
(6)
296
(9)
305
(3)

| | |
| --- | --- |
| | Why So Security Conscious? |

308
(37)

| | |
| --- | --- |
| | The Politics of Dead Center |

309
(6)
315
(4)
319
(4)
323
(13)
336
(6)
342
(3)

| | |
| --- | --- |
| | Why Protest in the ``Great Society''? |

345
(35)
346
(10)
356
(2)
358
(4)
362
(6)
368
(3)
371
(3)
374
(4)
378
(2)
380
(33)
381
(9)
390
(5)
395
(9)

| | |
| --- | --- |
| | The Energy Crisis and Economic Malaise |

404
(3)
407
(5)
412
(1)

| | |
| --- | --- |
| | The ``Reagan Revolution'' |

| | |
| --- | --- |
| | What Was It? What Did It Accomplish? |

413
(26)
414
(11)
425
(11)
436
(3)

| | |
| --- | --- |
| | Would Diversity and the Cold War's End Change America? |

439
441
(3)
444
(5)
449
(3)
452
(9)

| | |
| --- | --- |
| | Race, Gender, and Nationality |

461
(17)
478
(6)
484
(3)

| | |
| --- | --- |
| | Bush and the War Against Terrorism |

487
(10)
497
APPENDIX
1
(1)

| | |
| --- | --- |
| | The Declaration of Independence |

1
(4)

| | |
| --- | --- |
| | The Constitution of the United States of America |

5
(13)
18
(4)

| | |
| --- | --- |
| | Chief Justices of the Supreme Court |

22
(1)

| | |
| --- | --- |
| | Presidents, Vice Presidents, and Cabinet Members |

23
(7)
Bibliographies
30
(19)
Index
49
Excerpts
This is the second edition ofThese United States: Concise Edition.Like its predecessor, it is a compact version ofThese United States: The Questions of Our Pastand is designed to present all the essentials of the larger work in a briefer format to facilitate readability and reduce the price of the work to the student. The condensing process has not, I believe, sacrificed essential material. Rather, redundant examples, overextended treatments, and marginal topics have been eliminated, a process that drew on reviewers' and adopters' evaluations. And to constrain costs, we have also reduced the number of illustrations and maps and removed the "Portraits" from the main body of the text and placed them in a separate booklet. In most significant ways the books' plan remains the same, however. First, unlike virtually every other introductory text, it still has a single author and speaks in a single voice. I hope readers will agree that a book by a single individual has inherent advantages over one composed by a committee. Second, each chapter is still organized around a significant question, each designed to challenge students with the complexity of the past and compel them to evaluate critically different viewpoints. This plan, I believe, makes the learning of history a quest, an exploration, rather than the mere absorption of facts. Yet, at the same time, "the facts" are made available.These United Statesprovides the ample "coverage" of standard texts. The word "standard" here does not mean old-fashioned. ThoughThese United Statesdiscusses political, diplomatic, and military events, it also deals extensively with social, cultural, and economic matters. It concerns itself not only with "events," moreover, but also with people, currents, and themes. It is not old-fashioned in another way: it expands the "canon" to include those who have traditionally been excluded from the American past and seeks to embrace the enormous diversity of the American people. The reader will find in These United States women as well as men; people of color as well as those of European extraction, youths as well as adults; the poor as well as the rich; artists, writers, and musicians as well as politicians, generals, and diplomats. In this newest version of the work, I have added sections on various aspects of social history, particularly on slavery, on the Salem witch trials, and on daily life. I have also extended the story through the events of 2000 and 2001, including the World Trade Center and Pentagon attacks, the war on terrorism, and the collapse of the "bubble" economy of the 1990s. I hope that, like its precursors, this edition meets with favor among faculty and students and serves both as a successful teaching instrument and an absorbing introduction to the American past. Irwin Unger Department of History, Emeritus New York University