Note: Supplemental materials are not guaranteed with Rental or Used book purchases.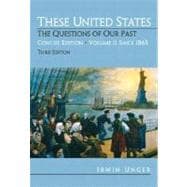 These United States: The Questions of Our Past, Concise Edition, Volume 2: Since 1865 (Chapters 16-31)
ISBN13:
9780132299671
by
Unger, Irwin
Related Products
Summary
Written by a Pulitzer Prize winning AUTHOR, this "concise" survey explores the many and varied threads of American history-social, intellectual, cultural, political, diplomatic, economic, and military-from the arrival of the first native American inhabitants thousand of years ago throught the crisis following the terrorist attacks on New York and Washington on September 11, 2001. This new third EDITION is updated to include the War on Terror, the Iraq War, the election of 2004, the devastation of Hurricane Katrina, and globalization.
Table of Contents
Maps,
xii
About the Author,
xiii
Preface,
xiv
Teaching and Learning Package,
xv
Acknowledgments,
xvi
16 RECONSTRUCTION
353
(32)
354
(2)
356
(2)

| | |
| --- | --- |
| | PRESIDENTIAL RECONSTRUCTION, |

358
(6)
364
(3)

| | |
| --- | --- |
| | CONGRESSIONAL RECONSTRUCTION, |

367
(3)

| | |
| --- | --- |
| | RECONSTRUCTION IN THE SOUTH, |

370
(12)
382
(1)
383
(2)
17 THE TRIUMPH OF INDUSTRIALISM

| | |
| --- | --- |
| | What Were the Causes, What Were the Costs? |

385
(27)
386
(6)
392
(2)

| | |
| --- | --- |
| | THE INTELLECTUAL FOUNDATION, |

394
(2)
396
(3)
399
(4)
403
(8)
411
(1)
411
(1)
18 AGE OF THE CITY

| | |
| --- | --- |
| | What Did Cities Offer? And to Whom? |

412
(22)
413
(7)
420
(4)
424
(3)
427
(5)
432
(1)
432
(2)
19 THE TRANS-MISSOURI WEST
434
(26)

| | |
| --- | --- |
| | SETTLEMENT OF THE LAST WEST, |

435
(2)

| | |
| --- | --- |
| | NATIVE PEOPLES OF THE LAST WEST, |

437
(8)
445
(3)
448
(2)
450
(2)

| | |
| --- | --- |
| | FARMING IN THE LAST WEST, |

452
(2)

| | |
| --- | --- |
| | FARM DISCONTENT AND WESTERN REVOLT, |

454
(3)
457
(2)
459
(1)
459
(1)
20 THE GILDED AGE
460
(32)

| | |
| --- | --- |
| | POLITICS IN THE GILDED AGE, |

461
(3)

| | |
| --- | --- |
| | THE BASES FOR PARTY AFFILIATION, |

464
(3)
467
(6)

| | |
| --- | --- |
| | CULTURE IN THE AGE OF THE DYNAMO, |

473
(17)
490
(1)
491
(1)
21 THE AMERICAN EMPIRE

| | |
| --- | --- |
| | Why Did the United States Look Abroad? |

492
(20)
493
(1)

| | |
| --- | --- |
| | THE BEGINNINGS OF OVERSEAS EXPANSION, |

494
(4)
498
(3)
501
(3)

| | |
| --- | --- |
| | THE SPANISH-AMERICAN WAR, |

504
(3)
507
(3)
510
(1)
511
(1)
22 PROGRESSIVISM

| | |
| --- | --- |
| | What Were Its Roots and What Were Its Accomplishments? |

512
(28)
513
(4)
517
(1)

| | |
| --- | --- |
| | PROGRESSIVISM ENTERS POLITICS, |

518
(6)

| | |
| --- | --- |
| | PROGRESSIVISM GOES NATIONAL, |

524
(11)

| | |
| --- | --- |
| | THE WILSON ADMINISTRATION, |

535
(3)
538
(1)
539
(1)
23 WORLD WAR I

| | |
| --- | --- |
| | Idealism, National Interest, or Neutral Rights? |

540
(26)

| | |
| --- | --- |
| | WILSON AND THE WORLD ORDER, |

541
(4)

| | |
| --- | --- |
| | NEUTRALITY AND PUBLIC OPINION, |

545
(2)
547
(7)
554
(1)
555
(5)
560
(4)
564
(1)
565
(1)
24 THE TWENTIES

| | |
| --- | --- |
| | Happy Adolescence or Decade of Stress? |

566
(23)

| | |
| --- | --- |
| | THE SWING TO THE POLITICAL RIGHT, |

567
(3)
570
(4)
574
(9)
583
(4)
587
(1)
588
(1)
25 THE NEW DEAL

| | |
| --- | --- |
| | Too Far or Not Far Enough? |

589
(26)
590
(5)

| | |
| --- | --- |
| | HOOVER AND THE DEPRESSION, |

595
(4)
599
(5)
604
(4)

| | |
| --- | --- |
| | THE SOCIAL WELFARE STATE, |

608
(3)
611
(2)
613
(1)
614
(1)
26 WORLD WAR II

| | |
| --- | --- |
| | Blunder, or Decision in the National Interest? |

615
(30)
616
(6)

| | |
| --- | --- |
| | THE EROSION OF AMERICAN NEUTRALITY, |

622
(6)
628
(6)
634
(9)
643
(1)
644
(1)
27 POSTWAR AMERICA

| | |
| --- | --- |
| | Why So Security Conscious? |

645
(36)

| | |
| --- | --- |
| | THE POLITICS OF DEAD CENTER, |

646
(6)
652
(4)
656
(4)
660
(12)
672
(6)
678
(1)
679
(2)
28 THE DISSENTING SIXTIES

| | |
| --- | --- |
| | Why Protest in the "Great Society"? |

681
(34)
682
(9)
691
(3)
694
(4)
698
(6)
704
(2)
706
(4)
710
(3)
713
(1)
714
(1)
29 THE UNCERTAIN SEVENTIES
715
(32)
716
(9)
725
(5)
730
(8)

| | |
| --- | --- |
| | THE ENERGY CRISIS AND ECONOMIC MALAISE, |

738
(3)
741
(5)
746
(1)
746
(1)
30 THE "REAGAN REVOLUTION"

| | |
| --- | --- |
| | What Was It? What Did It Accomplish? |

747
(23)
748
(10)
758
(9)
767
(2)
769
(1)
31 UNITED AMERICA?

| | |
| --- | --- |
| | Would Diversity and the War on Terror Change America? |

770

| | |
| --- | --- |
| | THE PRESIDENCY OF GEORGE HERBERT WALKER BUSH, |

771
(3)
774
(4)
778
(3)
781
(8)

| | |
| --- | --- |
| | RACE, GENDER, AND NATIONALITY, |

789
(14)
803
(5)
808
(2)

| | |
| --- | --- |
| | BUSH AND THE WAR AGAINST TERRORISM, |

810
(6)
816
(6)

| | |
| --- | --- |
| | ENRON AND THE END OF THE "NEW ECONOMY" ERA, |

822
(1)

| | |
| --- | --- |
| | REELECTION AND SECOND TERM, |

823
(2)
825
(6)
831
(1)
832
APPENDIX
A1

| | |
| --- | --- |
| | The Declaration of Independence, |

A1

| | |
| --- | --- |
| | The Constitution of the United States of America |

A5
A18

| | |
| --- | --- |
| | Chief Justices of the Supreme Court, |

A22

| | |
| --- | --- |
| | Presidents, Vice-Presidents, and Cabinet Members, |

A23
BIBLIOGRAPHIES
B1
PHOTO CREDITS
PC1
INDEX
I1
U.S. HISTORY DOCUMENTS CD-ROM
CD1