Note: Supplemental materials are not guaranteed with Rental or Used book purchases.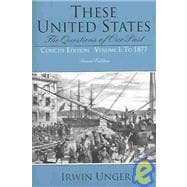 These United States: The Questions of Our Past, Volume I, To 1877, Concise Edition
ISBN13:
9780130978035
by
Unger, Irwin
Summary
Written by a Pulitzer Prize winning author, this concise survey explores the many and varied threads of American history-social, intellectual, cultural, political, diplomatic, economic, and military-from the arrival of the first native American inhabitants thousands of years ago to the crisis following the terrorist attacks on New York and Washington on September 11, 2001. Inclusive of all the diverse groups that are and have been part of the American fabric, it shows how the story of America is a human story revealing the imperfections, as well as the triumphs of human endeavor and the human spirit. Using a unique inquiry approach, each chapter is built around a specific question or theme designed to challenge students to consider the complexity of America's past. Student Resources bull; bull;Student Study Guide (Volume 1, ISBN: 0-13-045779-5; Volume II, ISBN: 0-13-045765-5) bull;Historical Documents and Portraits (ISBN: 0-13-081609-4) bull;American Issues: A Primary Source Reader in United States History, 3/e (Volume 1, ISBN: 0-13-094017-8; Volume 11, ISBN: 0-13-094018-6)
Table of Contents
1. The New World Encounters the Old: Why 1492?
2. The Old World Comes to America: What Brought Europeans and Africans to the New World?
3. Colonial Society: How Did Old World Life and Culture Change the Wilderness?
4. Moving Toward Independence: Why Did the Colonists Revolt?
5. The Revolution: How Did It Change America?
6. The Origins of the Constitution: By Popular Demand?
7. The First Party System: What Issues Divided the New Nation?
8. The Jeffersonians in Office: How Did Power Affect Republican Ideology?
9. The American Economic Miracle: What Made It Possible?
10. Jacksonian Democracy: What Was It and How Did It Change Political Life?
11. The Mexican War and Expansionism: Greed, Manifest Destiny, or Inevitability?
12. Americans Before the Civil War: What Where They Really Like?
13. The Old South: What Is Myth and What Was Real?
14. The Coming of the Civil War: What Caused the Division?
15. The Civil War: How Did the War Change the Nation?
16. Reconstruction: What Went Wrong?

Excerpts
This is the second edition ofThese United States: Concise Edition.Like its predecessor, it is a compact version ofThese United States: The Questions of Our Pastand is designed to present all the essentials of the larger work in a briefer format to facilitate readability and reduce the price of the work to the student. The condensing process has not, I believe, sacrificed essential material. Rather, redundant examples, overextended treatments, and marginal topics have been eliminated, a process that drew on reviewers' and adopters' evaluations. And to constrain costs, we have also reduced the number of illustrations and maps and removed the "Portraits" from the main body of the text and placed them in a separate booklet. In most significant ways the books' plan remains the same, however. First, unlike virtually every other introductory text, it still has a single author and speaks in a single voice. I hope readers will agree that a book by a single individual has inherent advantages over one composed by a committee. Second, each chapter is still organized around a significant question, each designed to challenge students with the complexity of the past and compel them to evaluate critically different viewpoints. This plan, I believe, makes the learning of history a quest, an exploration, rather than the mere absorption of facts. Yet, at the same time, "the facts" are made available.These United Statesprovides the ample "coverage" of standard texts. The word "standard" here does not mean old-fashioned. ThoughThese United Statesdiscusses political, diplomatic, and military events, it also deals extensively with social, cultural, and economic matters. It concerns itself not only with "events," moreover, but also with people, currents, and themes. It is not old-fashioned in another way: it expands the "canon" to include those who have traditionally been excluded from the American past and seeks to embrace the enormous diversity of the American people. The reader will find in These United States women as well as men; people of color as well as those of European extraction, youths as well as adults; the poor as well as the rich; artists, writers, and musicians as well as politicians, generals, and diplomats. In this newest version of the work, I have added sections on various aspects of social history, particularly on slavery, on the Salem witch trials, and on daily life. I have also extended the story through the events of 2000 and 2001, including the World Trade Center and Pentagon attacks, the war on terrorism, and the collapse of the "bubble" economy of the 1990s. I hope that, like its precursors, this edition meets with favor among faculty and students and serves both as a successful teaching instrument and an absorbing introduction to the American past. Irwin Unger Department of History, Emeritus New York University