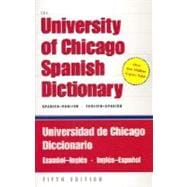 The University of Chicago Spanish Dictionary, Spanish-English, English-Spanish: Universidad de Chicago Diccionario Espanol-Ingles, Ingles-Espanol
by
Castillo, Carlos
Summary
The University of Chicago Spanish Dictionaryis the most popular dictionary of its kind. Its familiar name is known to millions of general readers, students, educators, and travelers. Improved for greater ease of use, and brought completely up to date, the fifth edition of The University of Chicago Spanish Dictionaryis now more than ever the perfect resource for both language learners and experienced language users.With thousands of added entries, the Dictionary builds on the features that have made it the leader in its field for more than fifty years: authority, scope, clarity, and conciseness. And with this edition, the Dictionary brilliantly captures the current core vocabularies of two rapidly changingand increasingly connectedlanguages and cultures.Entirely bilingual, the fifth edition focuses on two contemporary international languagesAmerican English and a basic, worldwide Spanish that draws from both Latin American and Iberian sources.Designed for a wide range of users, including travelers, businesspeople, students, teachers, and professionals, the new Dictionary is the essential first resource for speakers of both languagesfrom beginners to those at all other stages. Up to date, just comprehensive enough, and extraordinarily clear and easy to use, the new edition of The University of Chicago Spanish Dictionarystands alone. No other dictionary offers so many users so much helpor so much value.
Author Biography
David Pharies, a Professor of Spanish at the University of Florida, enjoys an international reputation as an expert on the history and development of the Spanish language. His publications deal chiefly with Spanish morphology, lexicology, and etymology.

Table of Contents
Preface to the Fifth Edition
p. vi
Preambulo a la quinta edicion
p. viii
How to Use The University of Chicago Spanish Dictionary
p. x
Como usar el Universidad de Chicago Diccionario Espanol-Ingles, Ingles-Espanol
p. xiv
Spanish-English/Espanol-Ingles
List of Abbreviations
p. 1
Spanish Pronunciation
p. 2
Notes on Spanish Grammar
p. 6
Common Spanish Suffixes
p. 8
Spanish Regular Verbs
p. 10
Spanish Irregular and Orthographic Changing Verbs
p. 11
Spanish-English Dictionary, A-Z
p. 23
Ingles-Espanol/English-Spanish
Lista de abreviaturas
p. 275
Pronunciacion inglesa
p. 276
Notas sobre gramatica inglesa
p. 277
Sufijos comunes del ingles
p. 279
Verbos irregulares de la lengua inglesa
p. 282
Diccionario ingles-espanol, A-Z
p. 287
Table of Contents provided by Syndetics. All Rights Reserved.