Note: Supplemental materials are not guaranteed with Rental or Used book purchases.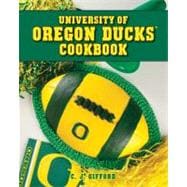 Summary
2012 Rose Bowl Champions launch a full-fledged Quack Attack! Are you "Duck Enough"? You will be with this tailgating cookbook for the University of Oregon Ducks. Green and Yellow tailgaters will go quacky for this cookbook! Set out some Autzen Nachos, Webfoot Spectators, and U of O Footboli at your next game-day party. A few swigs of Waddle It Be Mock-Tail along with a sweet bite of Beaver Turnovers will surely wag a few duck tails.
Excerpts
U of O Footboli
1 loaf frozen bread dough, thawed
3 large mushrooms, thinly sliced
1/4 cup thinly sliced red onion
3 large cloves garlic, thinly sliced
1 can (4.2 ounces) chopped black olives
1/2 teaspoon extra virgin olive oil, more for prep work
1 jar (14 ounces) pizza or spaghetti sauce, divided
1 package (5 ounces) sliced Canadian bacon
1 bag (8 ounces) grated mozzarella cheese, divided
1 package (8 ounces) sliced salami or turkey salami
1 package (4.5 ounces) sliced pepperoni or turkey pepperoni
Preheat oven to 350 degrees. Place bread dough in an oiled bowl.
Place mushrooms, onion, and garlic into a large bowl. Add olives and olive oil; mix well.
Roll 30 inches of parchment paper out onto a flat surface. Rub a small amount of oil onto the middle of the paper. Lightly oil your hands and place dough on the oiled paper. The dough will easily deflate and become pliable, but be careful not to rip or tear it. Spread dough out into a 12 x 24-inch rectangle, pulling to edges of parchment that is not covered with oil. It will stay in place but crinkle paper. Cut 2 thin 12-inch strips of dough and set aside to makelaces and stripes for Footboli.
Spread 2 tablespoons sauce on the short side of dough. Spoon 3/4 cup mushroom mixture onto the sauce and top with 3 slices Canadian bacon. Add 1/2 cup cheese and carefully fold over. Repeat, using a liberal amount of sauce, replacing Canadian bacon with 6 slices of salami and 12 slices of pepperoni. Add cheese and fold over. Repeat salami andpepperoni layer and fold over.
Now at the half-way point of the dough, cut dough in half with a sharp knife and separate dough pieces. Tuck ends of dough under the roll and gently shape into a football oval. Cut parchment with scissors and lift Footboli and parchment onto a baking sheet. Add dough laces and stripes, tucking gently into the top so they don't curl while baking. Bake 35 minutes or until top is golden brown. Let cool 10 minutes before slicing and serving.
Repeat process on other half of dough.
Leather footballs hit the field in 1872. U of O Footboli won't last 18 minutes with a crowd of hungry tailgaters.
Makes 2 Footboli, about 12 servings