Note: Supplemental materials are not guaranteed with Rental or Used book purchases.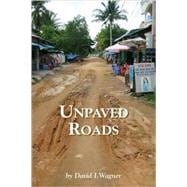 Summary
How fortunate the traveler is to have choices in the way they wish to see the world. Many choose to have a trained guide supervise their travel plans as to what they see, how much time is needed at each sight, eateries, hotels, luggage and all transportation. Others want only to view important monuments on their trip. Some tourist wish to journey to one area and stay put so they can learn as much about this spot as possible: history, people, foods, maybe even digs. Then there are still many who just strap a backpack on and say, "Where should we begin?" These are the travelers who can't get lost, don't worry about where they will sleep or eat. These are the ones who enjoy Unpaved Roads.
Author Biography
David I. Wagner - David Wagner has spent over three decades developing his own successful businesses. David is heavily involved in cross-cultural interactions and traveled extensively as an executive for his international companies. David has devoted much of his life to humanitarian causes in Asia, Africa, and Eastern Europe. At age twenty-eight, David and his family helped pioneer the United States Peace Corps Family program in Ghana, West Africa.Mr. Wagner is currently volunteering as an international business consultant. He has provided his expertise to introducing entrepreneurship into developing economies such as the Ukraine, Russia, Namibia, Ethiopia, Thailand, and Cambodia.