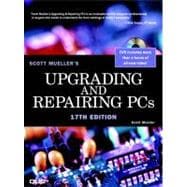 Summary
The definitive book on hardware upgrading and repair, found on desktops of more PC hardware professionals than any other.
Table of Contents
Development of the PC
p. 7
PC components, features, and system design
p. 23
Microprocessor types and specifications
p. 35
Motherboards and buses
p. 215
BIOS
p. 411
Memory
p. 471
The ATA/IDE interface
p. 547
Magnetic storage principles
p. 599
Hard disk storage
p. 623
Removable storage
p. 667
Optical storage
p. 723
Physical drive installation and configuration
p. 817
Video hardware
p. 853
Audio hardware
p. 939
I/O interfaces from serial and parallel to IEEE 1394 and USB
p. 977
Input devices
p. 1011
Internet connectivity
p. 1053
Local area networking
p. 1097
Power supplies
p. 1143
Building or upgrading systems
p. 1221
PC mods : overclocking and cooling
p. 1263
PC diagnostics, testing, and maintenance
p. 1291
Table of Contents provided by Blackwell. All Rights Reserved.