Note: Supplemental materials are not guaranteed with Rental or Used book purchases.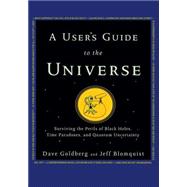 A User's Guide to the Universe Surviving the Perils of Black Holes, Time Paradoxes, and Quantum Uncertainty
ISBN13:
9780470496510
by
Goldberg, Dave
;
Blomquist, Jeff
Questions About This Book?
What version or edition is this?
This is the 1st edition with a publication date of 2/22/2010.
What is included with this book?
The eBook copy of this book is not guaranteed to include any supplemental materials. Typically only the book itself is included.
Summary
We don't like to mince words. If you have your heart set on building a faster-than-light drive or a time machine out of a DeLorean, knock yourself out. If you want to know whether these things are even possible and you like anthropomorphized fundamental particles, read A User's Guide to the Universe.
Author Biography
Dave Goldberg
is an associate professor of physics at Drexel University, where he works on theoretical and observational cosmology. He earned his Ph.D. in astrophysical sciences at Princeton University and is very interested in the interface between science and pop culture. He has contributed to Slate and appeared on WNYC's Studio 360. He lives with his wife and daughter in Philadelphia.
Jeff Blomquist earned his master's degree in physics from Drexel University in 2008 and is currently an engineer at Boeing Aerospace. He drew the illustrations in A User's Guide to the Universe all by himself! He lives in Philadelphia and has only recently stopped sleeping on a couch.
Table of Contents
Acknowledgments
p. vii
Introduction
p. 1
"So, what do you do?"
Special Relativity
p. 7
"What happens if I'm traveling at the speed of light, and I try to look at myself in a mirror?"
Why can't you tell how fast a ship is moving through fog?
p. 11
How fast does a light beam go if you're running beside it?
p. 16
If you head off in a spaceship traveling at nearly the speed of light, what horrors await you when you return?
p. 20
Can you reach the speed of light (and look at yourself in a mirror)?
p. 23
Isn't relativity supposed to be about turning atoms into limitless power?
p. 26
Quantum Weirdness
p. 33
"Is Schrödinger's Cat Dead or Alive?"
Is light made of tiny particles, or a big wave?
p. 38
Can you change reality just by looking at it?
p. 43
If you look at them closely enough, what are electrons, really?
p. 47
Is there some way I can blame quantum mechanics for all those times I lose things?
p. 50
Can I build a transporter, like on Star Trek?
p. 56
If a tree falls in the forest and no one hears it, does it make a sound?
p. 59
Randomness
p. 67
"Does God play dice with the universe?"
If the physical world is so unpredictable, why doesn't it always seem that way?
p. 70
How does carbon dating work?
p. 76
Does God play dice with the universe?
p. 80
The Standard Model
p. 89
"Why didn't the Large Hadron Collider destroy Earth?"
What do we need a multibillion-dollar accelerator for, anyway?
p. 93
How do we discover subatomic particles?
p. 99
Why are there so many different rules for different particles?
p. 103
Where do the forces really come from?
p. 108
Why can't I lose weight (or mass)-all of it?
p. 114
How could little ol' LHC possibly destroy the great big world?
p. 118
If we discover the Higgs, can physicists just call it a day?
p. 122
Time Travel
p. 131
"Can I build a time machine?"
Can I build a perpetual motion machine?
p. 133
Are black holes real, or are they just made up by bored physicists?
p. 137
What happens if you fall into a black hole?
p. 142
Can you go back in time and buy stock in Microsoft?
p. 145
Who does time travel right?
p. 151
How can I build a practical time machine?
p. 154
What are my prospects for changing the past?
p. 161
The Expanding Universe
p. 165
"If the universe is expanding, what's it expanding into?"
Where is the center of the universe?
p. 170
What's at the edge of the universe?
p. 173
What is empty space made of?
p. 176
How empty is space?
p. 181
Where's all of the stuff?
p. 185
Why is the universe accelerating?
p. 188
What is the shape of the universe?
p. 192
What's the universe expanding into?
p. 195
The Big Bang
p. 199
"What happened before the Big Bang?"
Why can't we see all the way back to the Big Bang?
p. 205
Shouldn't the universe be (half) filled with antimatter?
p. 208
Where do atoms come from?
p. 211
How did particles gain all that weight?
p. 216
Is there an exact duplicate of you somewhere else in time and space?
p. 218
Why is there matter?
p. 225
What happened at the very beginning of time?
p. 227
What was before the beginning?
p. 228
Extraterrestrials
p. 235
"Is there life on other planets?"
Where is everybody?
p. 237
How many habitable planets are there?
p. 241
How long do intelligent civilizations last?
p. 245
What are the odds against our own existence?
p. 248
The Future
p. 253
"What don't we know?"
What is Dark Matter?
p. 256
How long do protons last?
p. 264
How massive or nuetinos?
p. 267
What won't we know anytime soon?
p. 274
Further Reading
p. 281
Technical Reading
p. 283
Index
p. 291
Table of Contents provided by Ingram. All Rights Reserved.