Note: Supplemental materials are not guaranteed with Rental or Used book purchases.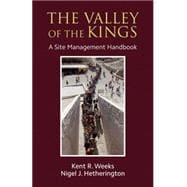 Author Biography

Kent R. Weeks is professor emeritus of Egyptology at the American University in Cairo and director of the Theban Mapping Project.

Nigel J. Hetherington is an archaeologist and television producer and the owner and founder of Past Preservers. He is a graduate of the Institute of Archaeology, University College London and a specialist in tourism and heritage management.

Table of Contents

Introduction to the Site
Site Definition: Thebes and Modern Luxor
Site Definition: The West Bank
Site Definition: The Valley of the Kings
Historical Development of KV
Current Risk Factors
The Natural Environment
Human Activity
Summary of KV Risk Factors
Tourism and KV
Tourism in Egypt
Tourism in Luxor
Tourism in KV
Stakeholder Surveys
Stakeholder Survey Stage One-KV Site Survey
Stakeholder Survey Phase Two-Online Survey
Other Stakeholders
KV Condition Surveys
Current and recent archaeological intervention in KV
Previous Work by the TMP
Current Tomb Condition Reports
Tomb Environmental Monitoring
KV Infrastructure
Roads and Pathways to KV
Types of Transport
Vehicle Parking
Vendors' Area
Visitors Center
Tramline and Road from Visitors Center to KV
Security Entrance and Camera Rules
Toilets
Shelters and Rest Stops
Tomb Interiors
Site Utilities
Site Fabric
Summary of Proposals and Status as of 2012
Visitor Management in KV
Carrying Capacity
Carrying Capacity of KV Tombs
Ticketing Procedures
Visitor Experience in KV
Summary of Proposals
KV Site Management
The Supreme Council for Antiquities (SCA)
Site Management and CRM Training
Emergency and Disaster Planning
Site Maintenance
Site Management Information Systems
Summary of Proposals