Note: Supplemental materials are not guaranteed with Rental or Used book purchases.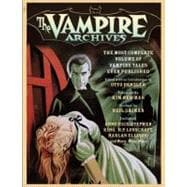 Questions About This Book?
What version or edition is this?
This is the 1st edition with a publication date of 9/29/2009.
What is included with this book?
The New copy of this book will include any supplemental materials advertised. Please check the title of the book to determine if it should include any CDs, lab manuals, study guides, etc.
Summary
With stories by Stephen King, D.H. Lawrence, Tanith Lee, and Harlan Ellison, "The Vampire Archives" is the biggest, hungriest, undeadliest collection of vampire stories as well as the most comprehensive bibliography of vampire fiction ever assembled.
Author Biography
Otto Penzler is the proprietor of The Mysterious Bookshop in New York City. He was publisher of The Armchair Detective, the founder of the Mysterious Press and the Armchair Detective Library, and created the publishing firm Otto Penzler Books. He is a recipient of an Edgar Award for The Encyclopedia of Mystery and Detection and the Ellery Queen Award by the Mystery Writers of America for his many contributions to the field. He is the series editor of The Best American Mystery Stories of the Year. His other anthologies include Murder for Love, Murder for Revenge, Murder and Obsession, The 50 Greatest Mysteries of All Time, and The Best American Mystery Stories of the Century. He wrote 101 Greatest Movies of Mystery & Suspense. He lives in New York City.
Excerpts
Good Lady Ducayne
M. E. BRADDON 
Bella Rolleston had made up her mind that her only chance of earning her bread and helping her mother to an occasional crust was by going out into the great unknown world as companion to a lady. She was willing to go to any lady rich enough to pay her a salary and so eccentric as to wish for a hired companion. Five shillings told off reluctantly from one of those sovereigns which were so rare with the mother and daughter, and which melted away so quickly, five solid shillings, had been handed to a smartly-dressed lady in an office in Harbeck Street, London, W., in the hope that this very Superior Person would find a situation and a salary for Miss Rolleston. 
The Superior Person glanced at the two half-crowns as they lay on the table where Bella's hand had placed them, to make sure they were neither of them florins, before she wrote a description of Bella's qualifications and requirements in a formidable-looking ledger. 
"Age?" she asked, curtly. 
"Eighteen, last July." 
"Any accomplishments?" 
"No; I am not at all accomplished. If I were I should want to be a governess—a companion seems the lowest stage." 
"We have some highly accomplished ladies on our books as companions, or chaperon companions." 
"Oh, I know!" babbled Bella, loquacious in her youthful candor. "But that is quite a different thing. Mother hasn't been able to afford a piano since I was twelve years old, so I'm afraid I've forgotten how to play. And I have had to help mother with her needlework, so there hasn't been much time to study." 
"Please don't waste time upon explaining what you can't do, but kindly tell me anything you can do," said the Superior Person, crushingly, with her pen poised between delicate fingers waiting to write. "Can you read aloud for two or three hours at a stretch? Are you active and handy, an early riser, a good walker, sweet tempered, and obliging?" 
"I can say yes to all those questions except about the sweetness. I think I have a pretty good temper, and I should be anxious to oblige anybody who paid for my services. I should want them to feel that I was really earning my salary." 
"The kind of ladies who come to me would not care for a talkative companion," said the Person, severely, having finished writing in her book. "My connection lies chiefly among the aristocracy, and in that class considerable deference is expected." 
"Oh, of course," said Bella, "but it's quite different when I'm talking to you. I want to tell you all about myself once and forever." 
"I am glad it is to be only once!" said the Person, with the edges of her lips. 
The Person was of uncertain age, tightly laced in a black silk gown. She had a powdery complexion and a handsome clump of somebody else's hair on the top of her head. It may be that Bella's girlish freshness and vivacity had an irritating effect upon nerves weakened by an eight-hour day in that overheated second floor in Harbeck Street. To Bella the official apartment, with its Brussels carpet, velvet curtains and velvet chairs, and French clock, ticking loud on the marble chimney-piece, suggested the luxury of a palace, as compared with another second floor in Walworth where Mrs. Rolleston and her daughter had managed to exist for the last six years. 
"Do you think you have anything on your books that would suit me?" faltered Bella, after a pause. 
"Oh, dear, no; I have nothing in view at pres- ent," answered the Person, who had swept Bella's half-crowns into a drawer, absent-mindedly, with the tips of her fingers. "You see, you are so very unformed—so much too young to be companion to a lady of position. It is a pity you have not enough education for a nursery governess; that would be more in your line." 
"And do you think it will be ver
---

Excerpted from The Vampire Archives: The Most Complete Volume of Vampire Tales Ever Published
All rights reserved by the original copyright owners. Excerpts are provided for display purposes only and may not be reproduced, reprinted or distributed without the written permission of the publisher.