Note: Supplemental materials are not guaranteed with Rental or Used book purchases.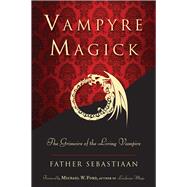 Summary
Since the dawn of civilization, the vampire has danced through the dreams and nightmares of every culture, expressed in folklore, literature, and art. Today, this fascination resonates in pop-culture through hit television shows, movies, and bestselling books. In Vampyre Magick, Father Sebastiaan reveals the hidden rituals and spells of the Living Vampires. This companion volume to Sebastiaan's Vampyre Sanguinomicon, is intended for initiates of the Stigoii Vii, but will appeal to any scholar of magickal arts, The Golden Dawn, or other Western Mystery Traditions.
Table of Contents
Foreword
p. ix
Acknowledgments
p. xiii
Introduction
p. xv
The Ordo StrigoiVii (OSV)
p. xvii
Carpathian Vampires
p. xxi
Vampyre Rituals: Liber Vampyricus Ritualis
p. 1
Elements of Vampyre Magick
p. 3
Paradigms
p. 17
Solitary Rites
p. 39
Rites of the Festivals
p. 43
Vampyre Lycanthropy
p. 53
Vampyre Sex Magicks
p. 59
Wedding Rites: "Blood and Roses"
p. 67
Vampyric Healing
p. 71
Manifesting
p. 83
Vampyre Sigil Magick: Veves, Sigils, Glyphs, Amulets, Tools, and Magickal Weapons
p. 91
Servitors and Familiars
p. 97
Vampyre Fetishes
p. 103
Vampyre Sanguinomicon Book IV: Liber MoRoii "Coming Forth by Twilight"
p. 107
Coming Forth by Twilight: The MoRoii Ordeal of the Vampyre Adept
p. 109
Primal Spiritualism
p. 117
Apotheosis: Self-Deification
p. 125
The Vampyre Middle Pillar
p. 131
Advanced Arts of Vampyrism
p. 135
The Astral Realm
p. 147
Silent Communion
p. 159
Flight of the Succubus (OBE)
p. 161
Dreamwalking
p. 171
Works Cited
p. 179
Table of Contents provided by Ingram. All Rights Reserved.