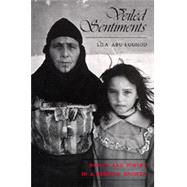 Veiled Sentiments : Honor and Poetry in a Bedouin Society
by
Lila Abu-Lughod
University of Chicago Press
Summary
A beautifully-written--almost poetic--ethnography of the Bedouins in Egypt as well as a study of gender relations through analysis of their oral lyric poetry.
Table of Contents
Preface To The Second Edition
Acknowledgments
A Note On Transcriptions
Guest and Daughter
The Ideology of Bedouin Social Life
Identity in Relationship
Honor and the Virtues of Autonomy
Modesty, Gender, and Sexuality
Discourses on Sentiment
The Poetry of Personal Life
Honor and Poetic Vulnerability
Modesty and the Poetry of Love
Ideology and the Politics of Sentiment
Appendix: Formulas And Themes Of Theghinnawa
Notes
Bibliography
Index
Table of Contents provided by Publisher. All Rights Reserved.