Note: Supplemental materials are not guaranteed with Rental or Used book purchases.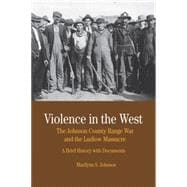 Violence in the West : The Johnson County Range War and the Ludlow Massacre - A Brief History with Documents
ISBN13:
9780312445799
by
Johnson, Marilynn S.
Summary
Popular portrayals have long depicted the American frontier of the late nineteenth and early twentieth centuries as a "Wild West" marked by violence. This compelling volume by Marilynn Johnson explores the question of how violent the West truly was and what conditions made violence likely to occur. By examining the case studies of the Johnson County range war in Wyoming and the Ludlow Massacre during the southern Colorado coal strike, Johnson demonstrates that western violence in this period was a product of the transformation of the West from a rugged frontier to a capitalist market. The introduction provides an overview of the range and mining wars that plagued the region and the specific cases the book examines. The primary sources collected by Johnson including newspaper reports, industrialists' accounts, union documents, and personal memoirs offer a vivid portrait of tensions surrounding land use, industrial development, labor, and race and ethnicity that fueled violence and ultimately contributed to western development. An epilogue looks at how these events have been remembered and how popular culture has helped keep the mystique of the Wild West alive. Document headnotes, two chronologies, questions for consideration, a selected bibliography, and an index enrich student exploration of this often-misunderstood part of American history.
Author Biography
Marilynn S. Johnson (Ph.D., New York University) is a professor of history and chair of the history department at Boston College. Dr. Johnson's research interests center on urban, immigration, and western history. Her most recent book, Street Justice: A History of Police Violence in New York City (Beacon Press, 2003) explored the history of police brutality from the mid-nineteenth to late 20th century. Her previous book, The Second Gold Rush: Oakland and the East Bay in World War II, (University of California Press, 1993) won the Sierra Prize from the Western Association of Women's Historians. Currently, she is working on a history of new immigrants in Boston from 1965 to the present.
Table of Contents
Foreword Preface
PART ONE: INTRODUCTION: The American West: A Violent Land?
The Range Wars The Johnson County War The Mining Wars The Colorado Coal Strike The Taming of the West
PART II: THE DOCUMENTS The Johnson County War
Walter Baron Von Richthofen, Cattle Raising on the Plains of North America, 1885
Emerson Hough, The Rustler, 1897
Frank M. Canton, Frontier Trails, 1930
Oscar "Jack" Flagg, The Waterloo of the Barons, 1892
Cheyenne Sun, Two Notorious Characters Hanged for Cattle Stealing, 1889
John H. Fales, Neither of them ever stole a cow, 1955
John Clay, My Life on the Range, 1924
Asa Shinn Mercer, The Banditti of the Plains, 1894
Sam Clover, Riding with the Regulators, 1892
Oscar "Jack" Flagg, The Siege at the TA Ranch, 1892
Editorial, Cheyenne Daily Leader, 1892
Editorial, Cheyenne Daily Sun, 1892
F.A. Meredith, The Wyoming Cattle War, 1892
Officers of the Ninth Cavalry, The Suggs Affair, 1892
Asa Shinn Mercer, The Trial of the Invaders, 1894
Anonymous, The Invasion Song, 1890s

The Colorado Coal Strike

United Mine Workers of America, District 15, Strike Resolutions, 1913
George West, U.S. Commission on Industrial Relations, Report on the Colorado Strike, 1915
John D. Rockefeller, Jr., The Colorado Fuel and Iron Company and the Colorado Strike, 1913
United Mine Workers of America, TheGovernor and the Coal Operators, 1914
Colorado State Federation of Labor, Militarism in Colorado, 1914
Mother Jones, In Rockefeller's Prisons, 1925
Rocky Mountain News and United Mine Workers Journal, The January 22nd Riot, 1914
Colorado Adjutant General, Report on Battle of Ludlow, 1914
Mary O'Neal, Those Damn Foreigners, 1971
Pearl Jolly, Under Fire in the Ludlow Tent Colony, 1914
William Snyder, Affidavit Given to the Commission on Industrial Relations, 1914
Godfrey Irwin, The Killing of Louis Tikas, 1914

John Sloan, The Aftermath of Ludlow, 1914
John D. Rockefeller, Jr., Labor and Capital—Partners, 1916
PART III: EPILOGUE: Remembering Johnson County and Ludlow
APPENDIXES A Chronology of Events: The Johnson County War A Chronology of Events: The Colorado Coal Strike Questions for Consideration Selected Bibliography
Index