Note: Supplemental materials are not guaranteed with Rental or Used book purchases.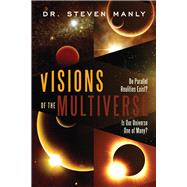 Summary
The idea of a multiple universe reality is no longer considered speculative or implausible by many physicists; rather, it is deemed inescapable. Distinct concepts of the multiverse spring from quantum mechanics, cosmology, string theory-based cosmology, and ideas about a mathematics based reality that borders on the religious. In this accessible and entertaining book, Dr. Manly guides you on a tour of the many multiverse concepts and provides the non-technical background to understand them. Visions of the Multiverseexplores questions such as: Just what is a multiverse? What are the different concepts of the multiverse and how are they related? Is it possible to determine if we live in a multiverse'Žor even in multiple types of multiverses? How do religious concepts of the afterlife and popular ideas based on the Law of Attraction relate to the scientific visions of the multiverse? Dr. Manly discusses a wide variety of fascinating concepts from relativity and the fundamental particles and forces of nature to dark matter, dark energy, and quantum mechanics in an unintimidating and conversational tone. Is humanity is in the midst of a new Copernican revolution? You decide.
Table of Contents
Introduction
p. 9
Got Copernicus?
p. 13
A Brief History of Space-Time
p. 23
Particles and Fields and Waves, Oh My!
p. 47
God's Gambling Problem
p. 65
Of Boxer Shorts and Charmed Quarks
p. 91
A Case of Cosmic Acne
p. 127
The Ultimate Free Lunch
p. 157
Doing a Little Gravity
p. 183
Copernicus on Steroids
p. 213
An Overview of Multiverse Concepts
p. 235
Tegmark's Taxonomy of the Multiverse
p. 239
Notes
p. 241
Bibliography
p. 257
Index
p. 265
About the Author
p. 271
Table of Contents provided by Ingram. All Rights Reserved.