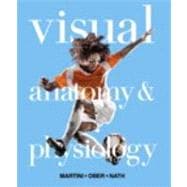 Questions About This Book?
What version or edition is this?
This is the 1st edition with a publication date of 2/9/2011.
What is included with this book?
The Used copy of this book is not guaranteed to include any supplemental materials. Typically, only the book itself is included.
Summary
Visual Anatomy & Physiologycombines a visual approach with a modular organization and frequent practice. Martini and Ober deliver an easy-to-use and time-efficient book that uniquely meets the needs of today#x19;s students-without sacrificing the coverage of A&P topics required for careers in nursing and other allied health professions. #xA0; Package Components: MasteringA&P" Martini#x19;s Atlas of the Human Body Interactive Physiology#xAE; 10-System Suite (IP-10) CD-ROM
Author Biography
Frederic ("Ric") H. Martini received his Ph.D. from Cornell University in comparative and functional anatomy for work on the pathophysiology of stress. He is currently an affiliated faculty member of the University of Hawaii. Martini is a President Emeritus of the Human Anatomy and Physiology Society (HAPS) after serving as President-elect, President, and Past-president over 2004-2007. Martini's other Pearson titles include:
Martini/Nath/Bartholomew, Fundamentals of Anatomy & Physiology

Martini/Nath, Anatomy & Physiology

Martini/Timmons/Tallitsch, Human Anatomy

Martini/Bartholomew, Essentials of Anatomy & Physiology
William C. Ober received his undergraduate degree from Washington and Lee University and his M.D. from the University of Virginia. While in medical school, he also studied in the Department of Art as Applied to Medicine at Johns Hopkins University. After graduation, Ober completed a residency in Family Practice and later was on the faculty at the University of Virginia in the Department of Family Medicine. He is currently an Affiliate Professor of Biology at Washington and Lee University and is part of the Core Faculty at Shoals Marine Laboratory, where he teaches Biological Illustration every summer. Ober has illustrated every Martini book in every edition.
Judi L. Nath is a biology professor at Lourdes College, where she teaches anatomy and physiology, pathophysiology, medical terminology, and pharmacology. She received her Bachelor's and Master's degrees from Bowling Green State University and her Ph.D. from the University of Toledo. She is a multiple recipient of the Faculty Excellence Award, granted by the college to recognize her effective teaching, scholarship, and community service. She is active in many professional organizations, notably the Human Anatomy & Physiology Society (HAPS), where she has served several terms on the board of directors.
Table of Contents
1. An Introduction to Anatomy and Physiology
2. Chemical Level of Organization
3. Cellular Level of Organization
4. Tissue Level of Organization
5. The Integumentary System
6. Osseous Tissue and Bone Structure
7. The Skeleton
8. Articulations
9. Skeletal Muscle Tissue
10. The Muscular System
11. Neural Tissue
12. The Spinal Cord, Spinal Nerves, and Spinal Reflexes
13. The Brain and Cranial Nerves
14. The Autonomic Nervous System
15. The Special Senses
16. The Endocrine System
17. Blood and Blood Vessels
18. The Heart and Cardiovascular Function
19. The Lymphatic System and Immunity
20. The Respiratory System
21. The Digestive System
22. Metabolism and Energetics
23. The Urinary System
24. Fluid, Electrolyte, and Acid-Base Balance
25. The Reproductive System
26. Development and Inheritance