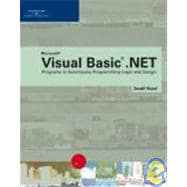 Visual Basic .NET Programs to Accompany Programming Logic and Design
by
Vicarel, Donald
Summary
Using this text, students can discover how real Visual Basic .NET code behaves, while remaining within the context of the traditional language-independent logic and design course.
Table of Contents
Getting Started
Modifying a Solution
Reading a Record
Reading a File
Modularizing a Solution
Making Decisions
Exploring Loops
Exploring Arrays
Merging Sequential Files
Appendices
Duplicating a Solution Folder
Printing a Form
Storage of Data Files
Using Reporter to Complete the Exercises in This Textbook
File Name Extensions
Table of Contents provided by Publisher. All Rights Reserved.