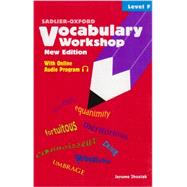 List Price: $14.87

More New and Used
from Private Sellers
Related Products
Customer Reviews
Buy this book!
October 17, 2011
by





I love this book. It's small enough to carry around in my purse, and it contains a vast amount of good information. It has done wonders for my vocabulary. My advice to parents: buy this book for your kids when they are high school freshman. They will have quite an impressive vocabulary by graduation.

Flag Review
---
Vocabulary Workshop : Level F

:
stars based on
1
user reviews.
Summary
Provides exercises designed to stimulate vocabulary growth, offers specially designed sections to build skills required for standarized tests, and introduces three hundred new words.
Table of Contents
Pronunciation Key
6
(1)
The Vocabulary of Vocabulary
7
(2)

| | |
| --- | --- |
| | Denotation and Connotation |

7
(1)

| | |
| --- | --- |
| | Literal and Figurative Usage |

7
(1)
8
(1)
Vocabulary Strategy: Using Context
9
(2)
Vocabulary Strategy: Word Structure
11
(2)
Vocabulary and Reading
13
(3)
Grammar and Writing
16
(1)
Working with Analogies
17
(1)
Diagnostic Test
18
(3)
Unit One
21
(7)
Unit Two
28
(7)
Unit Three
35
(7)
Review Units One-Three

| | |
| --- | --- |
| | Vocabulary for Comprehension |

42
(2)
44
(1)
45
(1)

| | |
| --- | --- |
| | Choosing the Right Meaning |

46
(1)
46
(1)
47
(1)
48
(1)

| | |
| --- | --- |
| | Building with Classical Roots |

49
(2)
Unit Four
51
(7)
Unit Five
58
(7)
Unit Six
65
(7)
Review Units Four-Six

| | |
| --- | --- |
| | Vocabulary for Comprehension |

72
(2)
74
(1)
75
(1)

| | |
| --- | --- |
| | Choosing the Right Meaning |

76
(1)
76
(1)
77
(1)
78
(1)

| | |
| --- | --- |
| | Building with Classical Roots |

79
(2)
Cumulative Review I (Units One-Six)
81
(1)

| | |
| --- | --- |
| | Choosing the Right Meaning |

81
(1)
82
(1)

| | |
| --- | --- |
| | Enriching Your Vocabulary |

83
(1)
Unit Seven
84
(7)
Unit Eight
91
(7)
Unit Nine
98
(7)
Review Units Seven-Nine

| | |
| --- | --- |
| | Vocabulary for Comprehension |

105
(2)
107
(1)
108
(1)

| | |
| --- | --- |
| | Choosing the Right Meaning |

109
(10)
119
110
(1)
111
(1)

| | |
| --- | --- |
| | Building with Classical Roots |

112
(2)
Cumulative Review II (Units One-Nine)
114
(1)

| | |
| --- | --- |
| | Choosing the Right Meaning |

114
(1)
115
(1)

| | |
| --- | --- |
| | Enriching Your Vocabulary |

116
(1)
Unit Ten
117
(7)
Unit Eleven
124
(7)
Unit Twelve
131
(7)
Review Units Ten-Twelve

| | |
| --- | --- |
| | Vocabulary for Comprehension |

138
(2)
140
(1)
141
(1)

| | |
| --- | --- |
| | Choosing the Right Meaning |

142
(1)
142
(1)
143
(1)
144
(1)

| | |
| --- | --- |
| | Building with Classical Roots |

145
(2)
Cumulative Review III (Units One-Twelve)
147
(1)

| | |
| --- | --- |
| | Choosing the Right Meaning |

148
(1)
149
(1)

| | |
| --- | --- |
| | Enriching Your Vocabulary |

150
(1)
Unit Thirteen
151
(7)
Unit Fourteen
158
(7)
Unit Fifteen
165
(7)
Review Units Thirteen-Fifteen

| | |
| --- | --- |
| | Vocabulary for Comprehension |

172
(2)
174
(1)
175
(1)

| | |
| --- | --- |
| | Choosing the Right Meaning |

176
(1)
176
(1)
177
(1)
178
(1)

| | |
| --- | --- |
| | Building with Classical Roots |

179
(2)
Cumulative Review IV (Units One-Fifteen)
181
(1)

| | |
| --- | --- |
| | Choosing the Right Meaning |

182
(1)
183
(1)

| | |
| --- | --- |
| | Enriching Your Vocabulary |

184
(1)
Final Mastery Test
185
(5)
Index
190