Note: Supplemental materials are not guaranteed with Rental or Used book purchases.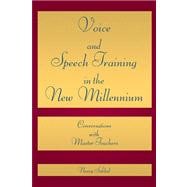 Voice and Speech Training in the New Millennium : Conversations with Master Teachers
ISBN13:
9781617740589
by
Saklad, Nancy
Summary
Voice and speech training has long been a part of the fabric of actor training and the training of those whose task it has been to persuade through the voice: primarily actors, politicians, lawyers, and other public speakers. Voice and Speech Training in the New Millennium is a collection of interviews with 24 of today's leading voice and speech teachers, each of whom has contributed to the advancement of the field and made today's training a cutting edge component of actor training. Included are interviews with master teachers Richard Armstrong, Cicely Berry, Patsy Rodenburg, Kristin Linklater, Catherine Fitzmaurice, Dudley Knight, Robert Barton, Rocco DalVera, Natsuko Ohama, Nancy Krebs, Bonnie Raphael, Susan Sweeney, Fran Bennett, Louis Colaianni, Nancy Houfek, Jan Gist, Andrea Haring, Saul Kotzubei, Robert Neff Williams, Andrew Wade, David Carey, Phil Thompson, Deb Kinghorn, and Gillian Lane-Plescia. Amidst their similarities and differences in approach is a unified spirit and acknowledgment that voice work is of fundamental importance to the actor's training process and has the potential to resonate profoundly with the actor and with the audience.
Author Biography
Nancy Saklad teaches voice and speech and acting at the State University of New York at New Paltz. She is a professional freelance director and voice and speech coach. Saklad lives in Kingston, New York.
Table of Contents
Preface
p. ix
Acknowledgments
p. xi
Introduction
p. 1
Richard Armstrong
p. 17
Robert Barton
p. 29
Fran Bennett
p. 39
Cicely Berry
p. 49
David Carey
p. 59
Louis Colaianni
p. 69
Rocco Dal Vera
p. 81
Catherine Fitzmaurice
p. 93
Jan Gist
p. 105
Andrea Haring
p. 115
Nancy Houfek
p. 125
Deb Kinghorn
p. 135
Dudley Knight
p. 145
Saul Kotzubei
p. 157
Nancy Krebs
p. 169
Gillian Lane-Plescia
p. 181
Kristin Linklater
p. 193
Natsuko Ohama
p. 203
Bonnie Raphael
p. 211
Patsy Rodenburg
p. 221
Susan Sweeney
p. 231
Philip Thompson
p. 243
Andrew Wade
p. 253
Robert Neff Williams
p. 263
Afterword
p. 275
Appendix
p. 277
Bibliography
p. 281
Index
p. 283
Table of Contents provided by Ingram. All Rights Reserved.