Note: Supplemental materials are not guaranteed with Rental or Used book purchases.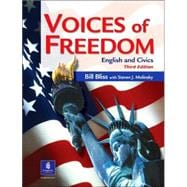 Summary
This content-based English and Civics text introduces basic government and history topics through a carefully controlled sequence of lessons that simultaneously teach beginning-level vocabulary and grammar.
New civic participation activities, projects, and issue discussions meet English/Civics program goals.
Expanded chapter tests develop test-taking skills and increase confidence levels.
Interview dialogues allow students to practice the functional interview skills crucial to a successful INS interview.
Internet activities range from simple web browsing to virtual field trips to important historical sites.
New civic enrichment activities in each chapter, including visits to local government offices, community tasks, and debates encourage students to become active participants in the classroom and in the community.
Table of Contents
To the teacher
p. vii
p. 1
tPersonal Information
Identification Cards
Numbers
Alphabet
p. 19
Personal Information
Months of the Year
Dates
p. 35
Maps & Geography
Cities, States & Capitals
Beliefs
The Flag
p. 49
Branches of Government
p. 59
p. 71
The Congress
The President
The Supreme Court
p. 85
Types of Government
State & Local Government
Public Officials
The Constitution
The Bill of Rights
p. 85
p. 99
Discovery
Colonization
p. 117
The Revolutionary War
The Declaration of Independence
p. 135
The Constitution
Branches of Government
The Bill of Rights
George Washington
p. 153
tThe National Anthem
Expansion
The Civil War
Abraham Lincoln
Amendments
p. 171
Industrial Revolution
Immigration
20th-Century History
Civil Rights Movement
Citizens' Rights & Responsibilities
Presidents: 1961-Present
Appendix
100 Questions for Review
p. 199
Songs of Freedom
p. 204
Pledge of Allegiance
p. 207
Oath of Allegiance
p. 207
Scripts for Listening Exercises
p. 208
Sentences for Dictation Exercises
p. 210
Index
p. 212
Correlation Key
p. 214
Table of Contents provided by Syndetics. All Rights Reserved.