Note: Supplemental materials are not guaranteed with Rental or Used book purchases.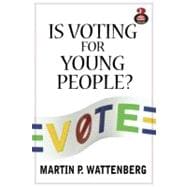 Is Voting for Young People? (Great Questions in Politics Series)
ISBN13:
9780321435699
by
Wattenberg, Martin P.
Related Products
Summary
This accessible, provocative, and brief book explores the reasons why the young are less and less likely to follow politics and vote in the United States, as well as many other established democracies, and suggests ways of changing that.
Table of Contents
Series Preface
ix
Acknowledgments
xi
Introduction
1
(3)
An Overview
4
(5)

| | |
| --- | --- |
| | The Aging of Regular Newspaper Readers |

9
(22)

| | |
| --- | --- |
| | Who Reads a Newspaper Every Day Anymore? |

12
(5)

| | |
| --- | --- |
| | Has Reading a Newspaper for Political Content Changed? |

17
(2)

| | |
| --- | --- |
| | Can Similar Patterns Be Found in Other Established Democracies? |

19
(7)

| | |
| --- | --- |
| | Do Young Adults Just Not Like to Read? |

26
(2)

| | |
| --- | --- |
| | Conclusion: A Future for Newspapers? |

28
(3)

| | |
| --- | --- |
| | The Aging Audience for Politics on TV |

31
(30)

| | |
| --- | --- |
| | Is Network TV News a Dying Dinosaur? |

35
(5)

| | |
| --- | --- |
| | Is Cable News Picking Up the Slack? |

40
(3)

| | |
| --- | --- |
| | Where Have All the Water-Cooler Shows Gone? |

43
(7)

| | |
| --- | --- |
| | Can Similar Patterns Be Found in Other Established Democracies? |

50
(8)

| | |
| --- | --- |
| | Conclusion: Can Soft News Save the Day? |

58
(3)

| | |
| --- | --- |
| | Don't Ask Anyone Under 30 |

61
(34)

| | |
| --- | --- |
| | Have Young People Become Less Likely to Follow Political Events? |

62
(9)

| | |
| --- | --- |
| | What News Stories Did Young People Follow in 2004? |

71
(4)

| | |
| --- | --- |
| | Is this the Least Politically Knowledgeable Generation of American Youth Ever? |

75
(5)

| | |
| --- | --- |
| | Are Young People in Other Democracies Similarly Clueless About Politics? |

80
(10)

| | |
| --- | --- |
| | Conclusion: The Impact of Political Knowledge |

90
(2)
92
(3)

| | |
| --- | --- |
| | Where Have All the Young Voters Gone? |

95
(32)

| | |
| --- | --- |
| | Turnout by Age in American Presidential Elections Since 1964 |

97
(7)

| | |
| --- | --- |
| | Turnout by Age in Parliamentary Elections: Change Over Three Decades |

104
(4)

| | |
| --- | --- |
| | The Turnout Gap in American Second-Order Elections |

108
(12)

| | |
| --- | --- |
| | The Turnout Gap in Second-Order Elections in Other Established Democracies |

120
(4)

| | |
| --- | --- |
| | Conclusion: Was Lowering the Voting Age a Mistake? |

124
(3)

| | |
| --- | --- |
| | Do Young Adults See Voting as a Civic Duty? |

127
(12)

| | |
| --- | --- |
| | Have Young Americans Become Less Likely to View Voting as a Duty? |

129
(5)

| | |
| --- | --- |
| | Can Similar Trends Be Found in Other Democracies? |

134
(4)

| | |
| --- | --- |
| | Conclusion: A Window into the Future? |

138
(1)

| | |
| --- | --- |
| | Does Low Youth Turnout Really Matter? |

139
(22)

| | |
| --- | --- |
| | Does Position in the Life-Cycle Affect Policy Positions? |

141
(7)

| | |
| --- | --- |
| | Is there a Generation Gap in American Voting Behavior? |

148
(4)

| | |
| --- | --- |
| | Are There Age Gaps in Ideology and Voting Behavior in Other Countries? |

152
(5)

| | |
| --- | --- |
| | Conclusion: A Government for Older People? |

157
(4)
161
(14)

| | |
| --- | --- |
| | How to Improve Turnout Rates Without Compulsory Voting |

161
(5)

| | |
| --- | --- |
| | Want a Solution? Consider Compulsory Voting |

166
(3)

| | |
| --- | --- |
| | How Much Support is There for Compulsory Voting? |

169
(3)

| | |
| --- | --- |
| | Is Talk of Compulsory Voting at All Realistic? |

172
(3)
Endnotes
175
(10)
Name Index
185
(2)
Subject Index
187