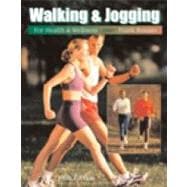 Questions About This Book?
What version or edition is this?
This is the 5th edition with a publication date of 10/28/2002.
What is included with this book?
The Used copy of this book is not guaranteed to include any supplemental materials. Typically, only the book itself is included.
Related Products
Summary
WALKING AND JOGGING FOR HEALTH AND FITNESS is a concise text that introduces readers to the health benefits of walking and jogging. It presents persuasive and logical reasons why exercise should be included in one's daily life, and provides guidelines for beginning and sustaining walking and jogging programs with the aim of accomplishing health and fitness objectives.
Table of Contents
Preface
ix

| | |
| --- | --- |
| | Physical Fitness: An Overview |

1
(14)
1
(2)

| | |
| --- | --- |
| | Aerobic Exercise and Health |

3
(1)

| | |
| --- | --- |
| | Trends in Fitness Activities |

3
(1)
4
(1)

| | |
| --- | --- |
| | Exercise Programs in Business and Industry |

5
(1)

| | |
| --- | --- |
| | The Costs of Sedentary Living |

6
(1)

| | |
| --- | --- |
| | Disease and Death Patterns |

7
(2)
9
(1)

| | |
| --- | --- |
| | Rationale for Choosing Walking and Jogging |

9
(2)
10
(1)
11
(1)
11
(1)

| | |
| --- | --- |
| | Performance-Related Fitness |

12
(1)
12
(1)
12
(1)
13
(2)

| | |
| --- | --- |
| | Motivation and Motivational Techniques |

15
(12)

| | |
| --- | --- |
| | Moving Toward an Active Lifestyle |

15
(1)

| | |
| --- | --- |
| | Components of Behavior Change |

16
(2)

| | |
| --- | --- |
| | Changing Health Behavior: Nationwide Efforts |

18
(1)

| | |
| --- | --- |
| | Electronic Media Campaigns |

18
(1)
18
(1)
18
(1)
19
(1)
19
(1)
19
(1)
20
(1)

| | |
| --- | --- |
| | Fitness: A Lifelong Commitment |

20
(1)

| | |
| --- | --- |
| | Some Motivational Techniques |

20
(5)
25
(1)
25
(1)
26
(1)
27
(16)

| | |
| --- | --- |
| | Regular and Consistent Participation |

27
(1)
28
(1)
28
(1)
28
(3)
31
(5)
31
(3)
34
(1)
35
(1)
35
(1)
36
(1)

| | |
| --- | --- |
| | Cooling Down After Exercise |

36
(2)

| | |
| --- | --- |
| | Phase One: Light Activity |

36
(1)

| | |
| --- | --- |
| | Phase Two: Stretching Exercises |

37
(1)
38
(2)
40
(1)
40
(1)
41
(2)

| | |
| --- | --- |
| | Walking and Jogging for Health and Fitness |

43
(18)

| | |
| --- | --- |
| | The Fundamentals of Walking |

43
(6)

| | |
| --- | --- |
| | These Shoes were Made for Walking |

43
(1)

| | |
| --- | --- |
| | The Energy Cost of Walking |

44
(3)
47
(2)
49
(1)

| | |
| --- | --- |
| | The Fundamentals of Jogging |

49
(4)

| | |
| --- | --- |
| | These Shoes Were Made for Jogging |

49
(2)
51
(1)
52
(1)
53
(1)

| | |
| --- | --- |
| | Health Benefits of Walking and Jogging |

53
(2)

| | |
| --- | --- |
| | Walking and Jogging for Special Populations |

55
(3)

| | |
| --- | --- |
| | Special Concerns of Women |

55
(1)
56
(1)

| | |
| --- | --- |
| | The Need for Children to Exercise |

57
(1)

| | |
| --- | --- |
| | An Uncomplicated Walking Program for the Obese |

58
(1)
58
(1)
58
(1)
59
(2)

| | |
| --- | --- |
| | Prevention and Treatment of Walking and Jogging Injuries |

61
(11)

| | |
| --- | --- |
| | Principles of Injury Prevention |

61
(1)

| | |
| --- | --- |
| | Incidence and Risk of Exercise-Related Injuries |

62
(1)
62
(6)

| | |
| --- | --- |
| | General Treatment: The RICES Principle |

62
(1)

| | |
| --- | --- |
| | Treating Selected Injuries |

63
(4)
67
(1)
67
(1)
67
(1)
68
(1)

| | |
| --- | --- |
| | The Wisdom of Exercising During Illness |

68
(1)

| | |
| --- | --- |
| | Nutritional Approaches for Preventing and Treating Illness |

69
(1)
69
(1)
69
(2)
71
(1)

| | |
| --- | --- |
| | Physiological Adaptations of Walking and Jogging |

72
(20)

| | |
| --- | --- |
| | Body Size and O2 Utilization |

73
(1)

| | |
| --- | --- |
| | Chronic Adaptations---Training Effects |

73
(6)
73
(1)
74
(1)
74
(1)
74
(1)
75
(1)
75
(1)
76
(1)
76
(1)
77
(1)

| | |
| --- | --- |
| | Effects of Age on VO2 max |

78
(1)

| | |
| --- | --- |
| | Effects of Inherited Factors |

78
(1)

| | |
| --- | --- |
| | Effects of Gender on VO2 max |

79
(1)

| | |
| --- | --- |
| | Anaerobic Threshold---Lactate Threshold |

79
(1)

| | |
| --- | --- |
| | Deconditioning---Losing the Training Effect |

79
(1)

| | |
| --- | --- |
| | Walking/Jogging in Various Climatic Conditions |

80
(5)
80
(4)
84
(1)

| | |
| --- | --- |
| | Assessing Cardiorespiratory Endurance |

85
(5)
85
(3)
88
(2)
90
(1)
90
(1)
91
(1)

| | |
| --- | --- |
| | Nutrition for Active People |

92
(30)
92
(1)
93
(14)
94
(1)

| | |
| --- | --- |
| | Nutrition Facts Food Label |

94
(1)

| | |
| --- | --- |
| | The Calorie-Containing Nutrients |

94
(8)
102
(5)

| | |
| --- | --- |
| | The Reduction Equation: Exercise + Sensible Eating = Fat Control |

107
(5)

| | |
| --- | --- |
| | Effect of Exercise on Weight Control |

107
(3)

| | |
| --- | --- |
| | Effect of Diet on Weight Control |

110
(1)
110
(1)
111
(1)

| | |
| --- | --- |
| | Weight Gain for Underweight People |

112
(1)
113
(1)

| | |
| --- | --- |
| | Measuring Body Composition |

113
(6)
119
(1)
119
(1)
120
(2)

| | |
| --- | --- |
| | Reducing the Risk of Selected Diseases Through Exercise |

122
(19)
122
(10)

| | |
| --- | --- |
| | Risk Factors for Heart Disease |

123
(9)

| | |
| --- | --- |
| | New and Emerging Risk Factors |

132
(1)
132
(1)
133
(2)

| | |
| --- | --- |
| | Risk Factors for Osteoporosis |

134
(1)
134
(1)
135
(1)
135
(1)
136
(1)
136
(1)
137
(1)
137
(4)
Appendix: World Wide Web Sites of Interest
141
(2)
Glossary
143
(4)
Index
147