Note: Supplemental materials are not guaranteed with Rental or Used book purchases.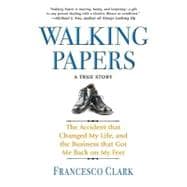 Summary
Walking Papers is the incredibly inspiring story of a young man who wouldn't give up. Francesco Clark was a twenty-four-year-old with a bright future when he went to Long Island for the weekend-but a nocturnal dive into the pool's shallow end changed everything, forever. Paralyzed from the neck down, Francesco was told by his doctors that he would never move from his bed or even breathe without assistance. But Francesco fought back. Within days, he was breathing on his own. His father, a doctor himself, investigated every opportunity for experimental treatment, and Francesco used every resource available to speed his recovery. To avoid having his lungs painfully suctioned, he sang, loudly, for hours-and that was just the beginning. Francesco moved back home with his parents and began the long process toward recovery. Many doctors discourage patients with spinal cord injury from pursuing physical therapy beyond very basic movements, but Francesco embarked on a five-hour daily regimen, including the treadmill program that Christopher Reeve had made famous. Soon he astounded the medical establishment with his progress. Francesco's accident also left him unable to sweat out toxins, leaving his complexion poor. He and his father began to experiment, and the Clark's Botanicals skin-care line was born. Now CB products are sold worldwide in stores such as Saks Fifth Avenue, and the company has won many major fashion awards and is enjoyed by a host of celebrities. The lessons Francesco learned about persistence from his recovery process, and the loving support of his amazing family, have both contributed to his incredible business success. Seven years after the accident, Francesco continues to improve and to surprise his doctors-for instance, he can now work on a computer. Walking Papers is the inspiring story of how, with individual determination and unconditional family support, Francesco Clark overcame extreme adversity and achieved an extraordinary triumph.
Table of Contents
Foreword
p. ix
Prologue
p. xi
Baby Steps
Before
p. 3
Breathing, Somehow
p. 10
I Sing, Therefore I Breathe
p. 17
Unhooked
p. 26
Starting Therapy
p. 30
The New Routine
p. 37
Jumping the Curb
p. 44
Madonna
p. 51
Mrs. Mulleavy
p. 56
Moving On
p. 68
Adaptation
p. 74
The Elephant in the Room
p. 83
One Year On
p. 92
The Next Step
Hey, Look Who's Walking!
p. 99
A Doctor's Son
p. 107
The Reeve Effect
p. 113
Learning to Stand My Ground
p. 118
Touchdown
p. 129
Post-Op
p. 137
Detroit
p. 142
Stepping Out
What Now?
p. 153
Jamine Absolute
p. 162
What Do You Want to Do Today?
p. 171
Connecting the Dots
p. 179
Twenty-Nine
p. 186
The New Sensation
p. 191
The Reeve Foundation
p. 197
Regeneration
p. 204
Epilogue: Here Today
p. 211
Acknowledgments
p. 217
Table of Contents provided by Ingram. All Rights Reserved.