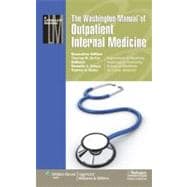 The Washington ManualŪ of Outpatient Internal Medicine
by
Unknown
Questions About This Book?
What version or edition is this?
This is the 1st edition with a publication date of 4/19/2010.
What is included with this book?
The New copy of this book will include any supplemental materials advertised. Please check the title of the book to determine if it should include any CDs, lab manuals, study guides, etc.
Summary
Updated and continues to focus on the common ambulatory medical problems encountered in each medical subspecialty. Many subspecialties will have separate symptom and disease-based chapters. Some of the subspecialties that will continue to be covered are dermatology, neurology, ophthalmology, otolaryngology and psychiatry and will focus on the primary care practitioner who will be using this book.
Table of Contents
1: Approach to the Ambulatory Patient Debaroti M. Borschel and Thomas M. De Fer 2: Care of the Surgical Patient Meredith A. Brisco, Rashmi S. Mullur, and Thomas M. De Fer 3: Hypertension Vinay Madan and Thomas M. De Fer 4: Ischemic Heart Disease Joshua M. Stolker 5: Heart Failure and Cardiomyopathy Joel D. Schilling and Michael W. Rich 6: Valvular Heart Disease Benico Barzilai 7: Arrhythmia and Syncope Scott B. Marrus and Timothy W. Smith 8: Dyslipidemia Anne C. Goldberg and Katherine E. Henderson 9: Disorders of Hemostasis Charles S. Eby 10: Venous Thromboembolism and Anticoagulation Therapy Roger D. Yusen and Brian F. Gage 11: Common Pulmonary Complaints Peter G. Tuteur 12: Chronic Obstructive Pulmonary Disease and Asthma Warren Isakow 13: Interstitial Lung Diseases and Pulmonary Hypertension Raksha Jain and Murali M. Chakinala 14: Sleep Disorders Tonya D. Russell 15: Pleural Effusion and Solitary Pulmonary Nodule Devin P. Sherman, Martin L. Mayse, and Thomas M. De Fer 16: Diabetes Mellitus Rashmi S. Mullur and Ernesto Bernal-Mizrachi 17: Endocrine Diseases William E. Clutter 18: Nutrition and Obesity Mariko K. Johnson and Shelby A. Sullivan 19: Laboratory Assessment of Kidney and Urinary Tract Disorders Ying Chen, Vikrant Rachakonda, and Michelle C.L. Cabellon 20: Acute Kidney Injury, Glomerulopathy, and Chronic Kidney Disease Ying Chen, Vikrant Rachakonda, and Michelle C.L. Cabellon 21: Hematuria and Nephrolithiasis Ying Chen, Jawad Munir, Vikrant Rachakonda, and Steven Cheng 22: General Infectious Disease F. Matthew Kuhlmann and Thomas C. Bailey 23: Human Immunodeficiency Virus Infection and Sexually Transmitted Diseases Hilary E.L. Reno and E. Turner Overton 24: Common Gastrointestinal Complaints Babac Vahabzadeh and Dayna S. Early 25: Gastroesophageal Reflux Disease C. Prakash Gyawali 26: Hepatobiliary Diseases Amanda Camp and Kevin M. Korenblat 27: Inflammatory Bowel Disease Christina Ha and Matthew A. Ciorba 28: Rheumatologic Diseases J. Chad Byrd and Richard D. Brasington 29: Musculoskeletal Complaints Thomas M. De Fer 30: Hematologic Diseases Reshma Rangwala and Morey A. Blinder 31: Care of the Cancer Patient Maria Q. Baggstrom 32: Palliative Care and Hospice Medicine Nadia Khoury and Maria C. Dans 33: Pain Management Amy Sheldahl and Maria C. Dans 34: Geriatrics Syed Khalid and David B. Carr 35: Allergy and Immunology Jinny E. Chang and Shirley D. Joo 36: Otolaryngology Thomas M. De Fer 37: Women's Health Karen S. Winters and Kathryn M. Diemer 38: Men's Health Melvin Blanchard 39: Dermatology Ilana Rosman, Brendan Lloyd, and Omar Jassim 40: Psychiatry Prateek C. Gandiga 41: Neurologic Disorders Eric C. Klawiter, Brian Sommerville, Leo Wang, and Todd J. Schwedt 42: Ophthalmology Stephen A. Kamenetzky, Michael D. Straiko, and Linda M. Tsai 43: Screening and Adult Immunizations Megan E. Wren 44: Smoking Cessation Megan E. Wren 45: Alcohol Abuse Mohsen Nasir and Thomas M. De Fer