Note: Supplemental materials are not guaranteed with Rental or Used book purchases.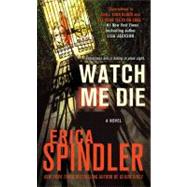 Summary
Before Hurricane Katrina struck, New Orleans stained glass restoration artist Mira Gallier had it all. The devastating storm stole it all from her. Now, Mira is on the verge of recovery. But her life is about to be shattered by a psychopath who will stop at nothing until he possesses her, body and soul.
Author Biography
New York Times bestselling author Erica Spindler has written tewnty-nine novels, including Blood Vines¸Breakneck, Last Known Victim, Copycat, Killer Takes All, See Jane Die, Dead Run, and Bone Cold. Erica lives just outside New Orleans, Louisiana, with her husband and two sons.
Table of Contents
THE PERFECT LIFE
Stained-glass restoration artist Mira Gallier had it all. A career she loved. An idyllic marriage. A  bright future in her favorite city. Then Hurricane Katrina struck New Orleans and Mira lost everything—even her husband, swept away by floodwaters, never to be seen again…
A SHATTERED WORLD
Years later, Mira has finally healed and is ready to start over. But her fate is once again altered by forces beyond her control. Instead of a killer storm, she faces a psychopath determined to shatter her life once more. First, church windows that she restored are vandalized—with haunting religious scripture—and a priest is found dead at the scene. Next, New Orleans is rocked by a series of murders that seem to be linked to her…and the police can't help but wonder if the murderer isn't Mira herself.
A JOURNEY INTO FEAR AND DARKNESS
As Mira begins to unravel under pressure from all sides, she has no one left to trust. One by one, the people in Mira's life are targeted—and soon it's clear that the killer has been saving her for last. And now there's nowhere left for her to run…
"A gripping thriller [with] numerous twists and turns until the startling conclusion."—Publishers Weekly