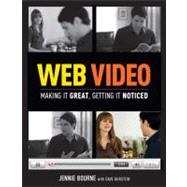 Summary
With millions of viewers looking to the Web as their source of entertainment and news, high-quality Web video is in demand like never before. Whether yours"re an expert in video production or are just getting started, you need to know how to produce the best video possible for the Web and then make sure it gets seen by a wide audience. Here to guide you on everything about planning and shooting, editing, choosing a distributor, marketing your video, and making a profit, author and producer Jennie Bourne takes you through the steps to getting your video from concept to prominence on the Web. Web Video gives you practical, step-by-step instruction and advice from top experts in the field, with hands-on projects and footage available for download at the authorrs"s Web site, www.webvideobook.tv. Yours"ll learn everything you need to know to create great video, get it noticed, and make it pay off, including: Web video production techniques for a variety of genres, including events, interviews, how-tos, video blogs, and news and dramatic shows What it takes to make your video a viral hit on the Web How to shoot high-quality video that stands out, with real-world tips from Web video professionals Editing techniques that draw in viewers and hold their attention Compression and formatting tips to make your video look great Advice on creating a distribution plan that fits your needs How to profit from advertising or selling your video
Author Biography
Jennie Bourne has produced hundreds of short videos for the Web and built a state-of-the-art Web video studio. Her credits include, launching PulverTV, creating video profiles for the Marconi Society and a documentary on ecological literacy, field producing for German TV, and editing news film for ABC and NBC TV. She anchored the Evening News at WBAI FM, studied film at NYU, journalism at Columbia University, and taught Web video at Rutgers University. She and Burstein are working on a documentary about Macintosh inventor Jef Raskin.

Dave Burstein is the publisher and editor of DSL Prime. An expert on broadband networks and award winning radio host, Burstein organized Web Video Summit where he wowed insiders with one of the world's first demos of 6-MB HD video streaming live.
Table of Contents
Making Great Web Video
p. 2
Shooting for the Web
p. 32
Shooting Events and Interviews
p. 70
Videoblogs, How-to Videos, and News
p. 108
TV Techniques for Better Web Video
p. 144
Editing and Post-Production
p. 182
Uploading Video to the Web
p. 214
Getting your Video Noticed
p. 250
Making It Pay
p. 282
Additional Resources
p. 307
Figure Credits
p. 311
Index
p. 313
Table of Contents provided by Blackwell. All Rights Reserved.