Note: Supplemental materials are not guaranteed with Rental or Used book purchases.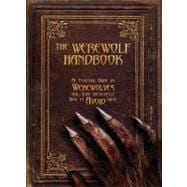 The Werewolf Handbook: An Essential Guide to Werewolves And, More Importantly, How to Avoid Them
ISBN13:
9780764163739
by
Curran, Robert
Barrons Educational Series Inc
Summary
Werewolves are more popular than ever--thanks largely to recent film hits--and this highly entertaining new title tells readers everything they've ever wanted to know about those terrifying preternatural members of thecanis lupusfamily. Newcomers to werewolf lore will be surprised to learn that there are many different werewolf varieties. Alphas are the leaders, and Betas are unwilling but deadly members of a werewolf pack. But there are also Benandanti, holy men who change into wolves in order to do battle with witches . . . and Loup-garoux, werewolves who can change from man to wolf even during daylight hours. The more ordinary werewolves achieve their terrible transformations from man to beast only by the light of the Moon. Author Robert Curran also notes that Grendel, the legendary demon in the Old English epic poemBeowulf,has many werewolf characteristics. In addition, this book tells readers where werewolves live, describes their telltale traits, such as hairy palms, advises on how to avoid becoming a werewolf, and gives tips on what werewolf victims should do when they are attacked. More than 100 moody and atmospheric color illustrations accompany this intensely readable text.