Note: Supplemental materials are not guaranteed with Rental or Used book purchases.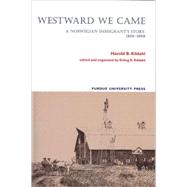 Summary
West We Cameis a memoir of Harold B. Kildahl, Sr. and his family pulling up roots in Norway and immigrating to the United States in 1866. It is a vivid description of their travels and settlement in southern Minnesota.Westward We Cameis an authentic depiction of difficult pioneer life-true Americana, including the hardships as well as the joys of that time and place.
Author Biography
Erling E. Kildahl is the youngest and only surviving child of the author. He fell in love with the theater as a child and later enrolled in the Pasadena Playhouse School of Theater. Awarded a masters degree in 1946 he directed for two years before coming to Purdue University as an Instructor and Director, and later as professor.
Table of Contents
Acknowledgments
p. VII
Preface
p. IX
Introduction
p. 1
In Transit
p. 7
Irrevocable decision
p. 9
Transatlantic passage
p. 11
Redwing or bust
p. 15
Minnesota
p. 19
Goodhue County
p. 21
Destination
p. 21
Dugout Homes and Rattlesnakes
p. 25
New Home, New Friends, New Life
p. 29
My Unforgettable Christmas
p. 35
Great Events of 1872
p. 39
Two Gifted Teachers
p. 43
Farewell to the Valley
p. 47
Northfield
p. 48
New Family in Town
p. 51
The Famous Northfield Bank Raid
p. 55
Manitou Heights and Family Depths
p. 61
Confirmation and Travel Plans
p. 67
Grand Forks Interlude
p. 71
Marshall County
p. 77
Farming, Friends, and Fire
p. 77
The Red River: Floods and Bridges
p. 81
Dakota Territory
p. 85
Stop, Start, and Trails West
p. 87
Bartlett, Devils Lake, and Mr. Church's Ferry
p. 91
New Land, New Problems, and a New Home
p. 97
The Island: Fuel, Saplings, and Fear
p. 103
Buffalo Bones and Claim Jumpers
p. 107
Family United and Farm Completed
p. 113
Land Laws, Land Filing, and Land Fever
p. 119
The Lighter Side of Life on the Plains
p. 125
A Foe and A Friend
p. 131
Kildahl P.O., Brides, and a Baby
p. 135
Ambition Rekindled, Dreams Fulfilled
p. 139
Minnesota Again
p. 145
Northfield
p. 147
Back to School
p. 147
Glimpses of Student Life
p. 151
My College Years
p. 159
Minneapolis
p. 163
Seminary, Engagement, and Call
p. 163
Ordination, Marriage, and Ever After
p. 173
Afterword
p. 179
Notes
p. 187
Table of Contents provided by Ingram. All Rights Reserved.