Note: Supplemental materials are not guaranteed with Rental or Used book purchases.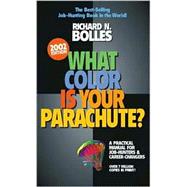 Summary
Now in its 32nd year, this is the bestselling job-hunting book in the world. For the 2002 edition, Bolles has rewritten the book in light of the Internet and other current developments in job-hunting and career-changing methods. New features include a card-sort, a list of people's Fields of Fascination, and a rundown on new Internet sites that are helpful to the job-hunter. (Careers)
Table of Contents
Preface to the 2002 Edition
xi

| | |
| --- | --- |
| | What Are You Looking For? |

1
(14)

| | |
| --- | --- |
| | The steps in doing a traditional job-hunt, or a really Life-changing job-hunt, successfully |

| | |
| --- | --- |
| | Job-Hunting At Warp Speed |

15
(16)

| | |
| --- | --- |
| | Importance of the Internet in today's job-hunt: where to look for job-postings or places to put your resume |

| | |
| --- | --- |
| | But What If That Doesn't Work? |

31
(22)

| | |
| --- | --- |
| | Statistics about job-hunting, on or off the Internet. Five best and five worst ways to look for a job |

| | |
| --- | --- |
| | How Employers Hunt For Job-Hunters |

53
(16)

| | |
| --- | --- |
| | The traditional job-hunt is weighted in favor of employers: how to overcome this (alternative strategies) |

| | |
| --- | --- |
| | Twenty-Three Tips For A Successful Job-Hunt |

69
(24)

| | |
| --- | --- |
| | Successful job-hunters show what are the secrets of their success |

| | |
| --- | --- |
| | How To Start Your Own Business |

93
(32)

| | |
| --- | --- |
| | Home Businesses: how to choose, how to start, what to do if they aren't succeding. The secret of A - B = C |

| | |
| --- | --- |
| | The Secret To Finding Your Dream Job |

125
(28)

| | |
| --- | --- |
| | What are you in love with? Mirrors, tests, Internet resources to finding your dream job |

| | |
| --- | --- |
| | When You Lose All Track Of Time |

153
(24)

| | |
| --- | --- |
| | What are your favorite transferable skills that you most love to use? How to identity them, in order of priority |

| | |
| --- | --- |
| | The Geography Of The Heart |

177
(46)

| | |
| --- | --- |
| | Where do your passions in life lie? Intuitions and step-by-step process for identifying them |

| | |
| --- | --- |
| | Getting In To Impossible Places |

223
(16)

| | |
| --- | --- |
| | Large and small, how to identify who has the power to hire you, and how to identify helpful contacts |

| | |
| --- | --- |
| | Interviewing Tips For Smarties |

239
(40)

| | |
| --- | --- |
| | How to land the job and what to do if you're never invited back for a second interview |

| | |
| --- | --- |
| | The Seven Secrets Of Salary Negotiation |

279
(28)

| | |
| --- | --- |
| | How to decide how much you need, how to research salaries -- on or off the Internet, secrets of negotiating |

EPILOGUE How To Find Your Mission In Life
307
(21)

| | |
| --- | --- |
| | The job-hunt and matters of faith |

APPENDIX A The Flower Exercise
328
(43)

| | |
| --- | --- |
| | A step-by-step process for identifying what you'd most love to do. (Takes one weekend.) |

APPENDIX B Finding Help: A Sampler
371
(22)

| | |
| --- | --- |
| | When this book isn't enough, and you want a trained, real-life person to guide you through the job-hunt |

APPENDIX C How To Choose A Career Coach Or Counselor
393
(12)

| | |
| --- | --- |
| | All that glitters is not gold; how to tell the good from the bad |

Index
405
Excerpts
Chapter One
A Hunting
We Will Go
               Okay, this is it.
             The moment of truth has arrived
           For You. It's time
         To go out, and look for a job,
       Out there in the job-market ,
     Which all your friends speak of
    In hushed tones, as a battlefield littered with the bodies
   Of the unemployed,
  Who tried and failed to find a job
Before you.
It's a very strange market, out there,
One area in sunny prosperity,
  Another in deep Depression,
   As Asian markets crash and burn.
    Five million people unemployed now
     In the U.S. alone.
       So that even in good times
         The battlefield is littered with new bodies.
          Those just laid off,
            Who had worked at one
             Place, for years
              And thought their jobs
               Would always be secure there,
                But then got downsized
                 Without any warning,
                 In a merger, takeover, makeover,
                  Or whatever,
                  Completely beyond their control.
                 And now You
                Laid off, or merely discontent
               With your lot in life
             Are about to go out there
            On that battlefield
          And look for work.
        You've heard of course
      All the horror stories:
   You've heard
Of former college profs with two degrees
Working now at the local deli;
   Of union workers who went out on strike
     Only to find, this time,
       Their jobs were not waiting for them,
         For no one told them that if they strike
           They might strike out
             In this new world .
               You've heard the stories
                 Of people pounding the pavements
                   For weeks and months,
                     Even in good times,
                      Without finding anything.
                       Of college graduates
                       With shiny degrees
                       Who cannot find any work
                      They're trained in.
                     Of friends who went back to school
                    To learn the hot trade of the moment, but
                   Can find no work in that hot trade,
                  And now are
                 Unemployed, angry, and depressed.
              With `welfare-to-work'
             Programs
           Everywhere
         There are inevitably some sad stories
       That newspapers love
      To run
    Of people thrown off welfare
  Who can't find any job.
Misery always sells papers,
We read them,
And we are depressed.
  For them.
   And for ourselves.
    Anyway, now it is our turn
     To hunt.
   And what is it we do,
    When our job-hunting time has come?
      We procrastinate,
       That's what we do.
         We're busy winding things up , we say.
          Or, just waiting until we feel a little less
           `Burnt-out,' and more `up' for the task
             Ahead, we say; though actually,
              If the truth were known,
               We're hoping for a miracle ,
                You know the one I mean:
                 A rescuer, suddenly appearing
                 On a white horse,
                 Coming, coming to save us.
                We don't know
                His name: is it
               Our former employer,
              Or the government,
             Our union,
            Our relatives or friends?
           We are unclear; we only know
          The world owes us
         A job.
       It shouldn't be up to us
      To have to go hunting for it
     So hard, ourselves,
    Although of course we know
  It is precisely up to
Us.
   So, we make up a glorious resume
  -- By ourselves or with some help.
How it sparkles, how it shines,
How quickly it will get us
  A job.
   And then we post it
     On the Internet
       Or mail it out
        By the hundreds,
         By the bushels,
          Waiting for that inevitable
           E-mail, or call,
           From some bright-eyed employer-type
           Who, seeing our glorious history,
           Has cried out "This is exactly the person
          That we have been looking for!"
        But there is one small problem: the e-mail
       Or the phone call
      Never comes.
    And we are left to wait
  And wait
And wait
While the world goes out of its way,
It seems,
  To tell us how little
   It cares
    Whether we find work,
     Or not.
We seek out family and friends' advice,
  And the first thing
   That they say to us, is,
    "Have you gone on the Internet?"
     "Have you tried the job-posting sites?"
      "Oh, you have? How many hours?"
       "Weeks, you say? And ... nothing?"
        "Oh!"
         They search for some of the older ways
          To recommend
           To you:
            "Have you tried employment agencies?"
            "Why, no," we say,
              So down we go.
               Down, down, down
               To the ante-room, and all those hopeful
               Haunted faces.
               Our first bout, here,
              With The Dreaded Application Form .
             "Previous jobs held.
            List in reverse chronological order."
           We answer the questions, then we sit
              And wait.
            The interviewer, at last, calls us in;
           She (or he) of the over-cheerful countenance,
         Who we know will give us good advice.
      "Let's see, Mr. or Ms.,
     What kind of a job are you looking for?"
   "Well," say we,
  "You can see, there, what I've done.
What do you think?"
She studies, again, our application form;
"It seems to me," she says, "that with your background
  -- It is a bit unusual --
  You might do very well in sales."
   "Oh sales," say we. "Yes, sales," says she, "in fact
    I think I could place you almost immediately.
     We'll be in touch. Is this your phone?
      I'll call you tomorrow night, at home."
       We nod, and shake her hand, and that
        Is the last time we ever hear
         From her.
We're reduced to the want ads,
  By our miserable plight,
    But we are dumbfounded
     Right there, at the sight
      Of those little boxes
       Describing jobs that are built
        As little boxes
         For the soul.
          We call on the employers,
           We tell them, of course, that we're job-hunting now,
           "And your ad looked just right for me ..." O wow!
           Look at that face change, are we in the soup!
           As we wait for the heave-ho, the ol' Alley-oop!
          "`Over-qualified'? you say?
         Two hundred before me
        Have been here already,
      And you have only five
    Vacancies?No,
   Of course I understand."
We pound the pavements,
Knocking on doors,
  Visiting companies,
   Getting rejected
    At place after place,
     Getting discouraged,
      Day after day,
       Getting depressed --
        How pathetic, this is,
        This Neanderthal thing
         So cheerfully named,
         The Job Hunt.
          Weeks drag by,
         Months drag by,
        And we are reeling
       From rejection shock,
      And ever we are thinking:
    The job-hunt seems the loneliest task in the world.
  Is it this difficult for other job-hunters
Or career-changers?
Well, friend, the answer is YES.
    Are other people this discouraged,
   And desperate and depressed,
  And frustrated, and so low in self-esteem after
A spell of job-hunting?
The answer, again -- unhappily -- is
YES.
YES.
YES.
Well, yes, you do have
    great big teeth; but, never mind
    that. You were great to at least
    grant me this interview.
Little Red Riding Hood
Copyright © 2000 Richard Nelson Bolles. All rights reserved.