Note: Supplemental materials are not guaranteed with Rental or Used book purchases.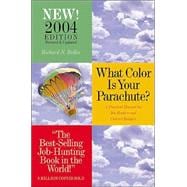 What Color Is Your Parachute? 2004 Edition : A Practical Manual for Job-Hunters and Career-Changers
ISBN13:
9781580085410
by
BOLLES, RICHARD N.
Summary
As well as a step-by-step guide to identifying your new career, using the Internet and other tools, this guide includes all the latest information about how to speed up a job-hunt or career-change. It also covers how to choose a career counsellor and useful Internet sites.
Table of Contents
Preface to the 2004 Edition
xi
CHAPTER 1 What Are You Looking For?
1
(14)

| | |
| --- | --- |
| | The steps in doing a traditional job-hunt, or a really Life-changing job-hunt, successfully. |

CHAPTER 2 Job-Hunting At Warp Speed
15
(16)

| | |
| --- | --- |
| | Importance of the Internet in today's job-hunt: where to look for job-postings or places to put your resume. |

CHAPTER 3 But What If That Doesn't Work?
31
(22)

| | |
| --- | --- |
| | Statistics about job-hunting, on or off the Internet. Five best and five worst ways to look for a job. |

CHAPTER 4 How Employers Hunt For Job-Hunters
53
(16)

| | |
| --- | --- |
| | The traditional job-hunt is weighted in favor of employers: how to overcome this (alternative strategies). |

CHAPTER 5 Twenty-Three Tips For A Successful Job-Hunt
69
(24)

| | |
| --- | --- |
| | Successful job-hunters show what are the secrets of their success. |

CHAPTER 6 How To Start Your own Business
93
(32)

| | |
| --- | --- |
| | Home Businesses: how to choose, how to start, what to do if they aren't succeeding. The secret of A - B = C. |

CHAPTER 7 The Secret To Finding Your Dream Job
125
(28)

| | |
| --- | --- |
| | What are you in love with? Mirrors, tests, Internet resources to finding your dream job. |

CHAPTER 8 When You Lose All Track Of Time
153
(24)

| | |
| --- | --- |
| | What are your favorite transferable skills that you most love to use? How to identify them, in order of priority. |

CHAPTER 9 The Geography Of The Heart
177
(46)

| | |
| --- | --- |
| | Where do your passions in life lie? Intuitions and step-by-step process for identifying them. |

CHAPTER 10 Getting In To Impossible Places
223
(16)

| | |
| --- | --- |
| | Large and small, how to identify who has the power to hire you, and how to identify helpful contacts. |

CHAPTER 11 Interviewing Tips For Smarties
239
(40)

| | |
| --- | --- |
| | How to land the lob and what to do if you're never invited back for a second interview. |

CHAPTER 12 The Seven Secrets Of Salary Negotiation
279
(28)

| | |
| --- | --- |
| | How to decide how much you need, how to research salaries - on or off the Internet - secrets of negotiating. |

EPILOGUE How To Find Your Mission In Life
307
(21)

| | |
| --- | --- |
| | The job-hunt and matters of faith. |

APPENDIX A The Flower Exercise
328
(43)

| | |
| --- | --- |
| | A step-by-step process for identifying what you'd most love to do. (Takes one weekend.) |

APPENDIX B Finding Help: A Sampler
371
(22)

| | |
| --- | --- |
| | When this book isn't enough, and you want a trained, real-life person to guide you through the job-hunt. |

APPENDIX C How To Choose A Career Coach Or Counselor
393
(12)

| | |
| --- | --- |
| | All that glitters is not gold; how to tell the good from the bad. |

Index
405